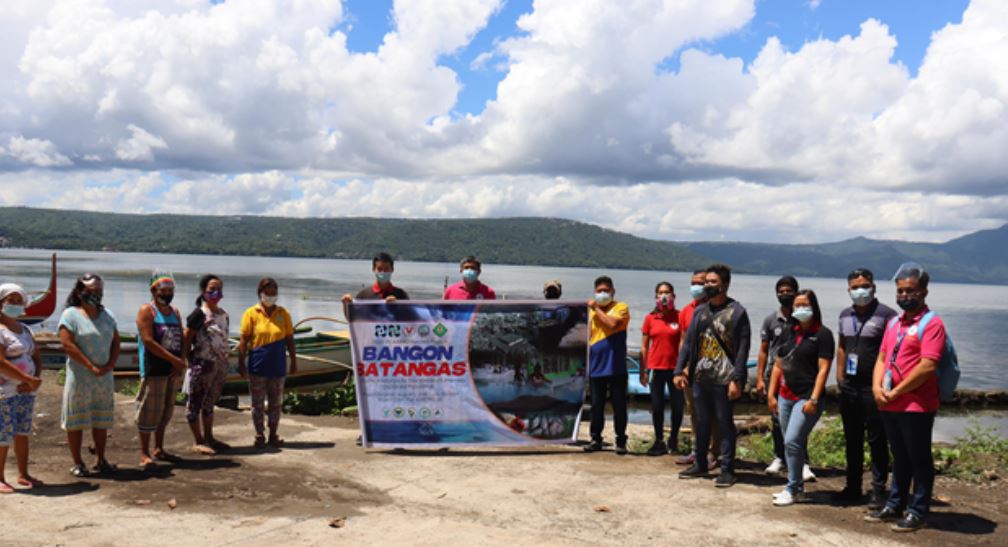 Batangas State University (BatStateU) is leading the use of science and tech in its community rehabilitation efforts to help the victims of the Taal Volcano eruption.
The leading state university in the province of Batangas, Philippines, led a science-based initiative to help families living in the surrounding localities of Taal volcano return to productivity in spite of renewed unrest and activity.
BatStateU recently launched the Bangon Batangas project S&T-based intervention to Taal Volcano's Internally Displaced Population (IDP) through funding from the Department of Science and Technology-Philippine Council for Agriculture, Aquatic, and Natural Resources Research and Development (DOST- PCAARRD).
The project that aims to assess the damages brought about by the Taal eruption in January 2020 intends to create positive intervention and effective rehabilitation plans focusing on the 151,386 families composed of 584,236 individuals across the provinces of Batangas, Quezon, Laguna, and Cavite. About 1,813 families consisting of 6,666 individuals were evacuated to temporary shelters during the 2020 eruption.
The project implementer will assess the damages to their livelihood and the appropriate interventions in the municipalities of Talisay, Laurel, Agoncillo, San Nicolas, and Balete that are all in the province of Batangas and provide relief operations to affected families.
These municipalities were badly hit by the eruption and recently have been evacuated as Taal volcano had a "short-lived" phreatomagmatic eruption that occurred at the main crater of Taal Volcano on July 7 this year. The short eruption that lasted for a few minutes prompted DOST-PHIVOLCS to raise the warning from Alert Level 2 to Alert Level 3.
According to DOST-PHIVOLCS, Alert Level 3 means there is a high level of volcanic unrest. There is a sustained increase in the levels of volcanic earthquakes, some may be perceptible, and occurrence of low-frequency earthquakes, volcanic tremors, rumbling sounds. Moreover, Alert Level 3 is characterized by forceful and voluminous steam/ash ejections; sustained increases in SO2 emission rates; and ground deformation/swelling of the edifice. Activity at the summit may involve dome growth and/or lava flow, and resultant rockfall.
The project has two main components. Primarily it is tasked to conduct assessments and surveys of at least 39% or 2,600 families of the displaced population, who are mostly sustenance farmers relying on crops and livestock farming, fisherfolks, aquaculture farmers, and ecotour guides.
The project will be implemented by BatStateU in collaboration with Cavite State University (CSU) which will conduct a study on the eruption's damage to high-value crops primarily coffee, while the Laguna State Polytechnic University will assess the damage to the aquaculture and fisheries.
According to the project leader Dr. Romel U. Briones of BatStateU Lobo Campus, the initial study suggested that the affected residents who are in the evacuation centers still want to pursue their livelihood prior to the eruption. "They still want to plant vegetables and other high-value crops," explained Briones.
In a recent pronouncement, DOST Undersecretary and DOST-PHIVOLCS Officer-in-Charge Dr. Renato U. Solidum Jr. expressed the need for a long-term development plan for surrounding locals as the active volcano showed renewed activity.
He added that in the group's initial studies conducted, the local government would need sustainable aquaculture and fisheries livelihood interventions, provide an application of science-based soil amelioration to treat farmlands that were heavily affected by the ashfall, and ensure accessibility to market and other trading posts.
Aside from these, he underscored the need for "rehabilitation and recovery programs that are based on the building up of existing skills and resources which will ensure immediate social acceptance and sustainability, building back more resilient livelihood, and capacitating of residents to new skills.
Batangas State University fabricated 3D-printed vacuum-sealed face shields for health workers in the midst of the Covid-19 pandemic outbreak in 2020.
The university also hosts the Philippines' newest Special Economic Zone IT Park.
SEND CHEERS in the comments below to Batangas State Univesity as it banners the use of science and tech in Taal Volcano community rehabilitation.
Good News Pilipinas is celebrating its 15th Anniversary in 2021 by giving away prizes! Subscribe to our Good News Pilipinas! TV YouTube channel and enter the raffle by sending us an email to editor@goodnewspilipinas.com saying what you like about our site.
Facebook Comments