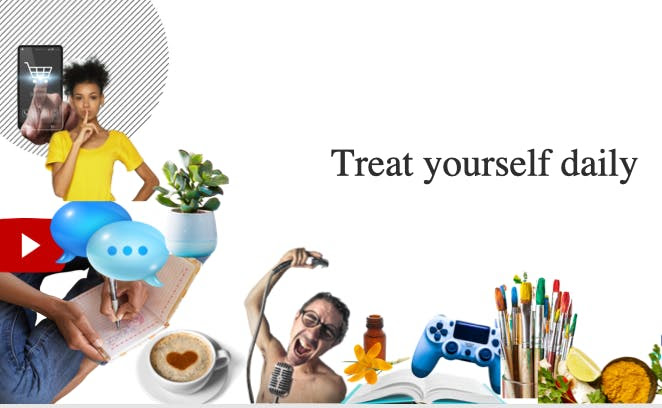 When I did my last workshop a few days ago, one of the main concerns of the majority was, "Trix, how do I get my Energy back?"
If I ask you that question, what answer would you share with me?
​
While I await your reply, here's mine.
Wala nang patumpik-tumpik pa. Let's go straight to my 1st tip!
1st TIP on how you can easily manage your time and energy which will result to big commissions, happiness, and perhaps, promotion!
​
Tell me, how often do you treat yourself?
Weekends? Wednesday nights? Biweekly? Seldom?
​
I asked because Tip no. 1 is: Treat yourself daily.
"Treat" could mean any of these things in the photo you see here, or more:
Reflection time.
Watching your favorite shows online.
Creating content on social media.
Singing while showering.
Playing your games.
Journalling or Reading
Cooking healthy food.
Doing your routine with your oils or sage with prayer.
​It doesn't have to be fancy. Expensive or time-consuming.
​Treating yourself daily is managing your time and energy so well because you are the most important person in your life.
Not your parents/ spouse/ children/ boss/ client/ friend… it's you!
​
And if you say that you treat your loved ones so well, you better treat yourself better!
And when you treat yourself, you want to do it daily, for the reason that you give out a big chunk of your good energy on a day-to-day basis so it is just important that you also get fired up by something that makes you happy, on a day-to-day basis too!
​
It's not being selfish. It is called living your life.
MORE tips from Positivitrix:
Is there an easier way to manifest the love life that I want?
So I got a message —> "Sobrang totoo talaga ang vision boarding mong yan"
SHARE this article to help spread Positivitrix inspiration in these difficult times.
Good News Pilipinas is celebrating its 15th Anniversary in 2021 by giving away prizes! Subscribe to our Good News Pilipinas! TV YouTube channel and enter the raffle by sending us an email to editor@goodnewspilipinas.com saying what you like about our site.
Facebook Comments