The largest gathering of alumni associations of Philippine schools and universities in the United States joined the 4th annual "Homecoming sa Konsulado" or HSK 2015 at the New York Consulate.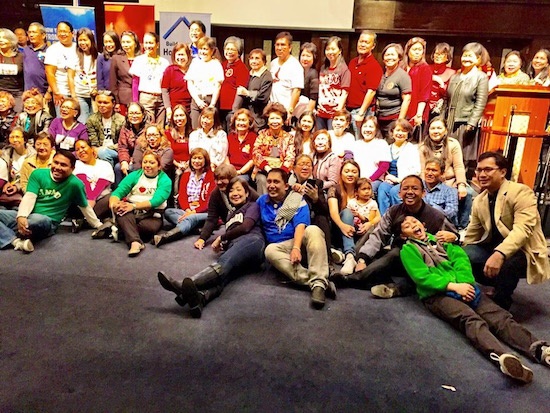 Over 180 individuals representing 17 alumni groups of educational institutions came together at the Philippine Center not just for festivities but to find civic projects they could adopt to benefit their alma mater in the Philippines, as well as the Filipino-American community.
HSK 2015 participants were urged by Consul General Mario L. de Leon Jr. to continue to go beyond just being a gathering of alumni to having a civic purpose. He cited the launching at HSK 2014 of the Community Bulletin Board, a virtual marketplace of activities, opportunities, services and products that Filipino-Americans may find useful.
Resource speakers shared information on important issues and activities, such as Prof. Eugene Reyes of Baruch University who gave a short talk on existing opportunities in the US that students and graduates of Philippine universities can avail themselves of in order to get ahead in their chosen professions.
Dr. Mars Custodio of the University of the Philippines Medical Alumni Society in America (UPMASA) gave a brief presentation of the state of the AIDS situation in the Philippines.
Atty. JT Mallonga spoke on the importance of voters registration in order for the Filipino-American community to gain influence among US legislators.
Jorge Ortoll invited the participants to support Ma-Yi Theater Company, the pioneering theater company in New York whose aim is to advance the works of Asian Americans writers.
The participating alumni associations of HSK 2015 were the University of the Philippines Alumni Association (UPAA-National); University of the Philippines – NY; University of the Philippines Nurses of the East Coast (UPNEC); University of the Philippines – NJ; Ateneo de Manila University; De La Salle University; University of Santo Tomas (UST); San Beda College; Silliman University; Mindanao State University (MSU); St. Paul College, Manila; Philippine Women's University (PWU); Maryknoll College; Holy Spirit; Assumption College, Adamson University and Paaralan sa Konsulado (PSK).
Facebook Comments