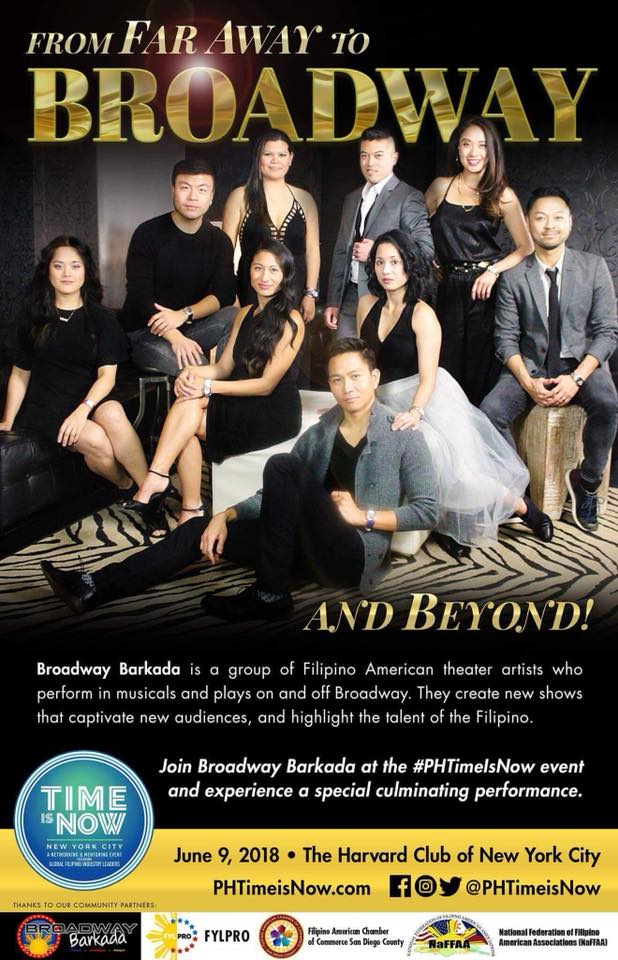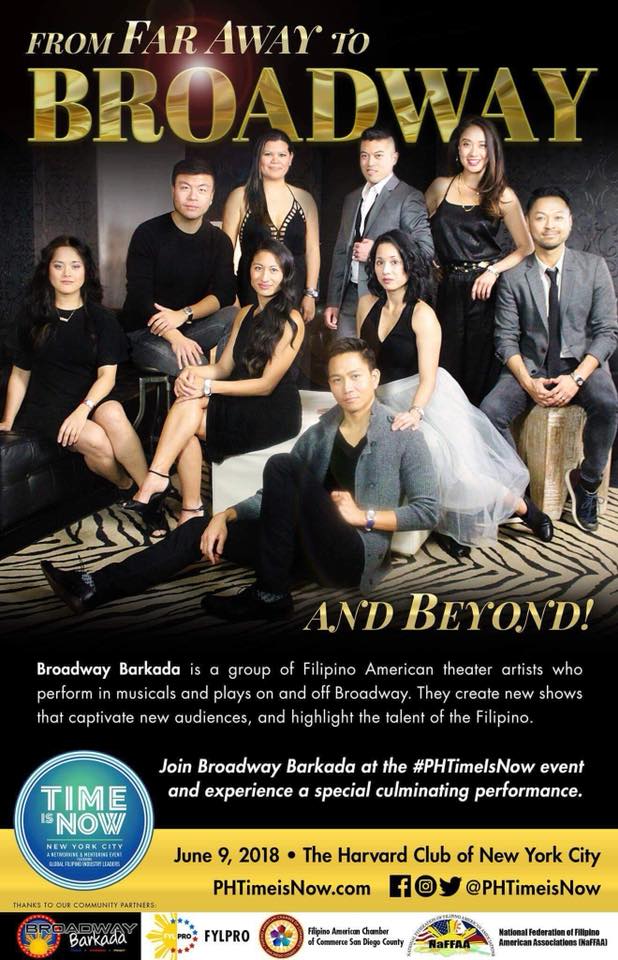 Broadway Barkada, a group of Filipino performers and artists actively promoting pride and passion for the Philippines, will be sharing their talent at the Ph Time is Now mentoring summit in New York.
The collective of nearly a hundred active performers and artists began in 2009 with a dozen artists led by Liz Casasola, Brian Jose, and Billy Bustamante. The group got together to help the victims of Typhoon Ondoy in the Philippines with a performance at the Philippine Consulate General in New York.
Broadway Barkada continued to gather and perform original works in their mission to nurture and support Filipino artists who believe in the importance of cultural awareness, and through art and education bring the Filipino experience to a diverse audience and give them a deeper understanding of Philippine culture and artists.
In a sit-down interview with the award-winning host of Asian American Life Ernabel Demillo, members of Boradway Barkada share how family, diversity and inspiration fuel their journeys on and off stage.
Ph Stories shares their interview.
Family is everywhere when you're Filipino.
Liz Casasola: When I moved here in 1998, the feeling of going into an audition room was very different. There has definitely been a shift. It's still competitive, but back then, everybody was in their own corner and not rooting for anyone. Now, it's a more loving environment.
For me, it's one of Broadway Barkada's greatest missions – to create a sense of family. Community first before anything and creating a platform where we could tell different stories.
Jonelle Margallo: Exactly. I find it really fun to audition for Asian shows in general because when you walk in, it's like a reunion where everyone is happy, everyone wants to eat together. Going to auditions for shows like Miss Saigon is great because there are a lot of Filipinos – it's like family.
As a Filipino American, that sense of family, I think, stems from the what my parents sacrificed for me and my siblings. I barely speak Tagalog; I'm very American in that sense, but that culture of family is something that I want to keep alive. I'm proud to be American and I'm proud to be Filipino.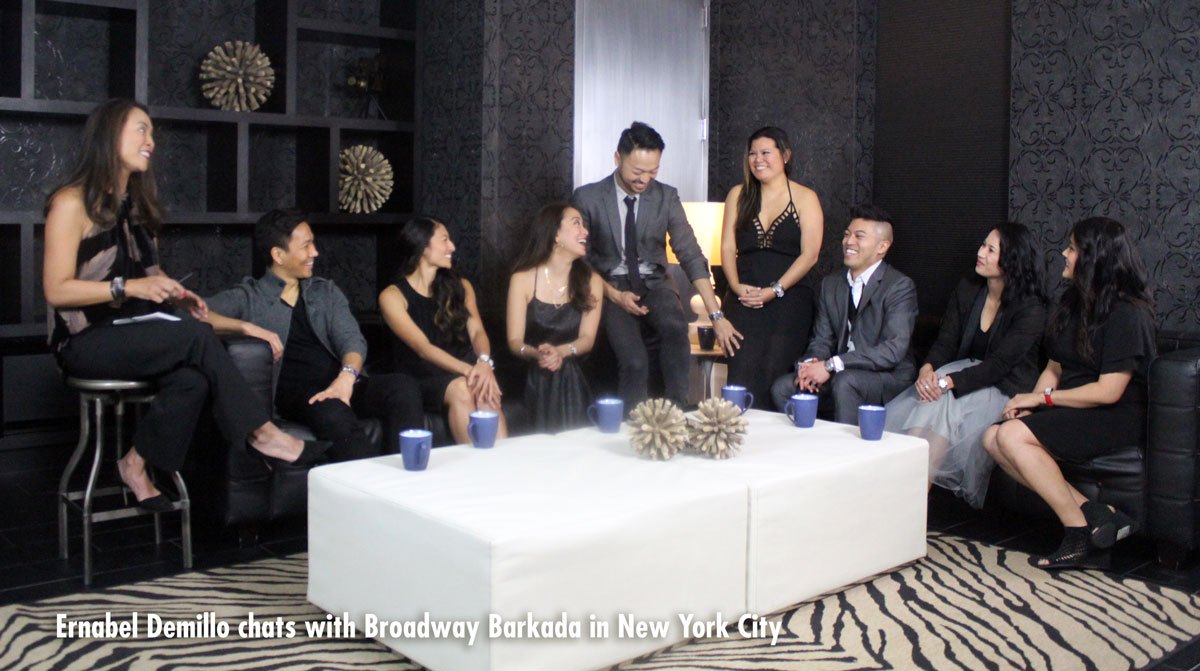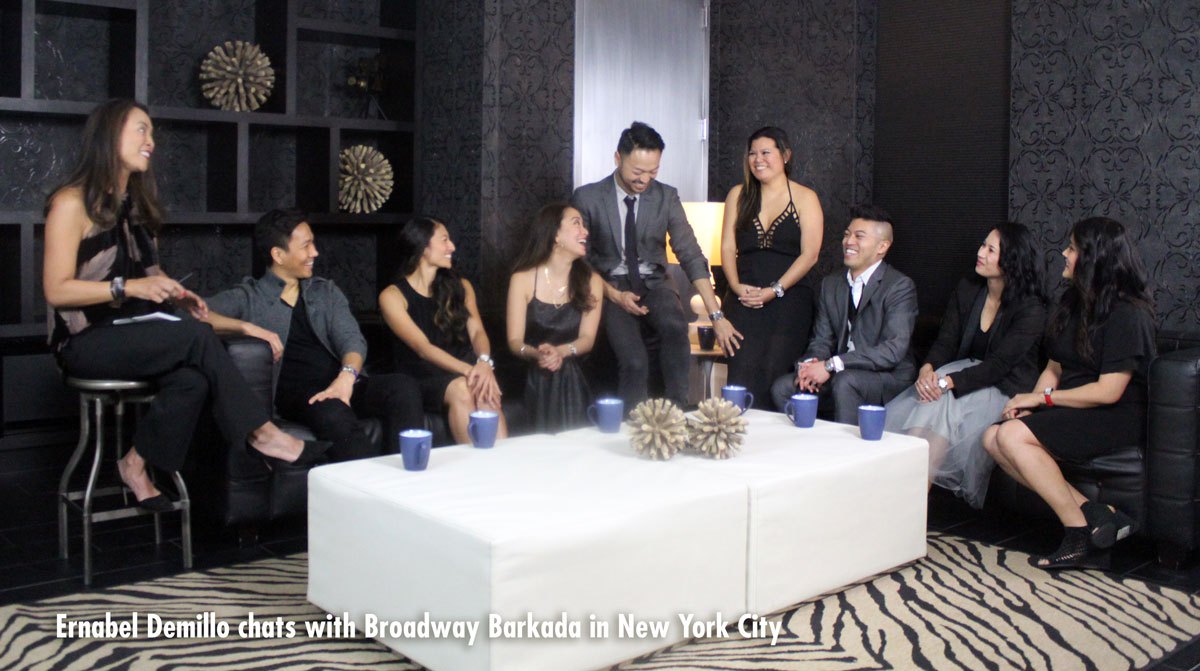 Catherine Gloria: I did a workshop with Chris Ignacio a couple of years back and that was when I decided to live I New York. Chris, who's also a member of Broadway Barkada told me, "Okay. You have to meet all the Filipinos!"
I went to the holiday mixer where I met everyone. I'm so grateful because a lot of people come to New York searching for something and it was nice finding a community right off the bat. Being one of the newest people in town makes me feel like the baby with many Ates and Kuyas to look up to and learn from.
When you're doing what you love, it doesn't matter how big or small your stage is.
Billy Bustamante: The stage might be bigger when you're performing in a Broadway production,but the when you're telling a compelling story, the energy is the same.
For example, my favorite thing about every Miss Saigon that I do is that there's an instant family, an instant community. Even though it's a heavy story, there's so much love coming from the stage no matter what. I feel like everyone on the stage is celebrating being there.
In that way, I think it's very similar for every Miss Saigon that I've done. whether in little towns or big cities. The bells and whistles are a little more extensive – the helicopter is bigger, and the stage lights are brighter – but the spirit of Miss Saigon and its mostly Filipino cast, shine through in every production.
Audri Dalio: I was in Germany for four and a half years doing Miss Saigon. It was fun and interesting.
Miss Saigon is a great show and like Billy said, no matter how big the stage or the audience is, the story and the connection you have with the ensemble is so strong – it's amazing. There's so much love, heart and humanity.
There is inspiration everywhere and in everyone; you just have to look for them.
Steven Cuevas: There are many us here who have been inspired by people who don't look like us. For me, it's artists like Jeanine Tesori and Stephen Flaherty who inspire me. They make sure to tell unique stories and they often find new ways to tell them.
There are so many Filipinos that we could look up to. We have the likes of Bruno Mars and Bobby Lopez who recently won double EGOT. He's the only person (so far) to ever do that. They are out there if you look for them.
On the flip side, we have to know that being true to ourselves will reach someone in the audience and maybe inspire them as well.
Jaygee Macapugay: One of my role models is David Byrne who wrote Here Lies Love. He is constantly creative, constantly collaborating and is showing no signs of letting up.
So, when I think about myself, I say I'm an artist for life and in whatever possibilities that might be – whether continuing as an actor in musical theater or expanding to something else. I feel like his career trajectory gives me carte blanche to say, "I'm in it forever!"
You are the best person to tell your own story.
Liz Casasola: A lot of people complain that there aren't enough stories out there for us. Personally, I think we have to create it ourselves. Why should other people be responsible for telling our story? We should tell our own story.
We know that Filipinos can act, sing and dance. We got that covered. What we need now are producers, writers – we need it all. We just have to continue supporting each other.
Roy Flores: In this business, a lot of people will tell you how to present yourself. At the end of the day, you just need to know who you are and what you have to offer the world. Be confident and unapologetic.
We're trying to bring more representation of the real Asian American story, the real Filipino American story so the more of your honest, real self you can bring to the audition room or to the stage, the more fulfilling it will be as an artist.
Join Broadway Barkada at PH Time Is Now: A Networking and Mentoring Event for a special performance celebrating Global Filipinos and their personal stories of learning, growth and success.
You'll also get the chance to meet, engage and collaborate with fellow innovators and changemakers; and take part in building a community of global Filipinos with substance, purpose and impact.
The event will be held at the Harvard Club in NYC on June 9, 2018. Visit www.phtimeisnow.com or Follow @phtimeisnow for details. See you there!
GoodNewsPilipinas.com is a media partner of PH Time Is Now.
Facebook Comments