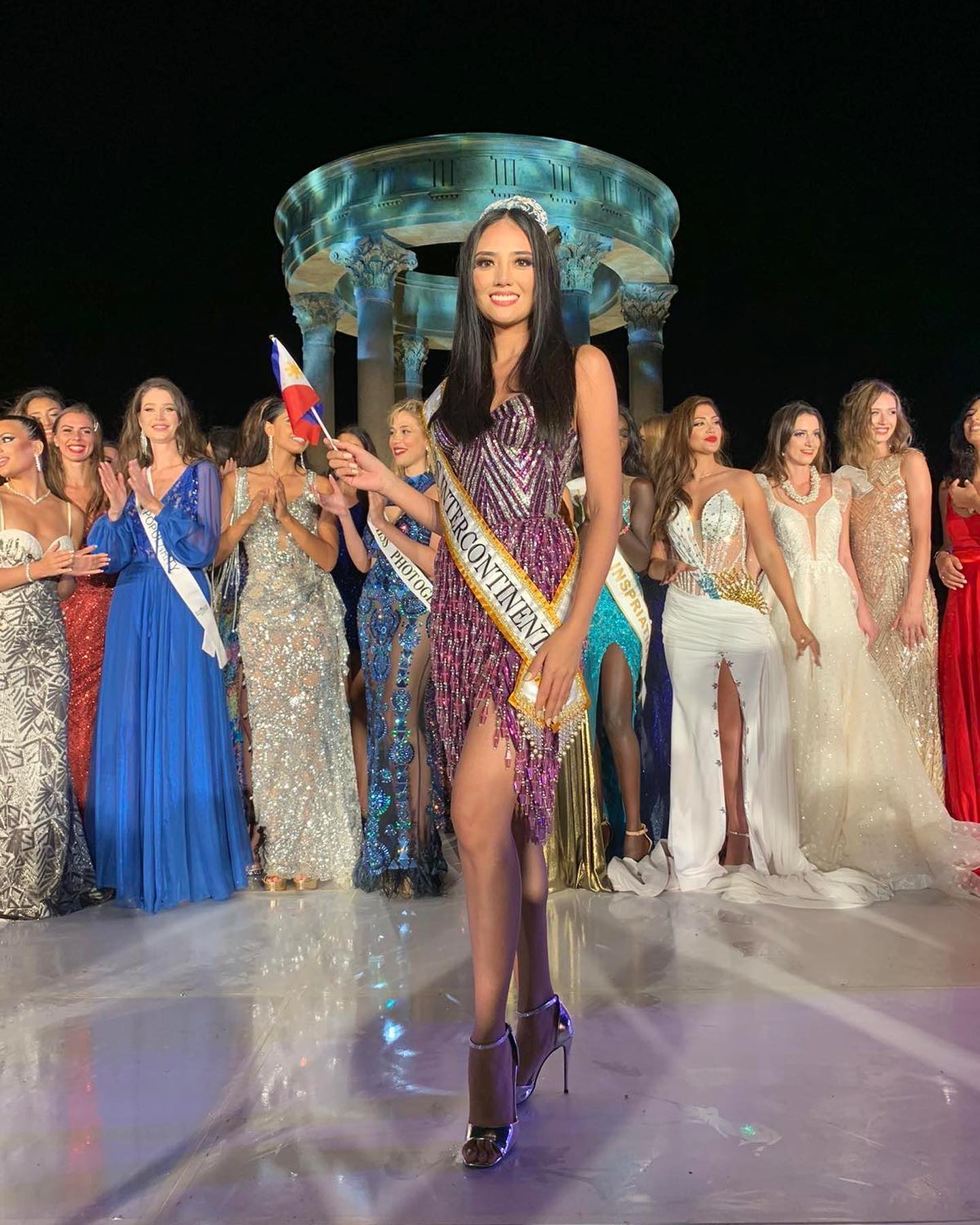 Miss Philippines Cinderella Faye "Cindy" Obeñita has raised the Philippines' flag in Egypt after winning the Miss Intercontinental 2021 crown.
The 25-year-old Cagayan de Oro beauty bested over 70 candidates from all over the world during the grand coronation staged on October 29 (October 30, Manila time) at Sunrise Diamond Beach Resort in Sharm el-Sheikh.
The country's bet worked her way up in the competition, making it to the Top 20 as a wildcard candidate and eventually winning the Philippines' second Miss Intercontinental crown.
During the question-and-answer round, Cindy was asked the question: "As an international ambassador, do you believe that speaking English is important for Miss Intercontinental? Why or why not?"
Miss Philippines showcased her communication skills in delivering her winning answer.
"As an ambassador, I don't think speaking a specific language is very important here in Miss Intercontinental or any pageant at all as long as that woman is a woman of power and grace, commitment, and intelligence no matter what language she speaks," she said.
"And if that woman is actually a woman of style and substance then she can win any pageant or any endeavor she is into," she continued.
"I have learned here actually in Miss Intercontinental that a woman should possess a power of substance. And I believe I am that woman.
"Because that is the essence of the modern-day Miss Intercontinental, that we are living in a world that is hard to survive… And as a Miss Intercontinental, I would like to be that source of hope, of inspiration through power of beauty and that is felt in the kindness of our hearts and, definitely, in the sincerity of our loving actions."
Here is the official list of winners at Miss Intercontinental 2021:
Miss Intercontinental 2021 – Cinderella Faye Obeñita, Philippines
1st Runner Up – Paulina Uceda, Mexico
2nd Runner Up – Romy Simpkins, England
3rd Runner Up – Kelly-Mary Anette, Seychelles
4th Runner Up – Kaitlyn Li, Canada
5th Runner Up – Maria Paula Castillo, Colombia
Cindy's successful pageant stint in Egypt duplicated the feat of Karen Gallman who won the Philippines' historic first Miss Intercontinental crown in 2018.
The Philippines won first runner-up twice in Miss Intercontinental pageant, in 2015 with Christi McGarry, and in 2017 with Katarina Rodriguez.
SEND CONGRATULATIONS in the comments below to Cagayan de Oro's Cinderella Obeñita for being crowned the Miss Intercontinental 2021 in Egypt! WATCH her winning Final Q&A here:
Good News Pilipinas is celebrating its 15th Anniversary in 2021 by giving away prizes! Subscribe to this website and  Good News Pilipinas! TV YouTube channel and enter the raffle by telling us what you like about our stories in an email to editor@goodnewspilipinas.com
Facebook Comments