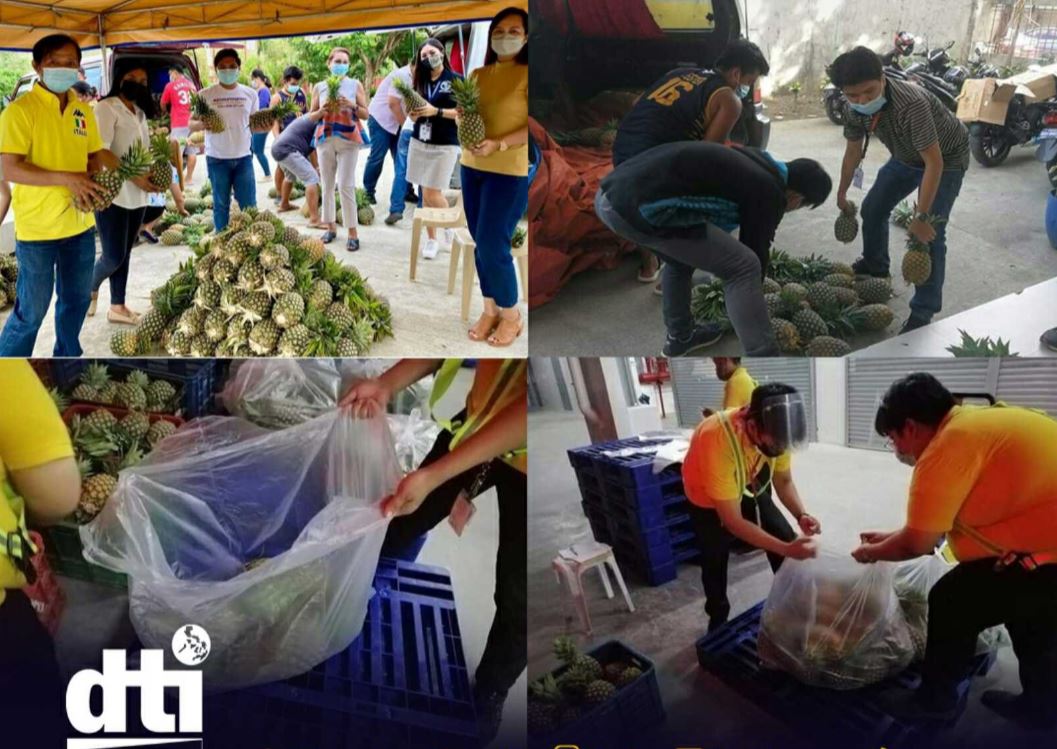 Cagayan Valley pineapple farmers are able to deliver their harvests to markets outside the region with the help of the Department of Trade and Industry Region 2 ''Walang Sayang'' Project.
The local farmers from Sta. Ana, Cagayan who grow and produce sweet cayenne pineapples were given assistance in the successful delivery of the harvests to Pampanga, Metro Manila, and Cavite, on June 21, 2021.
Almost 7.4 tons of freshly harvested pineapples were moved out from Sta. Ana Farmers Cooperative through the support of Happy Farms Cooperative as the partner logistics, and Rural Rising Ph, Curaytive City Farms, and Waltermart Supermarket, as the institutional buyers, and some local partners from Cagayan Valley.
Movers of the campaign which include Ragel Tacazon (DTI-Regional Food Development Program Officer) and Jessa Mae Malana (Trade Industry Development Specialist of DTI Cagayan) started accommodating orders locally through pre-orders scheme and self-picks of orders at DTI Region 2-Negosyo Center, Regional Government Center, Carig, Tuguegarao City, Cagayan on June 18.
Among the established local partners who aided the campaign were BTS Army- Cagayan Valley, CSU TBI Biznest, including DTI Region 2, with an overall total of 1,560 pieces of pineapples sold locally.
"Walang Sayang" Project, an initiative of DTI Region 2, has been initiated in March 2020 during the height of strict border protocols due to the COVID-19 pandemic. Its objective has been to help farmers move their produce unhampered and ensure a steady market in order to sustain their sources of livelihood.
The project also endeavors to link up local farmers and fisherfolk with food processors, food supply chains, retail chains, online stores, and the foodservice industry including restaurants and food delivery services.
Filipino social enterprises are helping farmers sell fresh produce amid quarantine restrictions.
SEND CHEERS to Cagayan Valley pineapple farmers for the successful delivery of their harvest to markets with DTI's help.
Good News Pilipinas is celebrating its 15th Anniversary in 2021 by giving away prizes! Subscribe to our Good News Pilipinas! TV YouTube channel and enter the raffle by sending us an email to editor@goodnewspilipinas.com
Facebook Comments