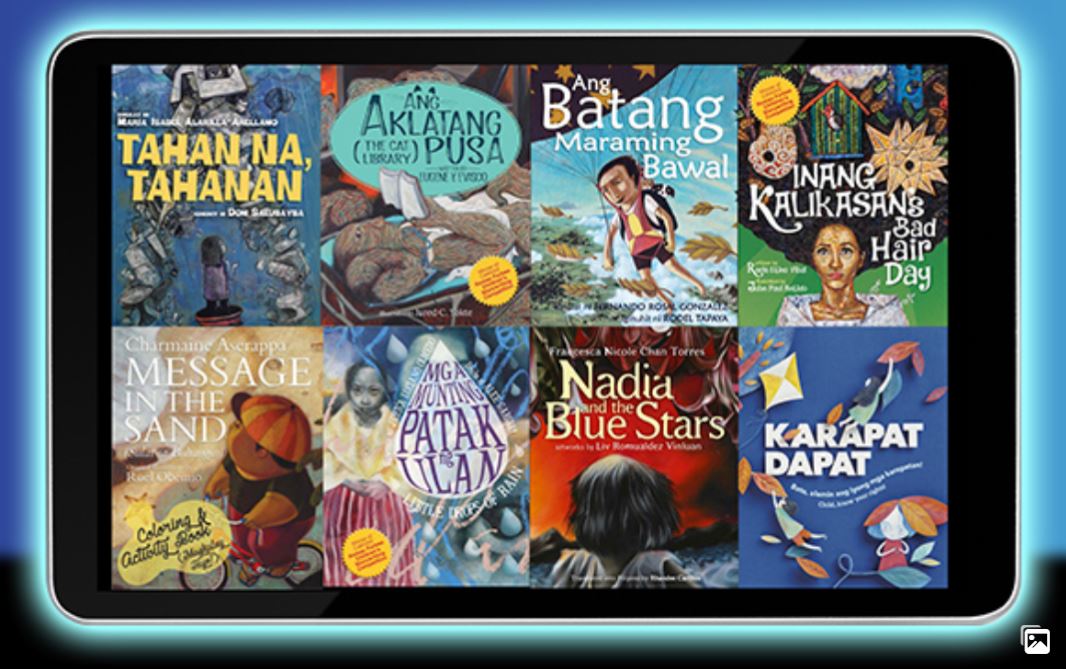 CANVAS Philippines has donated children's e-books to the Globe eLibrary to address the learning needs of students affected by the pandemic.
The Center for Art, New Ventures & Sustainable Development (CANVAS) e-books on children's stories on culture and the arts promote children's literacy, explore national identity, and help deepen the public's appreciation for Philippine art, culture, and the environment.
The CANVAS and Globe partnership aims to populate the eLibrary with local e-books for children that may be used for teaching and learning.
CANVAS has provided the following 13 electronic book (eBook) titles to the Globe eLibrary:
Nadia and the Blue Stars by Francesca Nicole Chan Torres and artwork by Liv Vinluan, which talks about Nadia's love for flowers and her struggle to care for them in the middle of a war
Karapat-Dapat: Bata, Alamin ang Inyong mga Karapatan by Ang Ink, which delves into children's rights
Inang Kalikasan by Recle Vibal
Aklatang Pusa by Eugene Evasco
Ang Batang Maraming Bawal by Fernando Rosal Gonzales
Tahan na Tahanan by Maria Isabel Alarilla-Arellano
Message in the Sand by Charmaine Aserappa
A Fish Tale by Becky Bravo
The Rocking Horse by Becky Bravo
Si Pontang at ang Lihim ng Kuweba by Melvin B. Atole
Mga Munting Patak ng Ulan by Jessica Olmedo
Si Lupito at ang Barrio Sirkero by Rowald Almazar
Ang Anghel ng Sta. Ana by Josephine de Dios
CANVAS publishes children's books through the Romeo Forbes Children's Story Writing Competition and donates books to underprivileged communities through the One Million Books for One Million Filipino Children Campaign. It also holds art exhibitions, arranges group shows through the Looking for Juan Program, and mounts other creative events and activities.
Meanwhile, Globe eLibrary is a website and mobile application that provides students and teachers with free access to hundreds of international and local e-books titles and e-Learner videos on various subjects to view online or download offline. It is one of the components of the Global Filipino Schools, a long-term educational initiative of Globe, which aims to transform public schools into centers of Information and Communications Technology (ICT) excellence and innovative teaching methods to set the stage for modern learning. Access to materials in Globe eLibrary is free to all Globe and TM customers.
"It would be most beneficial to students and teachers to gain access to as much relevant content as possible. This is why we continuously look for content partners for Globe eLibrary to give them a wide array of free resource materials online," said Yoly Crisanto, Globe Chief Sustainability Officer and SVP for Corporate Communications in a report released in March 12, 2021.
"From one seed, an entire forest. From one story, a generation of readers. We cling to the hope and possibility that somewhere down the line, one of the books that we publish, one of the artworks that we show, or one of the ideas that we share, will trigger the imagination of one child who will then be moved to change the world for the better," said Gigo Alampay, founder and executive director of CANVAS on the group's website, www.canvas.ph.
To learn more about using the Globe eLibrary, visit https://globeelibrary.ph/
Good News Pilipinas is celebrating its 15th Anniversary in 2021 by giving away prizes! Subscribe to our Good News Pilipinas! TV YouTube channel and enter the raffle by sending us an email to editor@goodnewspilipinas.com
Facebook Comments