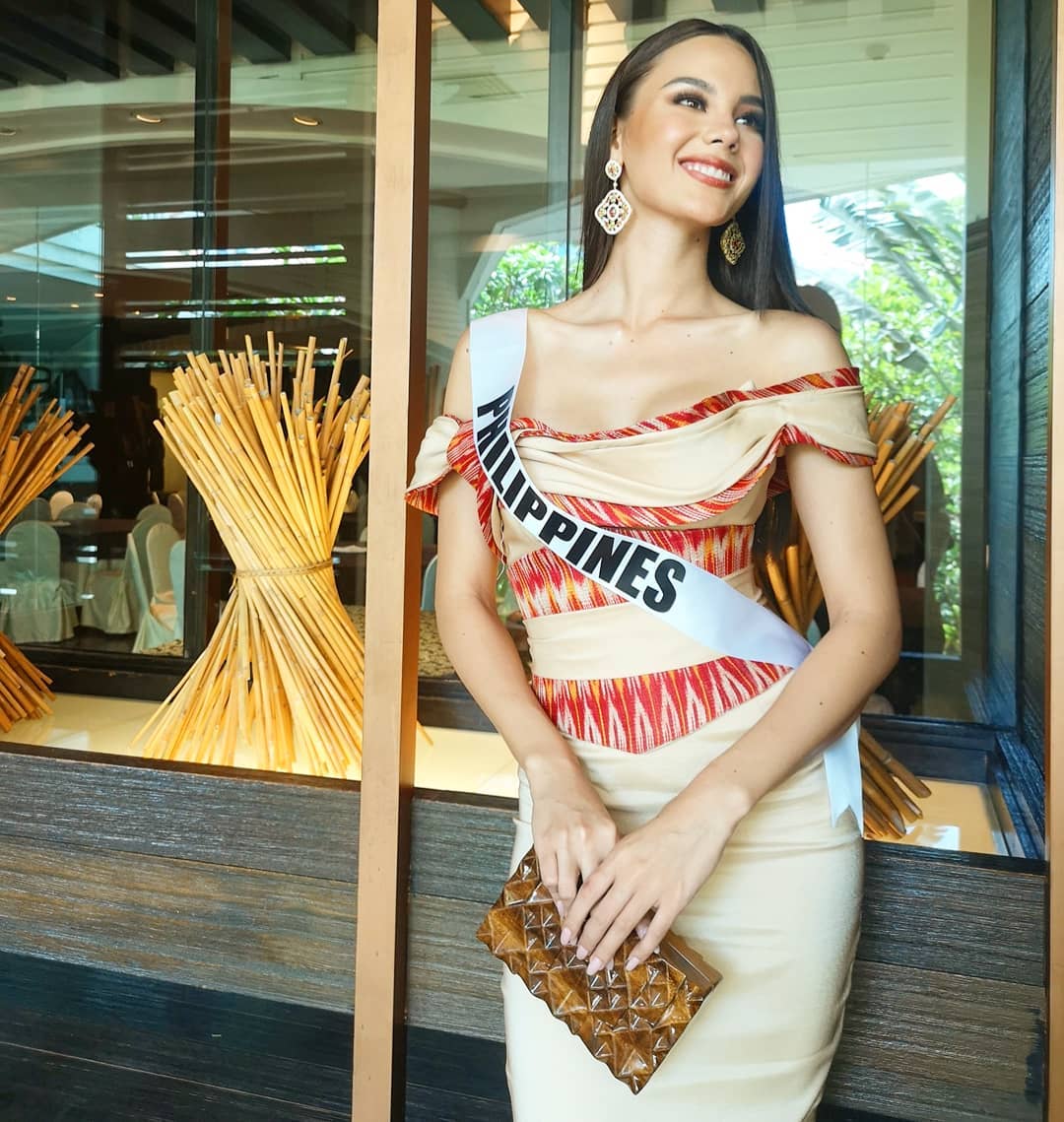 2018 Miss Universe Catriona Gray proudly showcased the Philippines' colorful heritage and artistry at the beauty pageant she won Monday morning in Thailand.
Prior to the coronation ceremonies Gray has been showcasing Filipino heritage-infused-fashion since she arrived in Thailand weeks ago, winning the hearts and support of Filipinos worldwide.
The 24-year-old Filipino-Australian beauty posted on her social media videos from her performance captioning her post, "Philippines, it brings me so much joy to carry you across my heart. Laban tayo."
"I want to represent the Philippines in all forms. When people see the Philippine sash, it's just a word on sash, but really we're made up of so many different places and so much different aspects to our culture" Gray said in an ABSCBN interview.
GoodNewsPilipinas presents this compilation of wardrobes worn by the new Miss Universe Catriona Gray, bannering Filipino pride.
Fusion: Traditional and modern Filipino creation
https://www.instagram.com/p/Bqygrs8gLZ1/
It was Day 2 in Thailand when Miss Philippines wore a white dress designed by Filipino designer Noel Crisostomo and paired it with Sampaguita-inspired rattan bag. Sampaguita is the national flower of the Philippines.
https://www.instagram.com/p/Bq1ebCfAsBF/
After fitting her Thai Silk dress for Thai night, Catriona Gray was seen in Dusit Thani Bangkok wearing a white top and a Nino Franco red skirt with Tboli embroidery.
https://www.instagram.com/p/Bq37eK0ACVz/
For the Siam Snail Farm tour, the Filipina beauty queen wore Edgar Madamba's inabel top and denim jacket embroidered with "Kababayan" from Lahi designed by Mia Arcenas, Vavi Heussaff-Small and actress Solenn Heussaff.
For another video shoot, Catriona Gray changed into blue-infused-with-pink T'nalak dress created by designer Jearson Demavivas who also designed her national costume.
https://www.instagram.com/p/Bq_hI9Ug3_v/
For her media interview with Entertainment Tonight Thailand and PPTV Channel, Gray wore Dimavivas' beige dress with modern T'nalak fabric.
https://www.instagram.com/p/BrPgyPTgm–/
Catriona Gray's outfit for one event, hand-made modern ladies' barong created by Jearson Demavivas using pineapple silk from Laguna paired with an apple green skirt embellished with hand painted Sampaguita by Jeffrey Catuira, and T'nalak belt from South Cotabato. Her clutch is done by Calli.
https://www.instagram.com/p/BrRw9ncgqyP/
Miss Philippines wore her Jearson Demavivas' terno top partnered with Ifugao skirt for her 'closed-door' preliminary interview.
https://www.instagram.com/p/BrTxxVfndBG/
Before the national costume competition, Gray was wearing a fuchsia pink one sided sleeve blazer with T'nalak accent, another creation of Demavivas.
https://www.instagram.com/p/BrW1NWOHkb1/
Catriona Gray in Jearson Demavivas' one sided off shoulder incorporated with modern purple T'nalak for the press conference after the preliminary competition.
"Luzviminda" national costume
Miss Philippines broke the tradition of wearing the usual Filipino terno, Maria Clara or Muslim princess-inspired attire and instead walked on stage and surprised the audience with her "Buong Pilipinas" national costume called "Magdiwang, Lumaban, Pagyamanin" or "Celebrate, Fight, Enrich" which refers to the three main group of islands in the country – Luzon, Visayas and Mindanao.
https://www.instagram.com/p/BrPtJaXghWu/
"Magdiwang" or "Celebrate" which represented the Luzon island was captured through the use of the giant parol or lantern from the Christmas Capital of the Philippines, Pampanga, that served as her backpiece while the brass border design was inspired from the Philippine Baroque Churches.
At the back of the lantern, the lyrics excerpted from the Philippine National Anthem "Lupang Hinirang" was written using Baybayin, the ancient Filipino alphabet. It was also painted with different images and icons depicting history and victory, inspired from style of the Philippine National Artist Carlos "Botong" Francisco of Angono, Rizal – the country's art capital.
For Visayas' "Lumaban" or "Fight" representation, Catriona Gray wore a body suit embellished with crystals intricately-patterned after the authentic tattoo designs of Pintados warriors found in the manuscript "Boxer Codex" written in 1590.
In her Instagram post, Gray wrote, "the tattoos represent an individual's journey and a public testimony recounting acts of combat, bravery, and strength, that perfectly represents the courageous and resilient Filipino spirit amidst trials we face in this day and age."
Gray wore authentic Tboli headpiece 'suwat' and brass accessories, bracelets, belt and cuffs from South Cotabato for Mindanao's "Pagyamanin" or "Enrich" representation. Her boots were also inspired from the textile of Mindanao lumads such as Inaul, Yakan, Maranao, Blaan, Bagobo, Tausog and T'nalak.
She explained in her post, "the woven textiles express a strong belief in "ancestral and natural spirits" and "cultural roots" of indigenous communities that remain well-preserved up to this day."
The beauty queen shared in an interview that the whole ensemble was designed by Jearson Demavivas, in collaboration with her, Jojo Bragais and Carlos Buendia, with the help of other artists, indigenous people, and historians.
Hours before the much-anticipated national costume competition, Catriona Gray posted on her Facebool page a video of giving tribute to the artists of Luzon, particularly those from Angono, Rizal and Pampanga.
The Visayas video which was posted day after the national competition is a tribute to the resiliency and 'never-say-die' spirit of Yolanda survivors in Tacloban, Leyte, and getting inspirations from the ancient art of body painting practiced by pre-colonial Filipinos existed thousands of years ago, while Mindanao video showcased the traditional art of making T'nalak, a highly-priced cloth masterpieces of 'dream weavers' of Tboli people from South Cotabato. All videos went viral and gained huge number of views.
In a report posted by Pep.ph, Tourism Secretary Bernadette Romulo-Puyat revealed that the Department of Tourism assisted Gray and her team to shoot the videos in different locations.
"She went to my office, we accompanied her. She asked help to go around Intramuros, Luneta, and Rizal Park, and Yolanda (Tacloban), Leyte. So we helped her with that," Secretary Puyat said.
The Department of Tourism was happy because of Gray and her team's initiative.
"We are so amazed kasi siya yong lumapit sa amin to ask help, kasi she really wants to showcase the culture of the country."
A day after the national costume competition, the National Quincentennial Committee which handles the "preparation of the 500th anniversaries of the victory at Mactan, the achievement of mankind in circumnavigating the world, and the introduction of Christianity to the Philippines," commended Miss Philippines for capturing and displaying "the thousands of years of history and heritage of the Filipino people – an embodiment of time that our history did not just start in 1521."
The committee also invited Gray to the grace the inauguration of NQC Secretariat Office, launching of Philippine Quincentennial Commemoration logos, and the launching of website on December 21 at the National Historical Commission of the Philippines Building in Manila.
They also expressed their interest in displaying Gray's national costume different museums around the country which is "in synced with the celebration's theme, 500 years of Valor and Victory."
Preliminary outfit
After her stunning performance in swimsuit round with her iconic slow-mo turn, Catriona Gray wowed the crowd strutting on stage wearing Mak Tumang's gown inspired from Miss Universe Mikimoto crown and 'Ibong Adarna,' a mythological bird from Philippine literature which is said to have a magical vocal power to heal someone through songs. The gown, which seems to be a collage of shiny orange and gold beaded feathers, was also described to be look like a phoenix that is a "symbol of resilience, rising and rebirth."
https://www.instagram.com/p/BrWy8sGAi_w/
She was also wearing a pair of dangling earing which has golden sun patterned after the sun in the Philippine flag, and with golden south sea pearls. It was designed by her and executed by Teressa Jewelry.
Pinoy support system
After her stunning performance and showcasing Filipino heritage, culture and arts through her wardrobe since day 1, Catriona Gray earn praises and support from Filipino netizens and Pinoy local and international celebrities.
Victoria's Secret Fashion Show Model Kelsey Merritt posted a comment on Catriona Gray's Instagram post dew words of encouragement, "You got this!!!!!!! Soooo good Catriona Gray."
In her Facebook and Instagram post, Miss Universe 2015 Pia Wurtzbach prayed "for good weather, world peace, and….. for Catriona to win Miss Universe!" She also asked her fan group Pianatics to support Miss Universe Philippines.
Miss Intercontinental 2017 First Runner-Up and Miss World-Philippines 2018 Katarina Rodriguez post a comment in Gray's IG photo, "You're gonna win, Catriona."
Binibining International 2017 Mariel de Leon posted, "Catriona was perfect during prelims! I'm sure she will be Miss Universe 2018!"
Mister Universe Tourism 2018 Ion Perez expressed his support on his twitter and asked others to support the Filipina beauty queen.
"Hello po, suportahan at ipagdasal po natin si Catriona Elisa sa kanyang nalalapit na laban sa Miss Universe. Salamat po."
Actresses Anne Curtis and Kim Chui, and Umagang Kay Ganda host Gretchen Ho also sent their support via twitter posts.
The new Miss Universe also received support from her Binibining Pilipinas sisters and Filipina international queens such as Miss Supranational 2013 Mutya Datul, Miss Earth 2015 Angelia Ong and Miss International 2016 Kylie Verzosa.
International model and host Tyra Banks posted on twitter, "I mean… Pinoy Power to the Max" in response to one netizen who tagged her twitter post saying that she will be proud of Catriona Gray's preliminary performance.
Banks also noticed and posted a tweet about Pia Wurtzbach's smize during the Miss Universe Coronation back in 2015.
I mean…Pinoy Power to the Max!!! https://t.co/ar22wLvw2k

— Tyra Banks (@tyrabanks) December 15, 2018
2018 Miss Universe Catriona Gray brings home the country's 4th crown after Pia Wurtzbach in 2015, Margie Moran iin 1973, and Gloria Diaz in 1969/
Facebook Comments