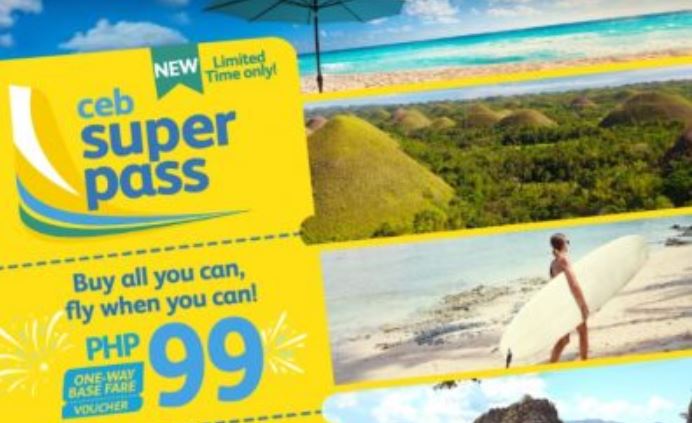 CEB Super Pass, the Cebu Pacific seat sale, is back to selling flights to any destination in the Philippines for only PHP99 each.
The return of the pass which was first offered in May is part of Cebu Pacific's 25th-year celebration.
CEB Super Pass is available starting today, September 9, until September 16th.
The 99-peso (one-way base fare) allows the user to buy plane tickets to any of the airline's over 30 domestic destinations.
The buy all you can and fly when you can promo can be given as gifts to for the Christmas season. The travel period for these passes is from September 16, 2021, all the way up to September 30, 2022.
Passengers who have existing Travel Funds may also make use of their virtual wallets to stock up on these vouchers.
"We want to keep inspiring everyJuan to look forward to traveling no matter what their reason may be – be it for immediate travel, or for the coming months. Because the situation continues to be fluid, we know the CEB Super Pass is a timely option for guests who know they want and need to travel, but are unsure of destinations and dates. With this voucher, everyJuan is guaranteed a very affordable fare," said Candice Iyog, Cebu Pacific Vice President for Marketing and Customer Experience.
How to purchase the CEB Super Pass
Purchasing the CEB Super Pass can be done in just four easy steps:
1. go to http://bit.ly/CSP9-9
2. input the number of passes you want
3. add passenger names
4. pay
Payment may be settled via existing Travel Funds or other online payment options such as credit cards. Once successful, your CEB Super Pass will be sent via email, for keeping until you are ready to redeem with a final place and date in mind.
How to redeem the CEB Super Pass
Booking the CEB Super Pass can be done via the "Redeem CEB Super Pass" tab on the website as early as thirty (30) days before the flight's departure or seven (7) days before the intended flight date, as long as seats are still available.
Vouchers may be redeemed from September 9, 2021, to September 23, 2022.
Guests may redeem CEB Super Pass by clicking the 'CEB Super Pass' icon under 'Book' on the menu on the CEB website. A maximum of 10 vouchers per transaction is allowed. However, there is no limit to the number of total vouchers each passenger can avail of until September 16 – allowing everyJuan to buy as many vouchers as they want.
"You can count on us to ensure we continue fulfilling our commitment to provide seamless connectivity and value-for-money deals so we keep enabling everyJuan to fly," added Iyog.
CEB currently flies to 32 domestic destinations, mainly from its hubs in Manila and Cebu. For more information on CEB Super Pass, visit www.cebupacificair.com
Cebu Pacific has also resumed its flights to Siargao and Bohol this week.
Good News Pilipinas is celebrating its 15th Anniversary in 2021 by giving away prizes! Subscribe to our Good News Pilipinas! TV YouTube channel and enter the raffle by sending us an email to editor@goodnewspilipinas.com
Facebook Comments