United Nations-affiliated youth and gender rights activist, Chloe Seraspe Reynaldo, has been recognized as the 2016 Global Innovator by Texas Christian University (TCU).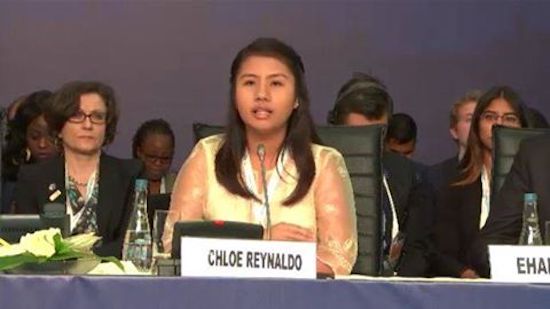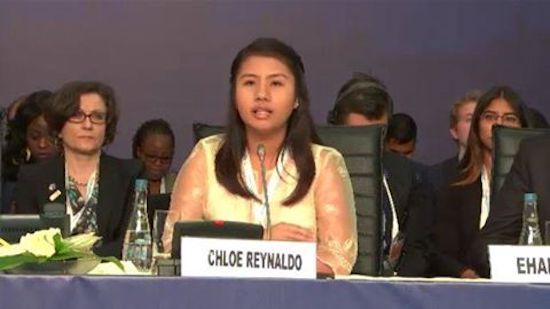 Reynaldo was recognized by the TCU Global Innovators Initiative, "Discovering Global Citizenship," which brings a groundbreaking individual to the campus for one week of student engagement activities and is given a project grant to sustain the innovator's work in their home country.
The 16-year- old advocate for the United Nations Population Fund (UNFPA) Asia-Pacific Regional Office and UNFPA Philippines shares her mission as, "I want youth to look at me and say, 'If she can do that, then I can, too!' I want adults to look at me and say, 'If she can do that, then my child can, too!'"
Reynaldo emphasized, "Youth need to be motivated – adults need to support and cultivate the next generation. I want that perspective to be present whenever we're discussing the voice of the youth."
The teen activist talks about opportunities for young people to participate in governance, and why the youth should be involved.
Reynaldo's advocacy in the Philippines is gender equality, sexual and reproductive health issues.
She is a member of Y-PEER, a global youth peer education initiative pioneered by UNFPA that encompasses more than 500 nonprofit organizations and government institutions.
"We're proud to be hosting such an extraordinarily impressive young woman," said Dr. Anne Helmreich, Dean, TCU College of Fine Arts. "Chloe's work and accomplishments are certainly representative of the value TCU places on diversity and our mission to prepare students for responsible global citizenship."
Reynaldo was formally recognized as the 2016 Global Innovator in late September after a week of meeting and talking to TCU students, and addressing Fort Worth ISD's International Newcomer Academy.
Facebook Comments