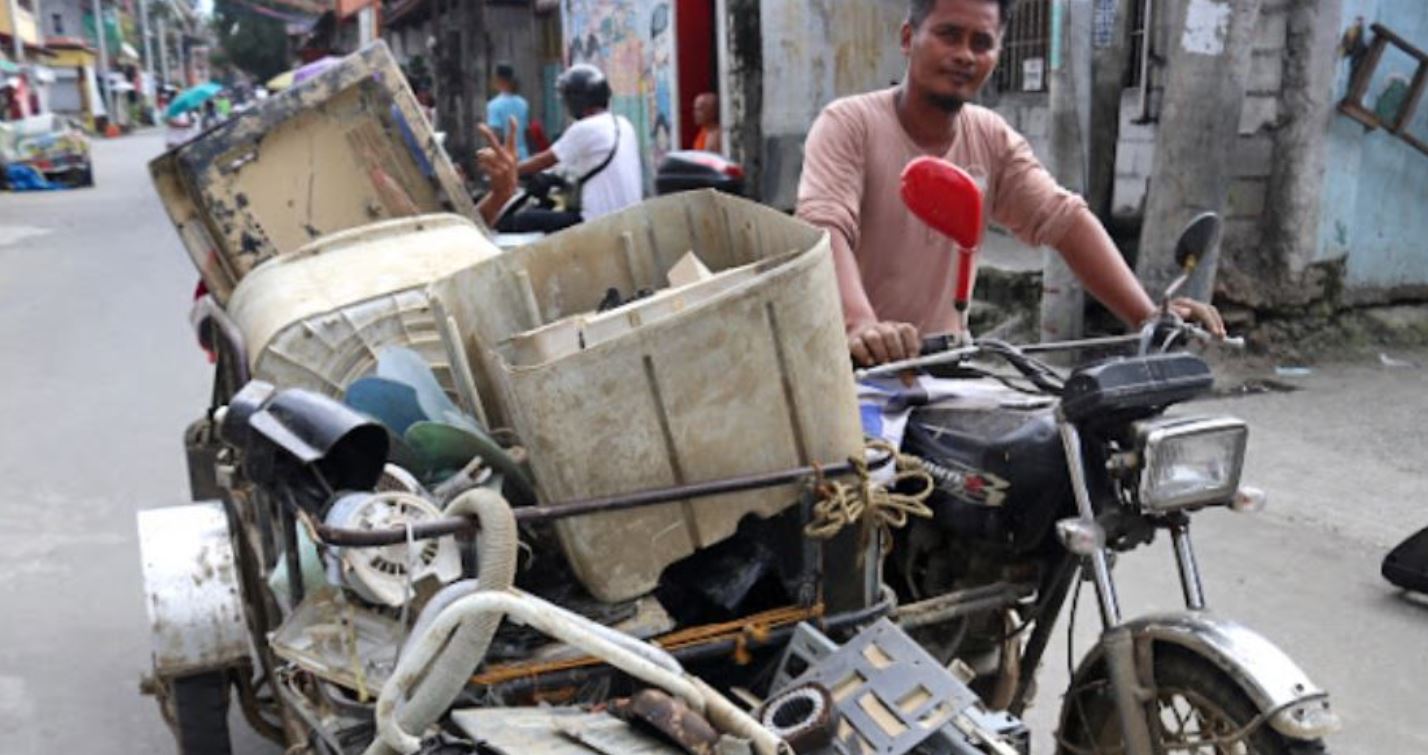 Computer, aircon, and appliance electronic waste (e-waste) informal collectors in your neighborhood are doing the job of environment defenders but without the required protection from toxin exposure.
In an EcoWaste Coalition report profiling e-waste informal workers (as opposed to those who are trained and hired) – writer Patricia Nicdao describes the household trash collectors who roam neighborhoods offering to pick up items such as broken computers, air conditioners, television, washing machine, and other appliances.
"They are the informal e-waste workers – the people on the streets pushing a heavy pedicab or kolong kolong filled with e-waste while walking under the scorching sun and continuously shouting their calls for e-waste," Nicdao writes.
The daily grind of these informal e-waste workers is described as follows:
They wake up at the break of dawn and start working at 7 AM
They roam around villages, barangays, and even cities to buy and collect e-waste from households
They walk miles and miles pushing heavy materials the entire morning despite intense heat or rain
They barter for e-waste with offers of new household items such as timba, batya, tabo, or any cheap alternative
At 11 AM, they travel back to their community, which is usually kilometers away from their collection sites, and prepare for dismantling the e-waste they've collected
In the afternoon, they dismantle these e-wastes by separating all the materials that can be sold, breaking yoke and peeling wires to harness brass, and then throwing away parts (e.g., tube, styrofoam, wire coatings, etc.) that have no selling value.
After this lengthy and dangerous process of dismantling e-waste, they sell it to junk shops, where they earn an average of PHP 300-500 per day
Nicdao adds that informal e-waste workers often experience discrimination, sexual harassment, or even physical violence on the streets. "Unfortunately, most of them just endure this by thinking of it as part of the day's work, or else, they'd end up starving due to a lack of income," she adds.
The EcoWaste report points out that dismantling e-waste is a difficult job than endangers the worker's health:
Improper dismantling of e-waste may cause the release of toxic pollutants, such as Polychlorinated Biphenyls (PCBs) and Polybrominated Diphenyl Ethers (PBDEs).
PCBs which are commonly found in electrical transformers and capacitors are considered a "probable human carcinogen" and are also known to interfere with the hormone system, lead to reproductive system failure, and may suppress the immune system.
On the other hand, PBDEs which are used as flame retardants in electronics can enter the body by inhaling contaminated air or ingesting contaminated food. It can cause serious health effects on the thyroid, liver, and kidney. Women e-waste dismantlers, particularly, are more prone to the adverse effects of PBDE in WEEE as these can be transferred to unborn fetuses.
On top of this, they also often get injured during dismantling due to the sharp and heavy objects, such as screwdrivers, saws, hammers, cutters, and pliers, used for dismantling, and even the parts of the gadgets and appliances themselves are often razor-sharp, which quickly cut the unfortunate dismantler.
Nicdao rues that despite the adverse health impacts, discrimination and harassment, and heavy labor experienced by informal e-waste workers, they only earn PHP 300-500 a day depending on how many they collect and how valuable the parts are.
"PHP 300 is way below the minimum wage in NCR, and PHP 500 barely reaches the standard. But they do it because they have to eat, put a roof over their heads, and provide for their families," observes Nicdao.
"Most e-waste workers are still part of the informal sector, which means they do not receive any benefits or services for their hard work. They do not just do it for themselves but also for the country's solid waste management and the environmental state since e-wastes have severe effects on the planet."
"It's high time for them to be formally recognized as waste workers and receive the rights, benefits, protections, and services they rightfully deserve. They are more than e-waste workers. They are also frontliners and environmental defenders whom society cannot live without."
Filipino women dismantlers of e-waste have been cited in a UN webinar for workers' safety.
A Caloocan City barangay has been praised for practicing safe e-waste management.
Good News Pilipinas is a Lasallian Scholarum Awardee. TELL US your good news story tips by messaging GoodNewsPilipinas.com on Facebook, Twitter, Instagram, or e-mail editor@goodnewspilipinas.com and WATCH Good News Pilipinas TV YouTube & Good News Pilipinas TikTok for more Filipino Pride stories!
Facebook Comments