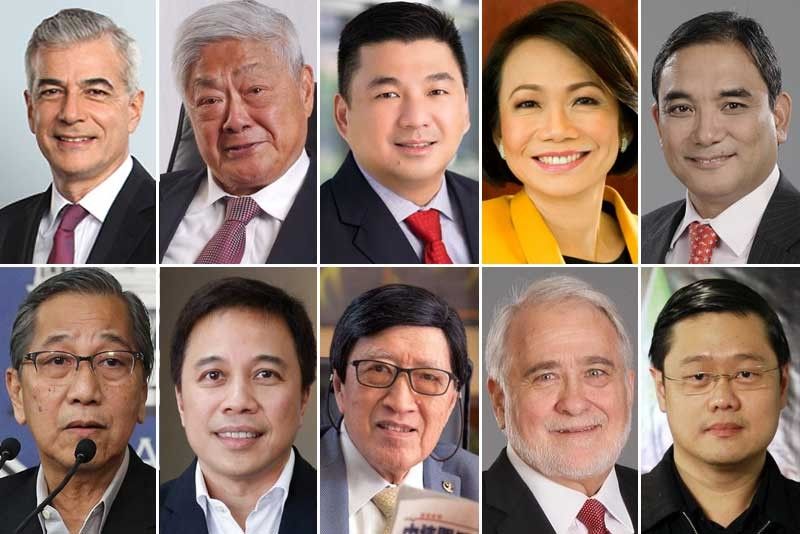 The year 2018 has been good yet turbulent for our fast-growing but resilient Philippine economy, with challenges like oil price-induced inflation (now stabilizing) and global uncertainties from the unresolved US trade war vs. China. Let us continue to work hard and invest in 2019.
Congratulations to the Ayala Group for the "MAP Management Man of the Year 2018" Award given to Ayala Corp. president and chief operating officer Fernando Zobel de Ayala on Dec. 11, by the Management Association of the Philippines (MAP), led by president Ramoncito "Mon" S. Fernandez (CEO of Maynilad Water Services Inc.) and vice president Dr. Donald Patrick Lim (CEO of Dentsu Aegis Network Philippines).
According to MAP executive director Arnold P. Salvador, the incoming MAP president for 2019 is Rizalina "Riza" G. Mantaring, chairman of the Philippines' No. 1 biggest life insurer, Sun Life Philippines.
'Management man of the year' & triathlete
The 56-year-old Fernando Zobel de Ayala was cited by MAP for helping lead the Ayala Group to being consistently ranked by the global investor community as among the best in the Philippines for management excellence, corporate governance, sustainability and people management.
Zobel was also cited for nurturing the strategic transformation of Ayala Land, for helping establish the successful Public-Private Partnership, and transforming the Manila Water Company into a water-infrastructure player in Southeast Asia. He is also active in civic endeavors like Habitat for Humanity, Centex, HERO Foundation, Caritas, Asia Society and the National Museum.
I want to add another reason entrepreneurs and professionals in the Philippines should admire Fernando Zobel de Ayala: his athleticism and physical discipline as a triathlete. He shows us that one key to success is to have a what the First Century A.D. Roman poet Juvenal described as "Mens sana in corpore sano" (Latin for "a healthy mind in a healthy body")."
Genius entrepreneur Gokongwei keeps on reading
Last year's MAP Management of the Year 2017 awardee was JG Summit Holdings, Inc. founder and Gokongwei Brothers Foundation founder, the genius of Philippine business whom I admire, self-made 92-year-old industrialist and philanthropist John L. Gokongwei Jr.
On Oct. 25, Cebu's prestigious 423-year-old University of San Carlos conferred the "Lifetime Achievement Award" on its alumnus Gokongwei, who I believe is one of Southeast Asia's most inspiring, efficient and intelligent "rags-to-riches" entrepreneurs.
Actually, Gokongwei's saga is really painful and difficult, because he was only 13 when his father died and their affluent family suffered a reversal of fortune. At the University of San Carlos award rites, among those on stage with him were the rich kin of his late father, such as Gokongwei's uncle, University of Cebu owner Augusto Go and Gokongwei's cousins from the Sy/Gaisano clan.
Here are excerpts from Gokongwei's acceptance speech:
"It's always special to be back here in Cebu, my hometown. And it is extra-special to be here at my alma mater, the University of San Carlos. When I was 13 years old, my father died, leaving me to take care of my mother, my four brothers, and my sister. At the time, my youngest brother, James, was only nine months old. I took care of them all. Because the family has always been my priority. It was here in Cebu that I first earned my first few pesos. I used to wake up way before dawn to ride my bicycle to the public market many kilometers away. I set up a little table at the market to sell spools of thread, bars of soap, and candles. I earned about P20 a day by working longer and harder than everybody else. But it didn't matter since I really loved my work. I loved being an entrepreneur.
"And so, all through the years, I stayed as an entrepreneur, loving what I did and working hard. And always learning from the school of life. Years later, when I was married to my lovely wife, Bia, and had six children of my own, I finally had the means to go back to school. I went to De La Salle University to get my MBA. It took me four years since I was a working student. When I got my diploma it was one of the proudest moments of my life. Then I went to Harvard in 1972 for 14 weeks to take the advanced management program.
"Today, I am 92 years old. I still wake up early and I still love to do what I'm doing. I still know everything that is going on in my company. I still love to learn and am always reading books, and now, online stories in this new digital age.
"I always tell my children, my grandchildren, and my colleagues: Love your work. Work hard for it. Love your family. Love your country. Never stop learning. And always look back and be grateful for where you came from. Thank you, University of San Carlos, for being a large part of who I am today. Thank you for this lifetime achievement award."
The 2018 Investor of the Year
If there is an "Investor of the Year" award in the Philippines for 2018, it should undisputedly go to 44-year-old Davao entrepreneur and Phoenix Petroleum founder Dennis Uy, who has also been welcomed by the young Filipino-Chinese entrepreneurs of Anvil Business Club as its honorary member.
His many new investments, from the Mislatel joint venture with China Telecom, which hopes to help improve the country's telecom services and rates, to real estate in Clark, new tourism ventures, a bakery chain, etc., show other local and international investors his bullish faith in the continued fast growth and resilience of the Philippine economy.
Four outstanding business leaders
Condolences to the loved ones of four outstanding business leaders who've each contributed much to Philippine socio-economic development; they died within days of each other.
Generous philanthropist, art patron and Metrobank Group chairman emeritus Dr. George S.K. Ty died at age 86 on Nov. 23.
Dominic Sytin was assassinated at age 51 on Nov. 28. The self-made United Auctioneers, Inc. founder was my younger sister's batchmate at Grace Christian College (formerly Grace Christian High School). He excelled at University of the Philippines-Diliman, graduating with double degrees in business administration and accountancy, magna cum laude. He delivered the valedictory address for the entire UP Business Administration Class of 1989 as the "Most Outstanding UP BS BAA 1989 Graduate."
Visionary Aboitiz Group leader Jon Ramon Aboitiz died at age 70 on Nov. 30.
The dynamic Philippine Chamber of Commerce and Industry, Inc. (PCCI) leader, Ambassador Donald Gochioco Dee, died at age 72 on Nov. 24. His late father was garments industrialist Rufino Dee Un Hong from the seaside village of Shizhen (pronounced "Chiochun" in Hokkien) of Fujian province, while his immigrant maternal grandfather was the rich pre-war tobacco trader JJ Gochioco, who became a major stockholder of the Germinal Cigarette Manufacturing Company and Manila's defunct pre-war Mercantile Bank.
Wilson Lee Flores' writings appear with permission on GoodNewsPilipinas.com Mondays.
(Wilson Lee Flores is a multiple award-winning writer, journalist, Kamuning Bakery artisanal breads savior, and Pandesal Forum moderator. This column was previously posted on his column in the Philippine Star. His "KuwentongPanadero" inspiring stories are found on Pilipino STAR Ngayon. Follow @wilsonleeflores on Instagram, Twitter, and Facebook.)
Facebook Comments