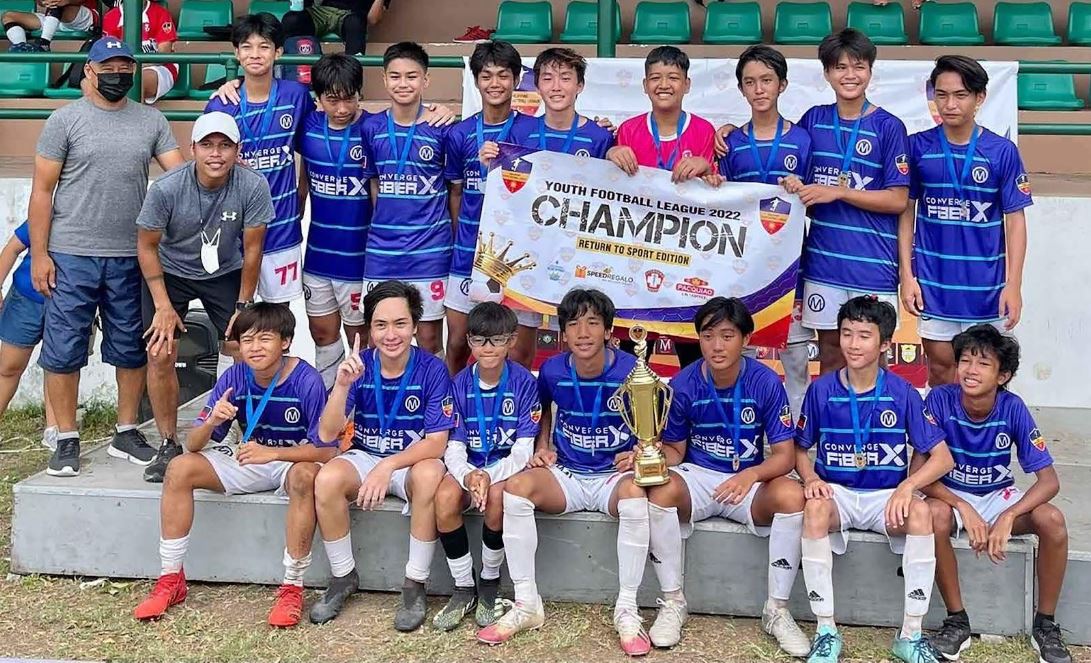 Every child deserves the liberty to dream, to play, to enjoy their youth, and to have access to opportunities that will safeguard their future. There is no greater vocation than to serve and care for the next generation, and Converge ICT Solutions Inc. is at the very forefront of this calling.
As the leading fiber broadband provider in the country, Converge has always been serious about their goal to uplift the overall Filipino quality of life and improve the experience, most especially of those from underserved and unserved communities in the country.
The company has long been dedicated to giving Filipinos better opportunities, which is ultimately what drove them to support and sponsor Malaya Football Club (Malaya FC), a non-profit organization dedicated to improving lives through the sport of football.
"At Converge, it is our goal to empower people to be their best and we recognize sports as an important part of community and character-building, especially for underprivileged kids. This sports club provides a chance for the children to develop their skills and talents. It is also an avenue for them to seek a better future. This is in line with our advocacy to extend opportunities to the youth, as we've done before through connectivity projects," said Converge CEO and Co-Founder Dennis Anthony Uy.
Mayala FC provides opportunities for kids from marginalized communities to play football for free every weekend, providing them with uniforms, football shoes, equipment, and other support for training and competition.
Since it was founded in 2012, the non-profit organization has survived mostly on sponsorships alone. However, due to the pandemic, many of their individual sponsors and donors, unfortunately, started to back out, causing the club's funds to slowly zero out.
As an organization with similar values and goals, they had found a friend in Converge. According to Mark Duane Angos, Secretary-General of the Malaya FC and Technical Director of the Talent Development Academy, the club would not at all have survived if it weren't for the company's helping hand.
Thanks to the support of Converge, Malaya FC was able to reactivate its programs, reach out again to their children- beneficiaries, and resume with training and competing once the Covid situation improved early this year.
"The support of Converge is very critical to the club as without it, these kids wouldn't be able to play the sport that they love," said Angos. "These kids at a very young age face struggles that di dapat naman nila hinaharap. Thanks to Converge, we were able to provide an opportunity for them every weekend to get away from that ecosystem of hardship and poverty, play football, and just be a child again."
Developing Professional Athletes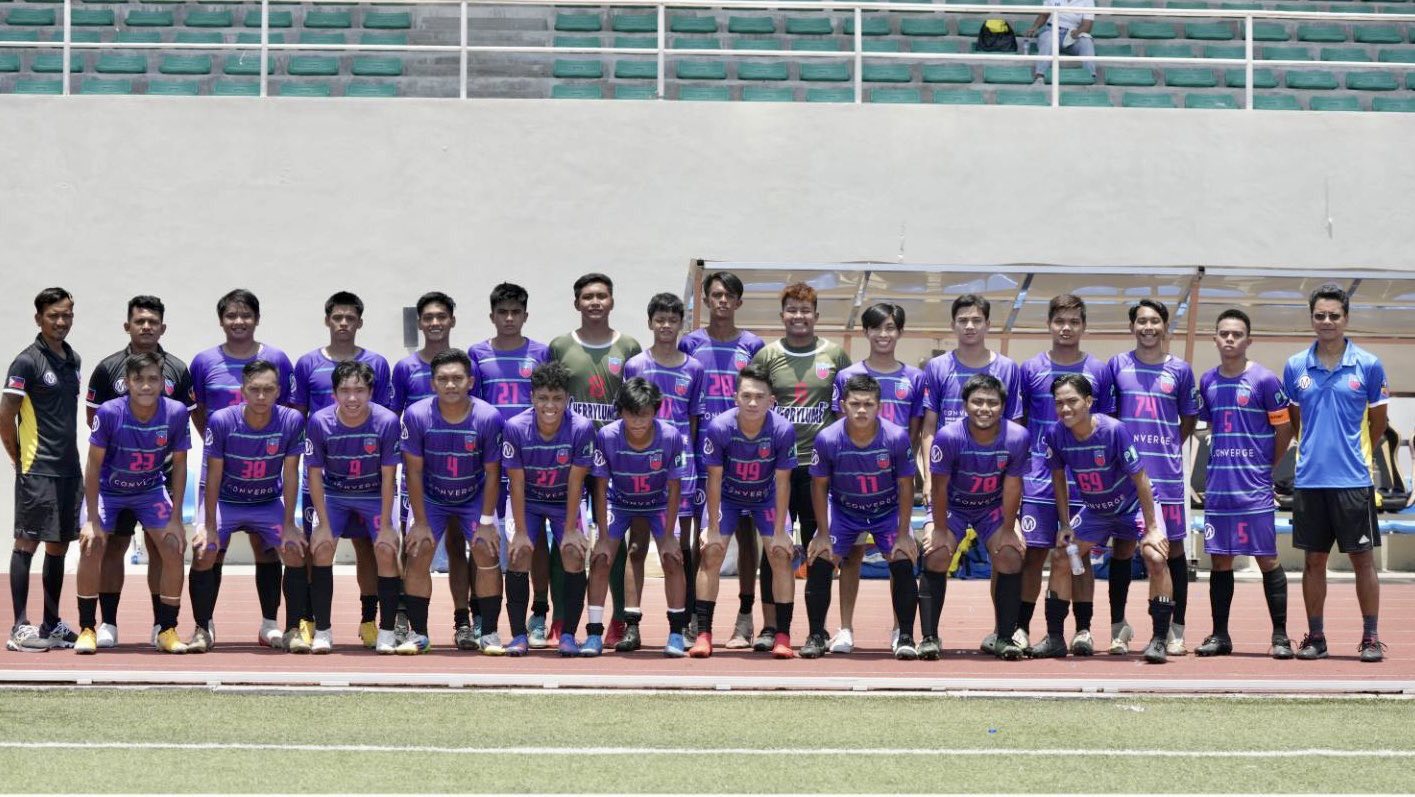 Angos recalls that the Malaya FC was built to provide an avenue for underprivileged kids to play football solely as a source of fun. However, as the years went by, the organization realized that by providing consistent training the whole year round as well as opportunities to compete, they had started developing really skilled players from Tondo, Taguig, Quezon City, all over Metro Manila, and provinces as far as Bulacan and Pampanga. It was then that the Malaya FC kids started to get the attention of various universities recruiting players for the National Collegiate Athletic Association (NCAA) or even the University Athletic Association of the Philippines (UAAP).
Many players were being scouted by universities and given athletic scholarships. Thus, the Malaya FC became an avenue for many underprivileged, gifted athletes to break the cycle of poverty, get access to quality education, and pursue better opportunities ahead.
Currently, the Malaya Football Club has over 450 active players under their program, all ranging between 6 to 19 years old. Most recently, the football club was able to send various teams of different age groups to compete in the Youth Football League 2022, many of which were even crowned champions or finished as runners-up of the tournament.
"We are able to do all this thanks to the support of Converge," said Angos. "Not only are our kids exposed to being recruited to prestigious national universities, but we are now also able to send our many skilled players to prestigious tournaments abroad. What more opportunities await them now that they can participate in international tournaments as well!"
Angos reports that some of their players have been recruited to the national team of Philippine football and even to professional football clubs around Southeast Asia. Their teams continuously receive invites to participate in tournaments abroad and as such Malaya Football Club has since built many international partnerships with big countries such as Japan, Indonesia, Malaysia, China, and even Spain.
Converge is proud to support such young talented players and is more than dedicated to ensuring that the future remains bright for these Filipino kids.
"We are proud to wear the colors of Converge in competitions because we know that our goal of giving Filipinos better opportunities are aligned," said Angos. "Nagpapasalamat kami sa Converge for making it possible for these kids to dream, to play football, and to be children again despite all the hardships they face at a young age."
Converge has also been supporting the UAAP Season 84 Men's Basketball Champions, UP Fighting Maroons.
Good News Pilipinas is a Lasallian Scholarum Awardee. TELL US your good news story tips by messaging GoodNewsPilipinas.com on Facebook, Twitter, Instagram, or e-mail editor@goodnewspilipinas.com and WATCH Good News Pilipinas TV YouTube & Good News Pilipinas TikTok for more Filipino Pride stories!
Facebook Comments