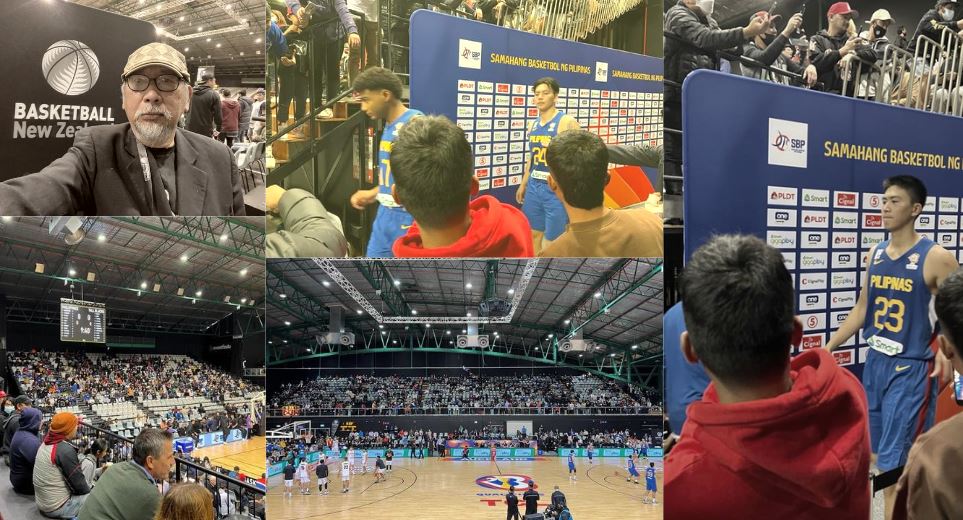 I always say to my Kiwi friends, that for short people like us Filipinos, we love basketball, whether playing or watching it. It isn't just love; it borders more on adoring the players and putting them on a pedestal. Hero-worship comes to mind. Such was the scenario last Thursday, June 30, when the Gilas Pilipinas men's basketball team met the New Zealand Tall Blacks at the Eventfinda Stadium in Auckland.
When the game was finally announced a couple of months ago, word quickly spread in the Filipino community, and tickets for the game sold out. On game day, I saw mates from Hamilton and other parts of the North Island, as well as some who traveled all the way from Wellington and Christchurch, to watch the game. It wasn't just our Ka-barangays who wanted to watch the game, it was also Kiwis who love the game and wanted to see the Tall Blacks play on the home court. The last time was in 2018 in Wellington.
According to statistics from School Sport New Zealand (NZSSSC), basketball as of February 2019 is now the second-largest sport in the country's high schools. There are 122 Kiwis playing in the U.S. right now, all of them on athletic scholarships. This is true for men and women. It seems to be a pathway for Kiwis to get an American education while playing basketball. I had a former high school student who was able to get her scholarship via this route. After graduation, some of them come back to play for the Tall Blacks or the Tall Ferns.
No wonder, the game was sold out. I estimated a crowd of around 5,000 which is already a huge one in Aotearoa New Zealand. More than half of that was definitely Pinoy basketball fans, who came out with their Gilas Pilipinas jerseys and t-shirts, others waving large and small Philippine flags.
There was a festive atmosphere and everyone was in a happy state of being. This was of course another clear statement of how New Zealand has been able to ride the Covid-19 pandemic, allowing huge gatherings like this to eventuate. Of course, as a precaution, there were still heaps of people who were wearing facemasks.
The game promptly started at 7:30 p.m. with the singing of the national anthems of both countries. Again this was a meaningful event because the vocal group who sang was Melodika, a Kiwi quartet, that also sings OPM songs. In fact, they performed a week ago in another Pinoy event. They're really good and if you close your eyes, you won't know that they're not native-born Pinoys.
They were the real deal, singing with gusto and performing later on at half-time, with their own version of Francis Magalona's Kaleidoscope World. I love this group having heard them perform in the past. Nothing could and will dampen their spirit, even when their car was burglarized a week ago, wherein $60,000 worth of equipment and personal effects were stolen, they carried on and performed.
After the national anthems, the Tall Blacks then performed the haka. It is a ceremonial Māori war dance or challenge, usually performed by a group and represents a display of a tribe's pride, strength, and unity. For the Tall Blacks, it is not a war dance or chant. It is purely to show that they all stand strong, not only as Tall Blacks or as basketball players, but as a people, as New Zealanders. I've witnessed the haka performed so many times, but last Thursday was different. I felt proud of both cultures that I'm privileged to be a part of.
I became a bit skeptical when the Gilas lineup was announced. Height is might in basketball and this was evident as the game progressed. The taller and bulkier Tall Blacks were unstoppable inside the paint. There were several slam dunks made much to the delight of both Pinoys and Kiwis. The Gilas boys made a gallant stand in the first quarter 23-13. But the Tall Blacks didn't disappoint the home-court crowd as they slowly and steadily surged ahead. The final score was 106-60.
It was quite uplifting to see and feel the Pinoy spirit of never say die, as they kept on cheering and applauding every effort made by Gilas. During the second half, I made an effort to sit in an area where it was predominantly Kiwis. It was so gratifying to see Kiwis also cheering the Gilas boys.
Appreciation for the efforts and determination of the boys to score and play was evidently displayed in their calls and actions. They smiled at me every time I showed elation at the efforts of the boys. I am blessed to live in a country that embraces diversity and inclusiveness.
I was really hoping that Kiwi basketball coaches and team owners would be able to have a first-hand look at some of our Gilas boys who might be scouted to play in the NZ National Basketball League. Perhaps the Kiwi basketball community will now realize that Pinoys will always come out to support basketball. And having a Pinoy in their team whether as a Tall Black or any of the NZ NBL teams will be good not only for business, in terms of ticket sales, but for the growth of Kiwi basketball in general.
As it became evident in the last quarter, with more than five minutes left of play, that the Tall Blacks will win, Kiwis started trooping to the exits. But not the Pinoys! They stayed on until the last buzzer sounded. A strong round of applause came from the crowd for both teams. Of course, Pinoys hang around the longest, waiting for a chance to get a selfie with the players. I saw some lucky ones getting autographs from Kiefer Ravena and of course crowd favorite Dwight Ramos was inundated with calls for photo ops. The other Gilas boys also had their share of picture-taking.
I could see the amused look of the Kiwis who were witnessing this very Pinoy way of showing their appreciation, as well as trying to capture the moment for posterity. And when the Gilas boys finally left the court, the remaining Pinoys began to approach the Tall Blacks who were still on the court, to get their selfies. I could see that the Tall Blacks were not used to having these adoring, Pinoys around them. But they gladly obliged and from their looks enjoyed the moment.
Overall, it was a great night for basketball diplomacy: Gilas Pilipinas hopefully gained more experience playing in the international arena, the Tall Blacks and Kiwis saw how passionate Pinoys are in supporting the game, and we Pinoys who always yearn for something back home whether it is in music, food, and of course basketball, had our fill of memories. Now, what would have happened if Gilas Pilipinas with a much stronger line-up won? But that is another #ekwentomo.
CHECK OUT more writings by Rene Molina here:
A Close Encounter with Coach Tab Baldwin
Eraserheads' Ely Buendia on New Zealand show NetKapihan with Direk Rene
Good News Pilipinas is a Lasallian Scholarum Awardee. TELL US your good news story tips by messaging GoodNewsPilipinas.com on Facebook, Twitter, Instagram, or e-mail editor@goodnewspilipinas.com and WATCH Good News Pilipinas TV YouTube & Good News Pilipinas TikTok for more Filipino Pride stories!
Facebook Comments