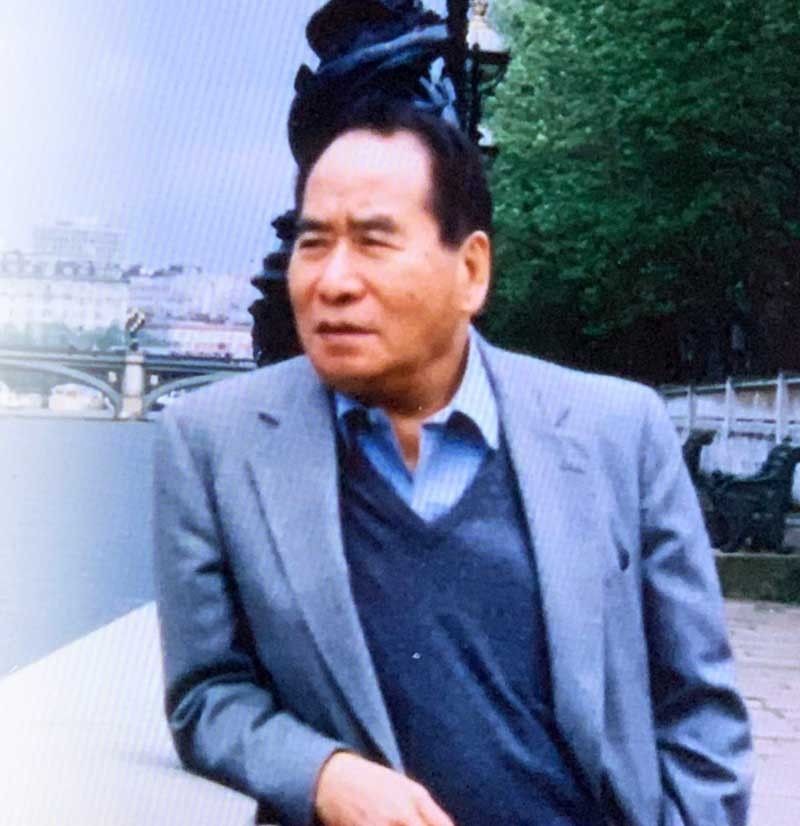 'Outwardly I may look quiet, but deep inside I'm full of this sense of challenge. I'm always striving to work harder, to improve by learning, to do better and keep dreaming.'
Two remarkable business leaders and philanthropists who've given me unforgettable interviews are Henry Sy Sr. and John Gokongwei Jr. I have long been an admirer of the country's top self-made entrepreneurs — they not only own progressive businesses, they also posses a magic touch that has led them to create their own fortunes. They're nation builders who've contributed to Philippine socio-economic development, and these two rugged Fujian-born entrepreneurs have shown us that all things are possible, as long as we dream, believe and work hard.
What to me is most admirable is they've led simple lifestyles, but they've given so much to philanthropy focusing mostly on education.
Once a shoe retailer, always a shoe expert
The first time I met the late SM Group founder Henry Sy was at his office in Makati and I noticed that his eyes were keenly examining my footwear, which were just simple rubber shoes. Becoming a bit embarrassed, I soon realized he wasn't questioning my lack of fashion sense.
Once a shoe retailer in his youth, Henry Sy apparently remained a passionate and observant shoe expert at heart.
Through the years, he'd invite me for chats, sharing his thoughts on diverse topics, sometimes showing me documents, letters. Once, I think in 2004, he showed me papers about his SM movie theaters no longer allowing R-18 movies that contained gratuitous sex or violence.
Once at his office, he showed me a letter written to him by then Ayala Group CEO Jaime Zobel de Ayala thanking him for lending Sy's private jet for their family trip to Bali.
Always aiming to be no. 1
One day in 2002, when Henry Sy's high-end Podium Mall was newly opened, his office called and said Sy was inviting me to Figaro Café in his new mall. That meeting became one unforgettable interview as the conversation lasted five hours.
From coffee at Figaro Café, then dinner at Banana Leaf Restaurant, he then toured me to the various outlets. Sy happily pointed out that despite being a Tuesday night his new mall was full of people. Perhaps his office informed tenants that Sy was visiting because owners of the different establishments were on hand to greet him and he introduced them to me.
Sy explained it was called "Podium" — literally meaning a small platform — because he and his Singaporean partners had originally planned to build two tall condominium towers on top of it. Due to the 1997 Asian financial crisis, Sy delayed such plans except for The Podium.
Henry Sy said, "Pride or ego is not important to me, what is more important is common sense, the welfare of the company and the objective reality that we need to be cautious during difficult times. One should not make decisions based on emotions or ego."
I asked Sy's reactions to newspaper reports that other mall giants were opening branches nationwide. Our five-hour conversation was entirely in Hokkien (southern Fujian dialect), and it was only then that he uttered one word in English, saying: "Gwa um-si push-over (I'm not a push-over)." He continued, "I will not settle to become No. 2. Ever since I was a child, even before coming here to the Philippines, I've always believed in doing my best. It has always been my goal to be No. 1 in whatever it is that I do."
He added, "Outwardly I may look quiet, but deep inside I'm full of this sense of challenge. I'm always striving to work harder, to improve by learning, to do better and keep dreaming." The precise Hokkien word he used was tyo, which I had originally thought meant "restlessness." However, another erudite tycoon explained that the Hokkien word tyo comes from the Chinese phrase pronounced as tiao-zhan in Mandarin and literally meaning "challenge."
At that end of our five-hour conversation, while riding the escalator down, I casually asked why unlike some rich guys, he was not known to have a No. 2 wife? Henry Sy replied: "It is just my nature."
Henry Sy got SM Megamall due to a coin toss
The late Ortigas clan patriarch Francisco "Paquito" Ortigas Jr. once recounted to me a colorful story in the late 1980s. Equally talented self-made entrepreneurs John L. Gokongwei Jr. and Henry Sy both wanted to acquire their one parcel of prime land located at the corner of EDSA highway and Ortigas Avenue.
In order to satisfy both competing business taipans, Ortigas invited them to a heads-or-tails coin tossing. The winner would get to buy the coveted lot at EDSA corner Ortigas Avenue, while the loser could instead buy another lot nearby along EDSA.
Gokongwei won the coin flip and took home the coin. He constructed his first mall there called Robinsons Galleria which started in 1988 and opened it in 1990.
Henry Sy confirmed to me the veracity of this coin toss story of Paquito Ortigas. He built SM Megamall on the EDSA lot in 1989 and opened it in 1991. Sy said: "If you fail, do not be discouraged."
Henry Sy the dreamer
Sy is a dreamer who boldly built landmarks in places where others couldn't even imagine going to. He said, "You have to have a dream, whether big or small. Then plan, focus, work hard and be very determined to achieve your goals."
For instance, when I first heard Sy telling me about his grand vision for the Mall of Asia complex as "the greatest project" of his life in that far end of the metropolis by the Manila Bay, almost literally in the middle of nowhere, I was wondering: From where will he get the customers to go there? Today, the MOA area is a huge success.
Sy started his first mall venture, SM City North EDSA, during the 1983 political and economic crises. This former marshland in a remote new part of the city has since flourished.
Another of Sy's audacious ventures was his first SM mall in China which he built in his rural hometown Jinjiang (pronounced "Chingkang" in Hokkien) of Fujian province, southeast China. He was born there in the village of Hong-xi (pronounced "Ang-kue" in Hokkien). When it opened, it looked like an empty white elephant, but a few years later, the area and the mall thrived!
Henry Sy also said that he had visited Tagaytay's beautiful Taal Vista Lodge in the 1950s and dreamt of someday owning this property overlooking Taal Lake. He bought it in 1988 and renamed it as Taal Vista Hotel.
A foodie who'd buy fish at the wet market & cook for his family
Unknown to many people, Henry Sy enjoyed cooking for his family on weekends. He used to personally buy seafoods at the wet market called Seaside on Roxas Boulevard, Baclaran, Parañaque City. He had a way of knowing whether seafoods were fresh or not.
Whenever I'd be invited to have lunch or dinner with him, it's interesting to witness Henry Sy adeptly ordering delicious and healthy foods.
In the mid-1990s, Mey Lin and Tong Yang restaurant chains' founders — an immigrant couple surnamed Go and former physics professors in China — recounted that their original Mey Lin Chinese eatery used to be in a small alley called Carvajal Street, Binondo, Manila. Sy used to eat there and once invited them to open in his mall. They said they didn't have capital, so he assisted them with a bank loan.
The founders' daughter Jewell Go told me Henry Sy even advised Mey Lin Restaurant to source delicious home-made fishballs from another of his favorites, the low-key, hole-in-the-wall and now 69-year-old New Eastern Garden Restaurant on Ongpin St. in Manila. It is also known for its Hokkien (south Fujian) style fresh vegetable lumpia, yochi (kidney) or duck misua.
How Tessie Sy Coson gifted Henry Sy a house
I think it was in the year 2000 that I got a call from Henry Sy sharing with me the good news that he had a new house in Forbes Park, Makati City. It was located on an elevated part of the subdivision, elegant but simple in design compared to other mansions in the neighborhood.
He toured me throughout the house, explaining the details. I couldn't forget that his bedroom's shower area had a very practical item — a plastic chair. The house also had an elevator.
When I asked how he suddenly decided to transfer to a house, after years of conveniently residing in Tuscany condominium along Ayala Avenue, Sy smiled, saying: "My daughter Tessie stole my checkbook and bought me this house."
Wilson Lee Flores' writings appear with permission on GoodNewsPilipinas.com Mondays.
(Wilson Lee Flores is a multiple award-winning writer, journalist, Kamuning Bakery artisanal breads savior, and Pandesal Forum moderator. This column was previously posted on his column in the Philippine Star. His "KuwentongPanadero" inspiring stories are found on Pilipino STAR Ngayon. Follow @wilsonleeflores on Instagram, Twitter, and Facebook)
Facebook Comments