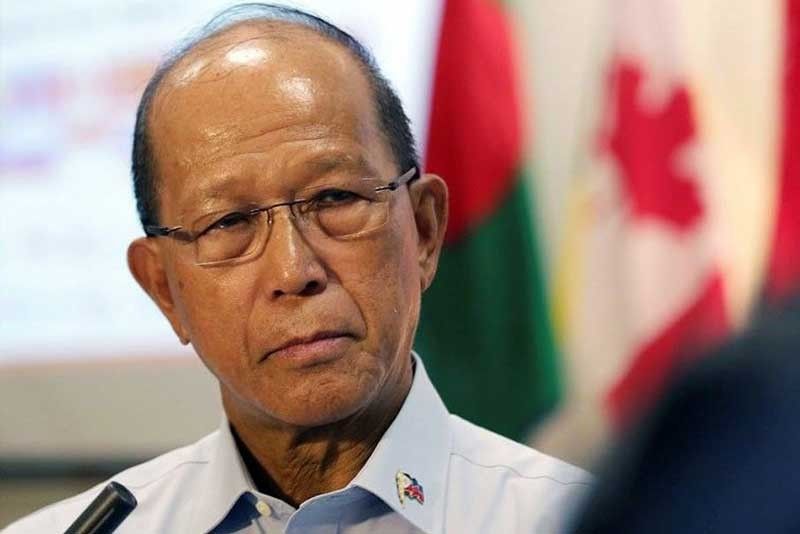 The country is like an airplane, we cannot really take off because of too much baggage.
An inspiring modern-day Cinderella story is the life of National Defense Secretary Delfin Negrillo Lorenzana, who was born in Midsayap, Cotabato province in Mindanao, as a son of a poor rural farmer. He graduated from the Philippine Military Academy (PMA) in 1973, rose from the ranks as soldier, excelled and became major general of the Philippine Army.
Lorenzana is proof of the new balance in the Philippines' wise independent foreign policy with nationalist President Rody R. Duterte normalizing our traditional good relations with China and Russia, while Secretary Lorenzana and new Foreign Affairs Secretary Teddy Boy Locsin are known for longstanding close ties with the US, our former colonizer. Lorenzana served as defense and armed forces attaché to Washingyon, DC from 2002 to 2004, and as presidential representative for veterans affairs at the Philippine Embassy in Washington from 2004 to 2015.
Secretary Lorenzana has most likely won the trust of President Duterte when he served as commander of the Second Scout Ranger Battalion in Davao City, helping in clearing the city of insurgents, sparrow units and other criminal groups when Duterte was then the iron-fisted mayor.
His awards and decorations include the Gold Cross Medal for Gallantry in Combat, the Presidential Legion of Honor (Degree of Officer), the USA Legion of Merit (Degree of Officer), and the Distinguished Service Star, etc. He also served in the Presidential Security Group under former Presidents Cory C. Aquino, Joseph Estrada and Gloria Macapagal Arroyo.
Lorenzana earned his Master of Business Administration degree from Ateneo Graduate School of Business, took courses and training at Australia University in Canberra and Senior International Leaders seminar at Harvard University. Here are excerpts of the exclusive interview he granted the Philippine STAR:
Philippine STAR: You're considered one of President Duterte's most trusted officials, when did you first meet him and how?
Secretary Delfin Lorenzana: I first met Duterte in 1987, I was then battalion commander of the Second Scout Ranger Batallion in Davao. He was not yet mayor, but OIC or officer-in-charge as the vice-mayor. Then President Cory Aquino wanted to appoint his mother Nanay Soling as the mayor of Davao City, but she recommended his son who was at the time a fiscal. Idol niya ang nanay niya (Her mother was her idol).
How long did you serve in Davao?
I was there from April 1987 up to 1989, two and a half years. In 1988, he won the election as mayor of Davao and he never lost an election since.
Where is your ancestral hometown? How did Ilocanos end up in southern Philippines?
Yes, both my parents were Ilocanos, both originally from San Quintin in Pangasinan province. Our Ilocano roots are in Ilocos Sur and La Union. How did we end up in Mindanao? We Ilocanos are lagalag din (wanderers too) like the overseas Chinese.
What were the professions of your parents? Some generals have fathers in the military?
I came from a simple family background. My late father Teodoro Lorenzana was a farmer of coconuts, corn and rice. My mother Juanita Negrillo died early, when I was 34 years old in 1982 and still only a captain.
My father studied only up to grade four, while my mother never stepped inside a school in her whole life and had no formal schooling, not even grade one. However, my late mother could read, she was self-taught by reading the Ilocano magazine called Bannawag.
What did your parents teach you?
My father and mother taught us: "Study well, we have no inheritance to give you except education." Kinayod nila (They really strived). Sa awa ng Diyos (By God's mercy), four of us among their six children were able to complete our studies.
I heard that your original dream was to be a military pilot, why did you go to the army?
My ambition was indeed to become a pilot ever since I was a kid, pero nasira yung mata ko, tinamaan ng buhangin (but my eyes were damaged, they were harmed by sands) in Daraitan mountain range in Tanay, Rizal just two weeks before my PMA graduation.
As a military leader, are you hopeful about peace under the Duterte administration?
It has been our national dream to achieve peace, to end the insurgencies of the NPA, MILF, MNLF, BIFF, Abu Sayyaf, etc. President Duterte is right that we need genuine peace for better national development. The country is like an airplane, we cannot really take off because of too much baggage.
Why did President Duterte end the peace negotiations with the Communist rebels, the CPP-NPA-NDF?
Those were useless talks, niloloko lang tayo (they're just fooling us). President Duterte said this rebellion has been going on 50 years, do they want another 50 years? Our dream is, if not to stop it, at least to lessen the insurgencies to insignificant levels.
Under government's new, strategic independent foreign policy of making the Philippines a friend of all the world's big powers, I hear we're planning to buy military weapons from many different countries?
Yes, President Duterte's reform of independent foreign policy has positive results, like gifts of free weapons from Russia and China to support our military. The Philippiunes is open to buying arms from many countries as long as costs are reasonable and the quality is good, whether from Israel or China, Russia, South Korea, USA, Europe, France, India.
What is the worst crisis in your life?
May 2001 during Edsa 3, when I was commander of the Light Armored Brigade and concurrent ground commander of Task Force Libra, I was in Camp Bonifacio in Capas. President Gloria Macapagal Arroyo called my cellphone, asking me to bring troops to Veterans Memorial Medical Center to guard the then detained ex-President Joseph Estrada. The pro-Erap demonstrators were protesting. Instead of going to Veterans at midnight of April 30, we were told to go to Malacañang Palace. At 5 a.m., there were so many people there, maybe 70,000 people. My problem was, there was no order on what I should do.
I had put three batallions from Camp Abubakar in Mendiola Street and J. P. Laurel Street, in front of the palace. We already had long hair and beards. I knocked at Malacañang, President GMA, Defense Secretary Angie Reyes and other officials were there. I asked for gas masks, but there were no gas masks. Our marching order was to take out the demonstrators.
Just one shot only, it would have been a massacre already. The demonstrators had so many dump trucks and vans with megaphones, people with backpacks. We safeguarded order without bloodshed. After that crisis, President GMA shook my hand and said: "My hero, my savior."
What are your success secrets?
Just do your job. I learned from my father to love your work. As a child, as young as seven years old, I would help him plant rice and take out grass on weekends and vacations. Love your work, just do your job.
Wilson Lee Flores' writings appear with permission on GoodNewsPilipinas.com Mondays.
(Wilson Lee Flores is a multiple award-winning writer, journalist, Kamuning Bakery artisanal breads savior, and Pandesal Forum moderator. This column was previously posted on his Bull Market Bull Sheet column on the Philippine Star. His "KuwentongPanadero" inspiring stories are found on Pilipino STAR Ngayon. Follow @wilsonleeflores on Instagram, Twitter, and Facebook.)
Facebook Comments