De La Salle University-Dasmariňas (DLSU-D) has been featured for the 3 rd straight year as the lone Philippine university and one of the few Asian universities presented by the International Sustainable Campus Network (ISCN) and Global Universities Leadership Forum (GULF) at the World Economic Forum.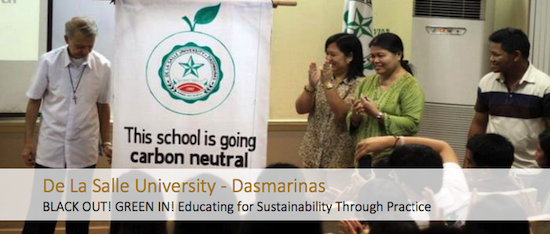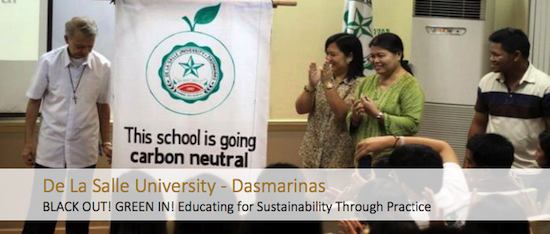 The ISCN report cites DLSU-D for its "Whole-institution approach to educating for sustainability" involving not only students but also faculty and staff in its mission.
"De La Salle University – Dasmarinas firmly believes that educating for sustainability should not be confined to the classrooms or the curriculum. By integrating sustainability into the school's practices and processes, it reinforces to the students that sustainable development is feasible and achievable through participation and collaboration," the report narrated.
"The Black Out! Green In!" initiative of the Lasallian institution in Cavite to reduce carbon emission on campus and replacing it with green or sustainable habits was featured in the forum report.
Since the program was started in 2011, DLSU-D has been credited with the following achievements:
Contributed to the national government's reforestation program by being able to plant more than 180,000 native Philippine trees in declared protected areas (carbon sequestration);
Adopted use of renewable energy in selected University areas and gradually replace lightings with more efficient systems reducing the carbon footprint in these areas by more than 50%;
Increased waste recovery from 42% in 2011 to 63% in 2015 and implemented measures that will adopt purchase of environmentally – preferable products;
Encouraged use of bicycles and electric vehicles together with designating road networks only for pedestrians;
Conserved the University's biodiversity that contributed to the lessening of energy cost from ventilation systems;
Developed monitoring programs that encourage students and student organizations to practice sustainable lifestyle;
Increased frequency in the integration of sustainability in courses from various disciplines;
Raise awareness in environmental accountability of stakeholders by adopting schemes that promote "polluter's pay" principle.
DLSU-Dasmariňas was accepted into the ISCN in 2014 as the first Philippine university to join the world network of top colleges and universities employing sustainable principles and measures in their educational institutions.
Facebook Comments