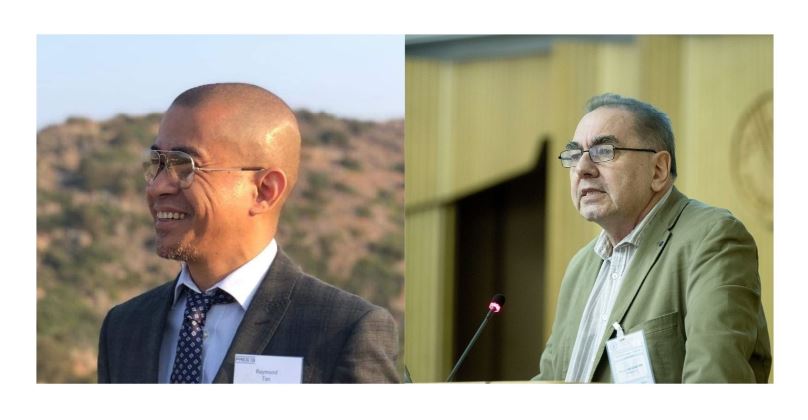 De La Salle University Manila (DLSU) University Fellow Raymond Tan and International Rice Research Institute (IRRI) alumnus Reiner Wassmann from the Philippines have been included in the Reuters Hot List of the world's most influential climate scientists.
Reiner Wassmann, an alumnus of IRRI in Los Banos, Laguna who worked for decades on climate resilience, is ranked #654 on the Reuters list. IRRI credits Dr. Wassmann's work in the Philippines as fundamental not only to IRRI rice research but to global agriculture and food systems transformation.
Raymond Tan, the DLSU Manila Vice Chancellor for Research and Innovation, is ranked #775 among the world's climate experts. DLSU credits Dr. Tan as the co-developer of the carbon emissions pinch analysis (CEPA) algorithm and as one who specializes in the development of computer models for low-, zero-, and negative-carbon industrial systems.
The two scientists represented the Philippines in the Reuters Hot List which ranked 1,000 climate academics according to their influence.
"This series tells the stories of the scientists who are having the biggest impact on the climate-change debate – their lives, their work, and their influence on other scientists, the public, activists, and political leaders," Reuters said of the list released on April 20, 2021.

The Reuters Hot List determined the top 1,000 most influential scientists using three rankings based on the number of research papers the scientists have published on topics related to climate change, how often those papers are cited by other scientists in similar fields of study, such as biology, chemistry or physics, and how often those papers are referenced in the lay press, social media, policy papers, and other outlets.
The data is provided through Dimensions, the academic research portal of the British-based technology company Digital Science. Its database contains hundreds of thousands of papers related to climate science published by many thousands of scholars, the vast majority published since 1988.
In 2020, UP, DLSU, UST, and USM scientists were named in Asia's Top 100 while UP and DLSU-graduate Kathleen Bernardo Aviso was named Asia's Rising Scientist for environmental research.
SEND CONGRATULATIONS in the comments below to DLSU Manila's Dr. Raymond Tan and IRRI alumnus Dr. Reiner Wassmann for being cited in the Reuters Hot List of the world's most influential climate scientists.
Good News Pilipinas is celebrating its 15th Anniversary in 2021 by giving away prizes! Subscribe to our Good News Pilipinas! TV YouTube channel and enter the raffle by sending us an email to editor@goodnewspilipinas.com
Facebook Comments