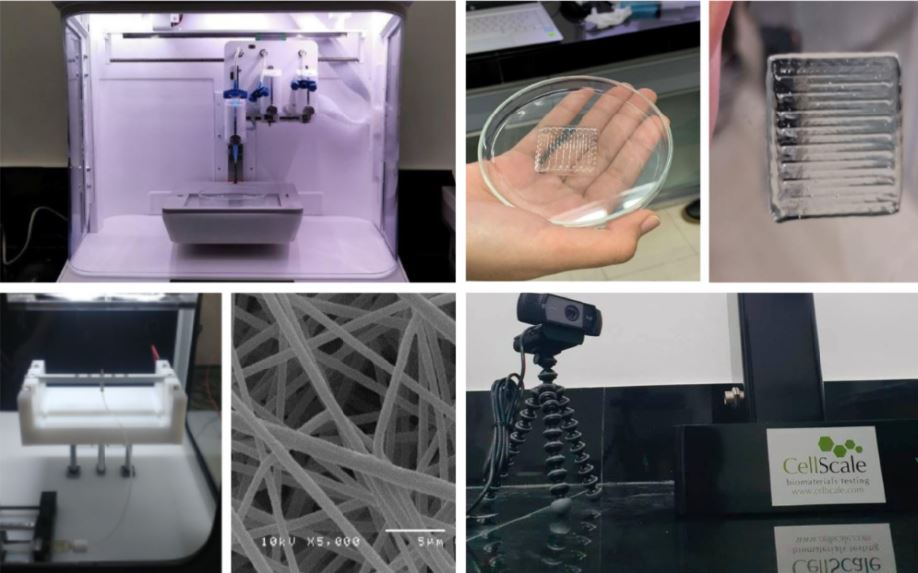 De La Salle University's Biomaterials and Tissue Engineering Laboratory has acquired cutting-edge equipment for tissue engineering with the aim of improving healthcare through research.
DLSU obtained three of today's leading technologies – the electrospinning machine, 3D bioprinter, and the biomaterial mechanical tester.
The INOVENSO Multinozzle Electrospinning Machine is a fully automated high-throughput electrospinning machine. It has a 9" easy-to-use touch screen panel that controls process parameters (control of voltage, flow rate, and collector motion). The machine has up to 12 electrospinning nozzles for the efficient production of nanofiber membranes.
An electrospinning system's use lies in its capacity to create nanometer-scale tubules and fibrils from various materials. Other notable features of the machine include a safe-door mechanism, warning light for protection from high voltage, humidity adjuster, and temperature control option.
To push the research further, the laboratory is also in possession of CELLINK's BIO X™ 3D Bioprinter. Bioprinting provides an avenue in improving cell growth response, altering porosity, control cell migration, and cell adhesion. This technique is considered to be at the forefront of regenerative medicine today.
The bioprinter is capable of automating 3D cell cultures, drug delivery, soft robotics, tissue engineering, and biomaterial development using a wider range of materials. This equipment is said to be the first 3D bioprinter in the world with Intelligent Printheads (iPH), and the print heads are swappable for a more flexible bioprinting experience.
The bioprinter also has a built-in UV sterilization and 2 HEPA H14 filters to facilitate a sterile environment. Extra features include a user-friendly touch panel, the ability to control the temperature of the printbed, and it runs using HeartOS, which is the most powerful bioprinting operating system known to date.
For the analysis of tissue constructs, the DLSU lab recently acquired the UniVert Mechanical Tester. The equipment is capable of doing a wide range of mechanical testing applications such as tension, compression, and bending testing at forces up to 200N. It also comes with an imaging system and image analysis software toolkit for validation of test results. Its system is ideal for students and faculty members to handle without the need for extensive training.
In its pursuit of better healthcare solutions, DLSU is trying to work hard towards transformative research with the hopes of accelerating healthcare innovation for all. With the acquisition of the new equipment, the DLSU team continues to conduct and support experiments that will help identify novel approaches to address one of the most crucial challenges in healthcare which is organ shortage.
A DLSU-led Philippine science team is developing astronaut spacesuits lined with abaca while another team has developed an aquafeed technology to ensure regular supply for fish farms.
SEND CHEERS in the comments below to DLSU Lab for acquiring cutting-edge equipment for tissue engineering.
Are you a Proud Filipino? Get more good news stories on Filipino Pride! Subscribe to GoodNewsPilipinas.com and our YouTube channel: Good News Pilipinas! TV
Facebook Comments