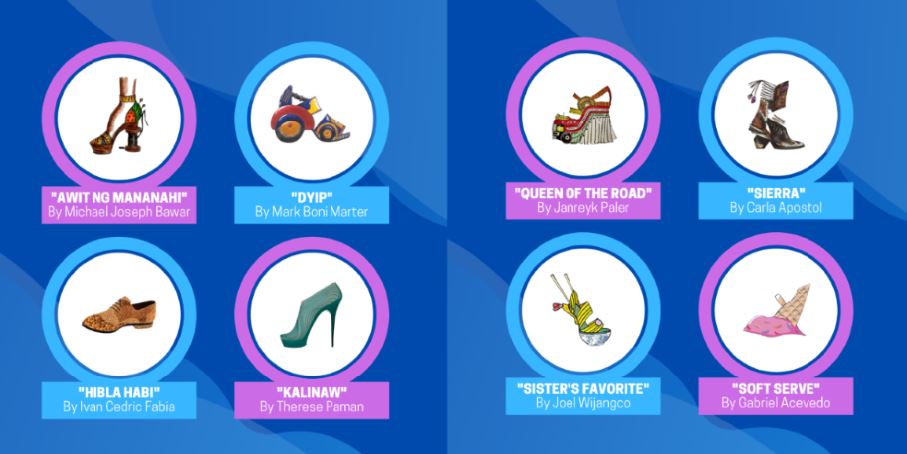 Footwear designs bearing Filipino cultural icons such as the jeepney, indigenous weave, and the "mananahi" (local seamstress) are among the entries shortlisted for the 7th annual Filipino Footwear Design Competition (FFDC).
Out of more than 70 unique entries for the contest, a list of finalists was released by the competition organizers from the Philippine Footwear Federation Inc. (PFFI) in partnership with the Department of Trade and Industry (DTI).
The design boards were submitted under the six categories presented for the competition: Men's Shoes, Lady's Trendy, Lady's Leisure, Lady's Boot, Children Shoes, and Sports Shoes.
The entries underwent the vetting process of drafting the initial shortlist of finalists who will then be given the opportunity to have their designs professionally prototyped by local manufacturers.
The Filipino footwear design finalists are:
1. Awit ng Mananahi
Designer: Michael Joseph Bawar
Mentor: Gerome Sta. Maria
Maker: Roweliza
2. Dyip
Designer: Mark Boni Marter
Mentor: Maco Custodio
Maker: Roweliza
3. Hibla Habi
Designer: Ivan Cedric Fabia
Mentor: Nicco Pintac
Maker: Black Wing Shoes
4. Kalinaw
Designer: Therese Paman
Mentor: Shiela de Jesus
Maker: SDJ
5. Osang – Queen of the Road
Designer: Janyrek Paler
Mentor: Thian Rodriguez
Maker: Dante Pascual
6. Sierra
Designer: Carla Apostol
Mentor: Rico Sta. Ana
Maker: Zapateria
7. Sister's Favorite
Designer: Joel Wijangco
Mentor: Cari Dawn Conejero
Maker: Tawong Lipod Creative Studio
The Philippines' first creation hub for footwear design and development, Zapateria, has put together a team from the local shoe industry for the mentorship and production of the designs of the Top 8 National Finalists. The resulting designs will be presented to judges for the final awards on January 30, 2021.
The Filipino Footwear Design Competition is the annual national competition organized to rally and present the creations of the talented designers and makers of the country. It is often a pre-set in preparation for the International Footwear Design Competition, a prestigious event that highlights footwear design concept and development on a global scale. The objective of FFDC is to encourage more local talents to pursue footwear design as a profession or business and to showcase to the world the resourcefulness and Filipino creativity.
FFDC also hosted a number of experiential learning activities in December 2020. The Creative Virality Workshop Series was hosted by Zapateria and facilitated by some of the competition's mentors: Footwear Sketching with Mara Piñon on women's footwear & Nicco Pintac on men's; Footwear Design Inspiration & Storytelling with Maco Custodio & Footwear Brand Development with Thian Rodriguez; Footwear Making 101 and Footwear Costing & Projection 101 with Zapateria and Fashion Purveyor (Roweliza Shoes and Bags Manufacturing).
Marikina has survived challenges through the years and remains the nation's shoe capital where homegrown designers such as Tal De Guzman of Risque Designs champion Filipino fabric craftsmanship.
TELL US in the comments below, what footwear designs with Filipino cultural icons are you looking forward to seeing crafted into shoes?
Are you a Proud Filipino? Get more good news stories on Filipino Pride! Subscribe to GoodNewsPilipinas.com and our YouTube channel: Good News Pilipinas! TV
Facebook Comments