The Philippine team from De La Salle University (DLSU) emerged as World Champions at the World Universities Debating Championship (WUDC) held in Thessaloniki, Greece.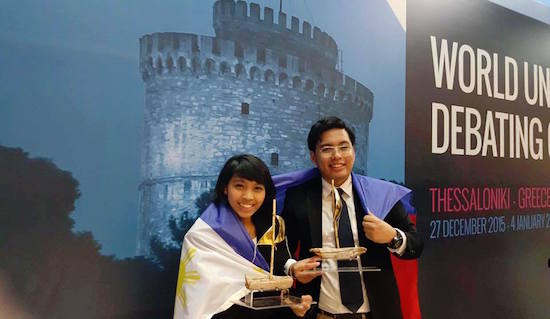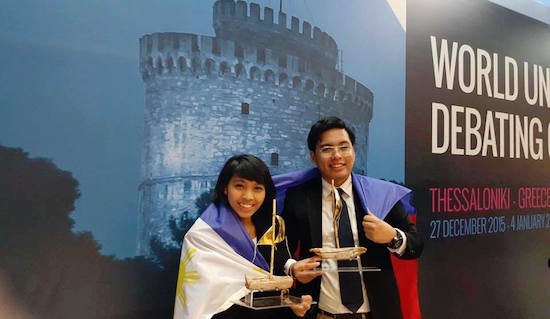 Lasallian students Mikee De Vega and Jason Dizon brought home the trophy in the English-as-second-language (ESL) category after winning over Korea's Seoul National University, University of Indonesia, and Germany's RWTH Aachen University in the finals debate.
The DLSU team argued as the closing opposition about the decline of the nation-state's power in an increasingly globalized world. The Philippine team presented a case on how the nation-state can better champion the working class against exploitation in a global economy ruled by multi-national corporations.
The La Salle Debate Society team captains beat 164 teams in the ESL championships, including another team from DLSU and the Ateneo University.
DLSU Debate Society coach Atty. Dino De Leon released a statement saying, "We are extremely happy that Filipinos have bagged the ESL World Debate Championship again, after 15 years.
This is a Philippine victory more than anything."
De Vega was also awarded 3rd best debater in the ESL among 351 speakers.
De Vega is a senior BS Legal Management & AB International Studies Major in European Studies, while Dizon is a 3rd year BS Legal Management student.
The January 4, 2016 win is the third title for the Philippines in the world's largest parliamentary debating event's 36-year history. Previous Philippine world champions at WUDC came from the Ateneo De Manila University (2001) and the University of Santo Tomas (1999).
Over 1,000 of the best students from the world's premiere universities regularly compete in the annual debating tournament including Oxford, Cambridge, Harvard, Yale, MIT, and Standford.
Being adjudged as "World Champions" in the competition is considered as one of the most prestigious titles that can be earned by a student.
DLSU joins open category winner Harvard University from the United States as world champions at the WUDC.
Facebook Comments