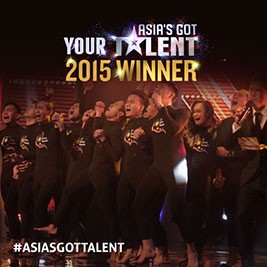 Filipino shadow play group El Gamma Penumbra is the first Grand Champion of Asia's Got Talent.
The win caps the golden journey of the Batangas province natives on the regional version of the popular reality TV show. The group received golden buzzers twice, first in the auditions and then again in the semi-finals, sending them straight to the finals show.
The popular performance group won over another judge favourite, fellow Filipino contestant Gerphil Flores who won third place, and two other Filipino acts that made it to the finals, Junior New System and Gwyneth Dorado. Mongolian musical ensemble Khusugtun placed second.
For their finals performance on Asia's Got Talent, El Gamma Penumbra performed a tribute to Mother Nature accompanied by the song "Colors of the Wind" from the Disney movie, Pocahontas.
After the moving performance celebrity judge Anggun was teary-eyed as she praised the group for using their talent to send a message. Asia's Got Talent posted a Facebook photo announcement of the winning act with the caption, "Your unique shadow messages have inspired all of Asia. We can't wait to see where you go from here!"
The grand prize comes with a cash prize of USD $100,000. El Gamma Penumbra will also be performing at the Marina Bay Sands as part of their prize package.
Facebook Comments