Filipino-American drummer Alexey Damian Poblete was one of the kids selected by TV host Ellen DeGeneres to be part of her new girl empowerment campaign.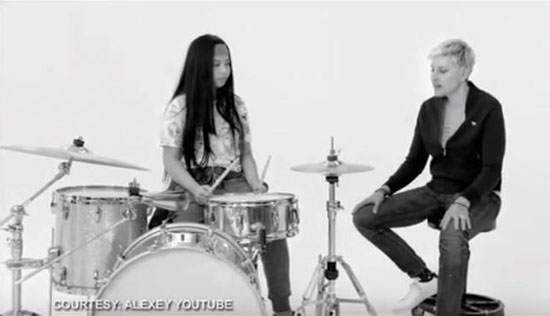 In a report on British magazine Vogue, Ellen have teamed up with the clothing brand Gap to release a kid's collection called GapKids x ED. It aims to empower girls and make them feel proud of what makes them different.
"I think if we shine a light on real girls doing incredible things, that'll encourage other girls and boys to do incredible things, and that'll encourage even more people to do incredible things, and eventually the world will be a more incredible place," she said.
Aside from Alexey, Ellen has also picked a skateboarder, an entrepreneur and an engineer specializing in prosthetic hands. The kids' ages range from nine to 12.
During their photo shoot, Alexey was able to personally meet Ellen. She is thrilled to be working with the American TV host, calling it a dream come true.
She also shared that she taught Ellen how to play a simple beat. "I was nervous because it's Ellen, and I am a fan of hers so of course, I was like frozen. But I was trying to keep cool," she related to ABS-CBN North America News Bureau's Bev Llorente.
The 12-year-old will not only be featured in billboards across the United States but also in magazines worldwide.
"To those people out there, I want them to follow what their hearts say and to not let anyone stop you. Just be yourself and have fun," she said.
She may be busy with her studies but Alexey said she will visit the Philippines for the Dutdutan Tattoo Convention on Sept. 25.
(Story courtesy of Manila Bulletin)
Facebook Comments