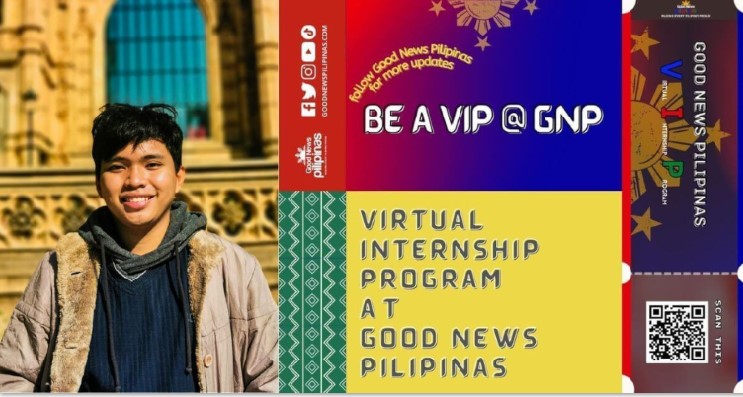 As an undergraduate student from the Philippine Christian University – Dasmariñas, taking up a Bachelor of Arts in Broadcasting, I was required to have my internship and research simultaneously during the 1st semester of our senior year.
I knew that it would definitely be a struggle to balance my academics, my internship, and my duties as a student-leader (being the president of an academic organization in the university), all at the same time.
Good thing, my professor recommended the Good News Pilipinas Internship, wherein I get to work in a virtual space, at my own pace, and in the comfort of my home.
The flexible working schedules here at the Good News Pilipinas Virtual Internship Program allowed me to fulfill all of my duties with great consistency all at the same time.
I still remember my first day as an intern, I was very skeptical about writing my first article, it was about the decreasing Covid-19 positivity rate in Metro Manila, it took me five (5) hours, just to finish researching and writing a single article.
My time as a virtual intern at @GoodNewsPinas_. pic.twitter.com/peTnRFGllJ

— Christian Tacsiat (@Chan_Tacsiat) April 24, 2023
As much as how nerve-wracking and tiring it was, it definitely paid off once I saw my first article being published for thousands of people to read.
The rest was history: I wrote more articles (some while attending national leadership conventions), attended basketball games, and interviewed sports personalities in the University and Colleges Basketball League, I pitched my very first social media campaign: 12 Days of GNP, and more.
The Virtual Internship of GNP was definitely a rollercoaster ride, having its ups and downs, but ultimately serving its purpose: providing the space for future writers/multimedia content creators to learn and enhance their skills in the field of broadcast and journalism.
This internship program taught me to think more critically, work more smartly, organize my thoughts, multitask properly, and ultimately, to be a medium of good Filipino news that makes us proud of being children of the Pearl of the Orient Seas.
I would like to thank Good News Pilipinas for this internship program; as a Swiftie, I can definitely say, "I had the time of my life, fighting dragons with you!" Long Live, Good News Pilipinas.
If you are interested in becoming a certified VIP@GNP, check the details on the website here, or you may scan the QR code below, or click this link to be redirected to the official application form.

Good News Pilipinas is a Lasallian Scholarum Awardee. TELL US your good news story tips by messaging GoodNewsPilipinas.com on Facebook, Twitter, Instagram, or e-mail editor@goodnewspilipinas.com and WATCH Good News Pilipinas TV YouTube & Good News Pilipinas TikTok for more Filipino Pride stories!
Facebook Comments