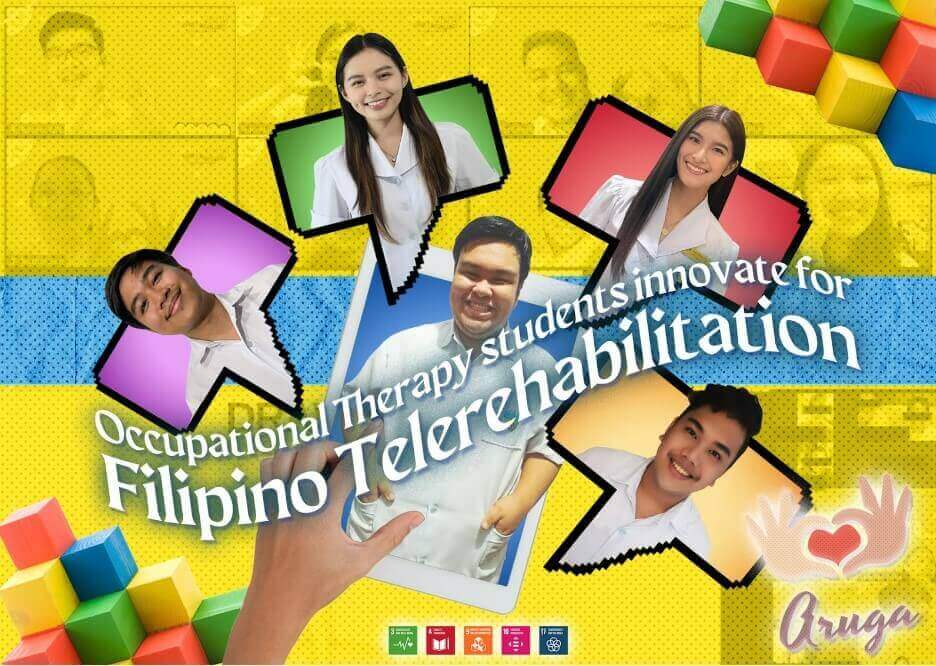 The year 2020 opened with the tragic onset of the COVID-19 pandemic that took away the motivation of thousands of young people. Experts believe that the public health crisis of the lockdown is a children's rights crisis simultaneously as children cannot play outside and receive equitable social protection.
Occupational Therapy (OT), a healthcare profession that aims to recover and sustain the meaningful activities of the individual and population, is at the forefront of the rights of children and patients during the lockdown.
However, the closure of schools, organizations, and affiliations hindered OT students from the University of Santo Tomas from maximizing their platform. It led to uncertainties about their purpose in life and what the future has in store for them.
The faculty members of the OT department at the same university realized this problem, and, armed with the facts and knowledge – they institutionalized the Aruga Clinic. Aruga is the Filipino word for care, and with this idea in mind, Asst. Professor Kathlene Hernandez and their team created a Telerehabilitation clinic to address the needs of patients with special needs during the lockdown.
"As Occupational Therapists, we realize that the best occupation for a child to have is the right to play which is concomitant with education and social protection," says Mr. Charles Bermejo, one of the heads of the UST Aruga Clinic.
Led by a team of five faculty members, the UST Aruga Clinic offered free physical and mental rehabilitation of patients in the Philippines from the major island groups: Luzon, Visayas, and Mindanao. Clinical Supervisors, like Ms. Justine Gurtiza, guided student interns for their month-long internships.
Gurtiza shares, "For the interns, this is not just another clinical rotation. They can appreciate the gratitude from children and their parents throughout the 1-month rotation."
Students were overwhelmed at the start of rotation as they were still adjusting from the onset of the pandemic. "The patients have limited resources, and as a therapist, I want to maximize my service, but there are instances we cannot control," says OT intern Koj. He reflected on how he innovated ways to reach clients. The lack of toys, materials, and even rehabilitative devices is absent in each household, making improvisation a way of life for interns.
Emanuelle recalls how she used a remote control as an imaginary airplane to entice a patient who responded only to that therapeutic method. "It is quite difficult as well because in one instance when the parents left the child alone for a while – the child was seen playing with scissors already," continued Emanuelle, who believes education for caregivers is also an essential consideration in the internship to address safety hazards during telerehabilitation and at home.
Adonis and Gabriel then shared the interdisciplinary approach to telerehabilitation. "Everyone has human dignity, and we have to treat clients according to their existing social issues," shares Adonis, who tasked patients to do laundry to practice gripping instead of the usual exercise tools in rehabilitation clinics.
On the other hand, Gabriel realized that SDGs 3, 4, 9, and 10 play a role in the Aruga clinic to achieve quality patient service, according to the Internship Supervisor, Asst. Prof Kim Medallon, "The referral program between the different departments allows OT students to interact with PT students and other disciplines," showcasing a transdisciplinary approach to addressing the needs of patients.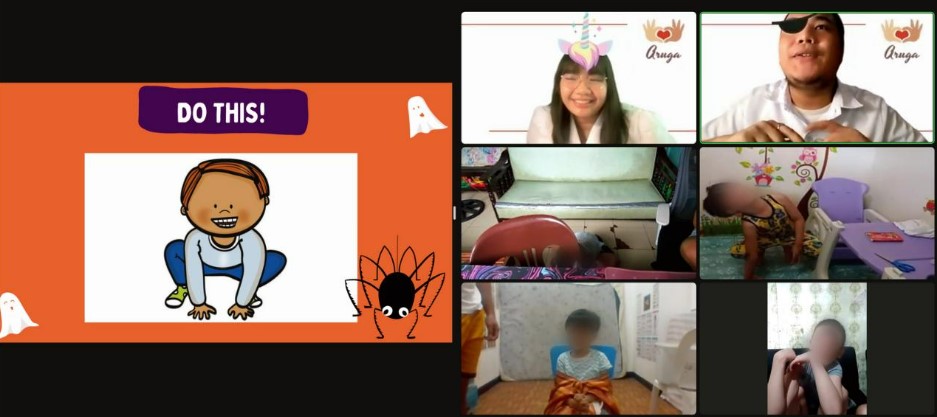 The UST Aruga clinic is one of the commitments of the UST College of Rehabilitation Sciences toward achieving Sustainable Development Goals. "Our vision is aligned with the SDGs, in particular, Quality Education as an institution so that no one gets left behind, especially with special populations like People With Special Needs," says Dean Anne Marie Aseron.
The college also aligns its mission and vision with Rehabilitation 2030 to address the healthcare inequity of unmet rehabilitation needs worldwide. A telerehabilitation initiative like this empowers other SDGs, such as SDG#9, Industry, Innovation, and Infrastructure, which has indicators to make broadband accessible by 2030 and ensure young people are also improving technologically.
Soon, the initiative will be HyFlex, an innovative strategy combining online and in-person learning. "The virtual setting was able to bridge the gap towards clients from different parts of the country. However, times are changing, and we will need to see the patients in person as not all rehab activities can be done virtually by our student interns," says Asst. Prof. Hernandez.
Eula shares a call to action for the public to realize the critical role of Occupational Therapists in the healthcare system. "OTs add life to days," she shared proudly. These interns did a lot of clinical care while doing admin work, technical support, and other academic responsibilities.
The Aruga clinic gives them a sense of purpose beyond a 1-month rotation as they are exploring means to give back to the initiative as alumni or volunteers soon. "We have culminating activities at the end of each rotation where we share best practices and maximize the advocacy amongst ourselves," says Eula.
An initiative like Aruga is at the forefront of making health accessible to people with special needs while improving the prospect of advocacy and career for students. In their wise words, meaningful occupations produce meaningful days, and the Aruga clinic is set in stone to deliver more quality services for Filipinos.
READ MORE from Qjiel Mariano here:
Qjiel Mariano is a former University of Santo Tomas Nursing student who was selected to join the Clinton Global Initiative Class, was awarded the George H.W. Bush Inspiration Honors, and was named Education Hero by Youth Service America.
Good News Pilipinas is a Lasallian Scholarum Awardee. TELL US your good news story tips by messaging GoodNewsPilipinas.com on Facebook, Twitter, Instagram, or e-mail editor@goodnewspilipinas.com and WATCH Good News Pilipinas TV YouTube & Good News Pilipinas TikTok for more Filipino Pride stories!
Facebook Comments