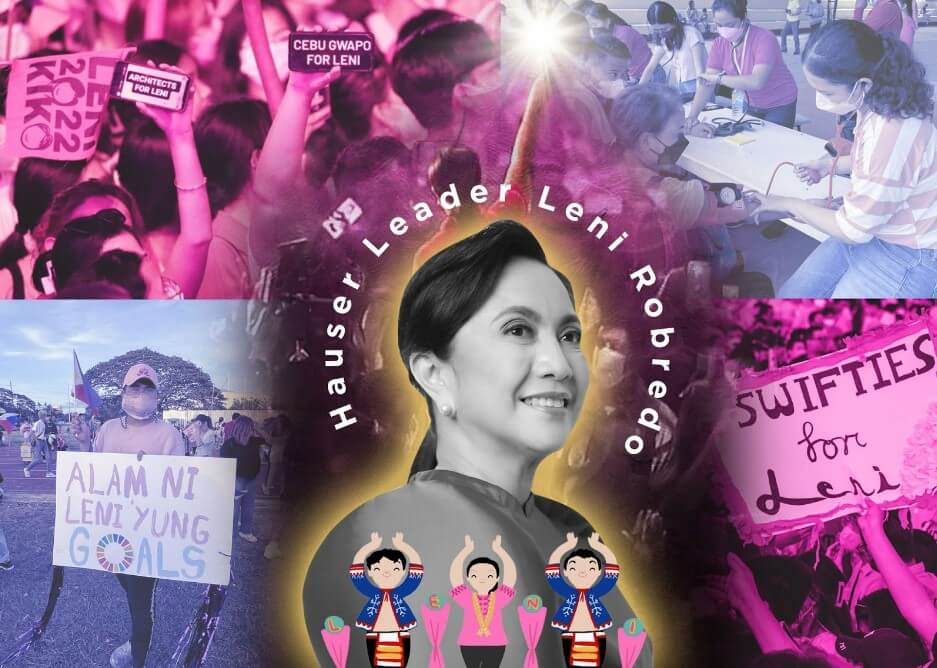 Maria Leonora 'Leni' Robredo, one of 2022's Hauser Leaders at Harvard University, is a shining example of transformational leadership. The Hauser Leaders Program aims to translate the actions of high-profile leaders all over the world into engagements with faculty and students to address our world's most pressing problems. Ahead of the upcoming World Government Summit – we got a chance to engage in an intergenerational dialogue with Leni Robredo.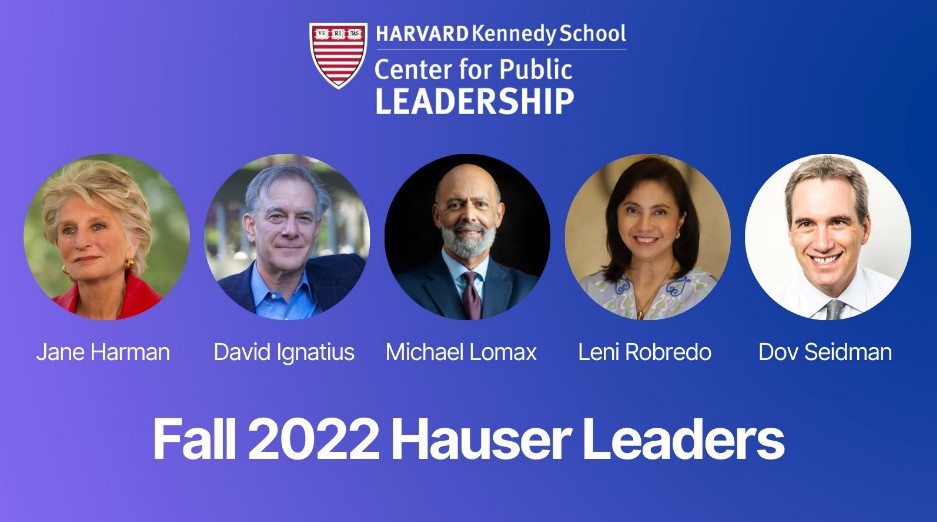 Earlier in 2022 a few days before ending her term as the 14th vice president of the Philippines, Leni graced us with an interview regarding her views on good governance. It was an opportunity to reflect on the achievements of Angat Buhay which was her platform throughout her vice presidency. While she lost the presidential bid – her willingness to empower youth and communities is still palpable, especially through the establishment of Angat Buhay (incorporated as Angat Pinas, Inc.), an organization with thematic points that superseded the progress made from her campaign.
During her term, the Office of the Vice President (OVP) of the Philippines received the highest audit rating from the Commission on Audit for four consecutive years. In times of calamity, OVP had quick responses towards victims of typhoons, flooding, and even a recent earthquake in Northern Luzon. The aforementioned Angat Buhay program, her flagship program, has helped at least 600,000 families. While her office received the lowest budget share, the OVP maximizes its resources for initiatives on public education, rural development, women empowerment, and housing, among others.
Her office championed progress through the COVID-19 pandemic through the establishment of Bayanihan E-konsulta, a platform to connect healthcare workers and Filipinos in need of free telehealth services as well as COVID-19 care kits. Community Learning Hubs, Swab Cabs, Vaccine Express, and Community Pantries multiplied by the hundreds not only due to her leadership, rather it was due to the people's inclination to step up and rise to the challenges of the said pandemic.
"We had to be creative due to the lack of resources. These hardships of lack of budget, manpower, and the like allowed us the opportunity to become better and maximize what we had as an office," says Leni Robredo who believes that roadblocks in governance are important to build character.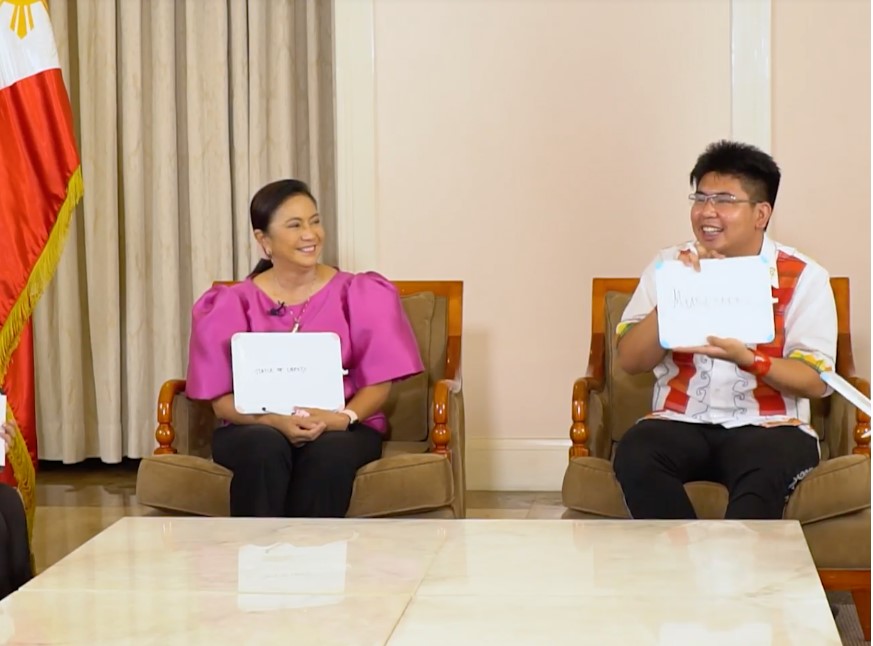 What young people think of Shaping Future Governments
Beyond the thousands of Filipino youth who would color the streets pink during her campaign rallies, the real success of Leni came in the form of a sense of commitment by young people to serve the country. Never was there a time in the Philippines when young people exponentially awakened to the call to action to address challenges such as poverty, hunger, and inaccessible healthcare. Youth would create groups based on personal interests and organize free feeding programs, legal services, education initiatives, and more all over the country. These groups came in many forms such as "KPOP stans 4 Good Governance", "Law Students for Leni", "Mga Gwapo for Leni" (Handsome people for Leni), and more.
In our interview with Leni Robredo, she would mention that while her name was used in these groups, it was never about her name, rather it was about the magnifying effect of wanting to make a difference.
"The platform we have made did not happen overnight, it has been forming itself since 2016. The Filipinos had that willingness to take action since the beginning and the people trusted us to the point they volunteered and even created their initiatives. While I am the face of the campaign, at the end of the day, it is still the people's campaign." she said proudly.
This year's theme of the World Government Summit is Shaping Future Governments. A lot of young people from the  Philippines lost hope when Leni was not proclaimed the president of the Philippines. The day after her loss, Leni founded Angat Buhay to further galvanized the progress her term has made.
That little spark of hope was enough for the youth to dry out their tears and fight for the future they want. Filipinos started to volunteer more and engage with local community issues because of the example Leni set.
"You should mobilize political power and will to do good. Meaning to say that we recognize that power is a vehicle to do good. We should be able to distribute it accordingly to the constituents and should not be held by a single person". While power is looked upon as a tool to control others, young Filipinos can attest that power would mean creating a platform that equalizes the opportunities for the least, the last, and the lost.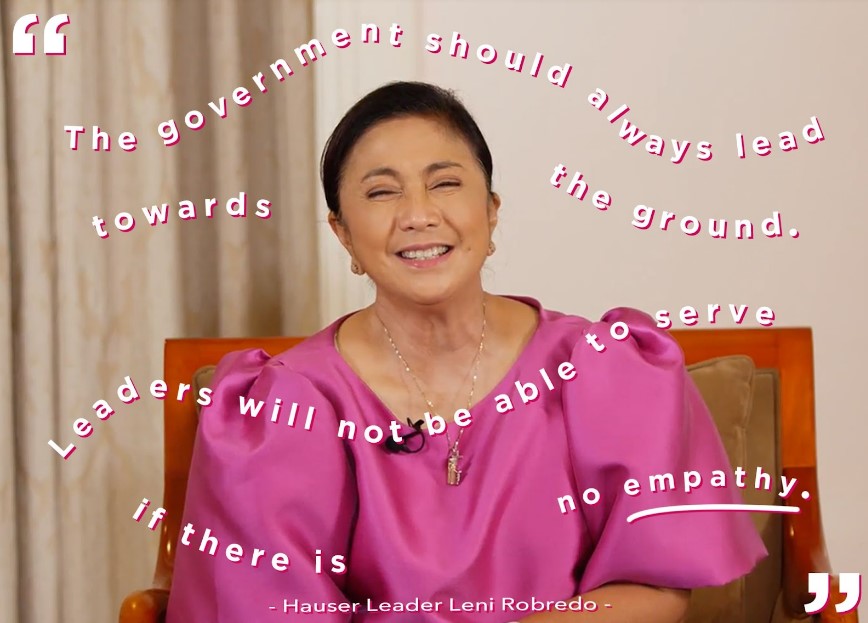 A future where governments are transparent, accountable, and honest. That is what Filipinos want. A political institution needs to establish a trustworthy example to create confidence-building mechanisms – which is why leaders should be inspiring, says Leni Robredo. We have always believed that young people are good imitators, meaning they follow by example. Leni was a shining role model worthy of her feats and laurels. However, above those recognitions is a history made in the Philippines – a time when the youth believed their voices were relevant to the country and they contributed to the progress for a  better world.
READ MORE from Qjiel Mariano here:
Qjiel Mariano is the newest Good News Pilipinas columnist. The former University of Santo Tomas Nursing student was selected to join the Clinton Global Initiative Class, was awarded the George H.W. Bush Inspiration Honors, and was named Education Hero by Youth Service America.
Good News Pilipinas is a Lasallian Scholarum Awardee. TELL US your good news story tips by messaging GoodNewsPilipinas.com on Facebook, Twitter, Instagram, or e-mail editor@goodnewspilipinas.com and WATCH Good News Pilipinas TV YouTube & Good News Pilipinas TikTok for more Filipino Pride stories!
Facebook Comments