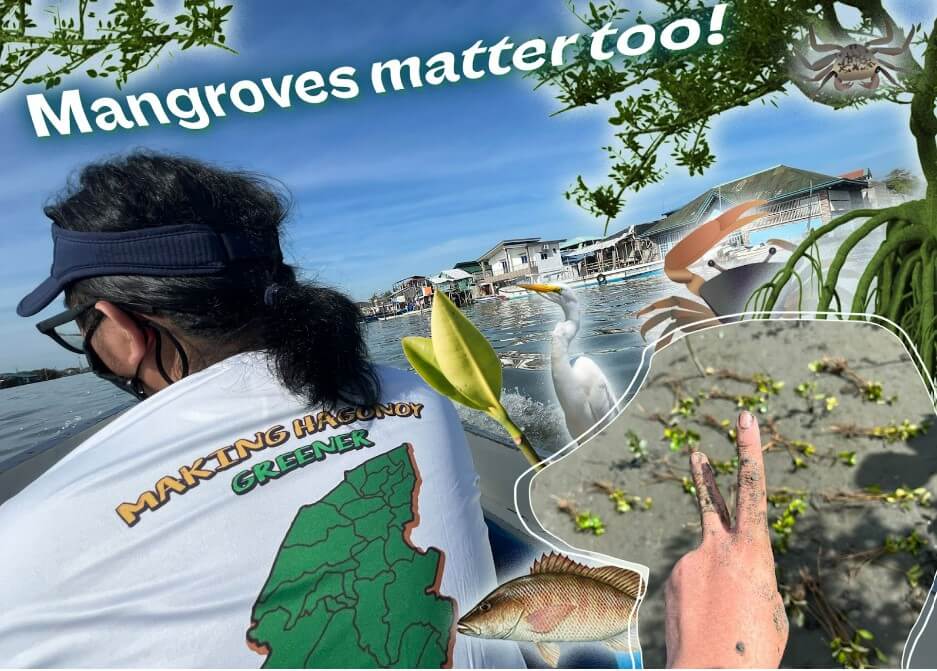 What happens when a humble birthday party becomes a call to action? Simple! For Godwil Coronel Magat, it is to campaign for the mangroves, locally known as the Bakawan in the Philippines.
Godwil, alongside his college friends Shafi, Linar, and MJ, among others, wanted to showcase the beauty of mangroves and their role in protecting biodiversity, supporting livelihoods, and safeguarding coastal communities from rough waves. They founded Kabanatan: A Mangrove Conservation Awareness Project, a fundraiser to help plant more mangrove propagules in Hagonoy, Bulacan. Eventually, it became a multi-tiered project to encourage young people to volunteer for mangroves.
Kabanatan, a Filipino term for resilience, is a fitting name for the strong mangrove that stands against torrential rains and waves. In these times, volunteering is a great way to sustain not just the planet but also friendships! This group of friends went the extra mile to go to Hagonoy, plant these propagules, and interact with the local community and organizations such as One Child, One Tree.
It was a typically hot, dry-season day in the Philippines. The organizers tasked us to be at the pickup point as early as 6:30 am to avoid the high tide, which would make it challenging to plant mangrove propagules on the brackish waters. Mangroves need to meet certain conditions to flourish properly. They would need a safe area of dirt and gravel, so strong waves do not carry their roots away when high tide approaches. A common practice is to plant them two to three inches below the ground, and volunteers plant them in a row at a distance of one to two meters apart.
Since the mangrove propagules are delicate, the local community created barriers around the local planting area to protect the seedlings from high tide and water lilies that may drift in the area. On that day, we planted 500 seedlings in Hagonoy, Bulacan.
What was just supposed to be a planting initiative turned out to be a coastal cleanup venture, and the rise of pollution will affect the growth of mangroves. Upon unearthing the loose wet soil – we discovered numerous wastes such as basketball jerseys, plastic sacks, sachets of hygiene products, fabric, and even old tarpaulins. The presence of these wastes would make it difficult for mangroves to grow, and it is a reminder to the public of the need to address single-use plastic and proper waste disposal. The combination of soil and these wet wastes made it difficult to wrap them in garbage bags as the weight only burst them open.
The planting ground is just one area of Hagonoy, Bulacan. Imagine how much waste people scatter in coastal communities all over the world. There is a hefty price for our inaction in properly disposing of waste, and I fervently believe it should not be the lives of mangroves that pay for it.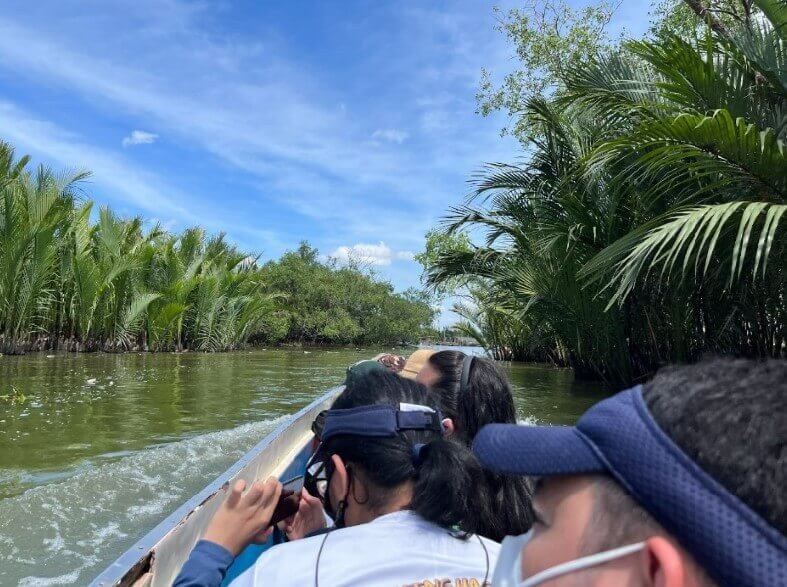 Why should we care about Mangroves?
We got to chat with the local community members who make mangroves a way of life. Fishermen shared how the mangrove roots play a vital role in livelihood as crabs, fish, shrimp, and other animals make their homes. "They lay their eggs there, and we can catch the food that we feed to our families and sell in local markets," says one of the fishermen who volunteered to be our guide in the mangrove planting expedition.
One local shared that there was a recent sighting of a whale shark near the brackish waters as Hagonoy's waters flow outward toward Manila Bay. "There are not many whale shark reports in this area, but maybe they found the food here as our mangroves are home to little shrimps they like to eat." He fondly recalled. "This is why we must protect our mangroves because I want my children to see whale sharks too," he said as a call to action for more Hagonoy citizens to care about the environment.
Many issues are intertwined with the loss of mangroves as these are natural barriers against the high tide and strong waves. In Hagonoy, schools and houses experience flooding. In a famous tagline locally known as "There is no rain, but it is flooding here in Hagonoy, Bulacan," There have been numerous calls for the government to address this issue, yet there is a need for the entire community to do their part. Young people must also participate in decision-making and change lifestyles to lessen pollution.
Young activist Ayshka shared her thoughts earlier this year in an article titled: The sea levels are rising, but so are we. It is proof that young people have participatory rights that could enact change. For Godwil, it was a simple birthday celebration turned initiative to address climate change through mangrove planting. While Mrs. Nats Sali, the founder of One Child, One Tree, dreamed of a world where her children could grow up to care for the environment. For me, it was about understanding the interconnectedness of mangroves with livelihood, healthcare, and education, just as how the Sustainable Development Goals are intertwined. What about you? Why do you care about mangroves? Your voice is as vital as the mangroves are essential to the locals!
Qjiel Mariano is the newest Good News Pilipinas columnist. The former University of Santo Tomas Nursing student was selected to join the Clinton Global Initiative Class, was awarded the George H.W. Bush Inspiration Honors, and was named Education Hero by Youth Service America. 
Good News Pilipinas is a Lasallian Scholarum Awardee. TELL US your good news story tips by messaging GoodNewsPilipinas.com on Facebook, Twitter, Instagram, or e-mail editor@goodnewspilipinas.com and WATCH Good News Pilipinas TV YouTube & Good News Pilipinas TikTok for more Filipino Pride stories!
Facebook Comments