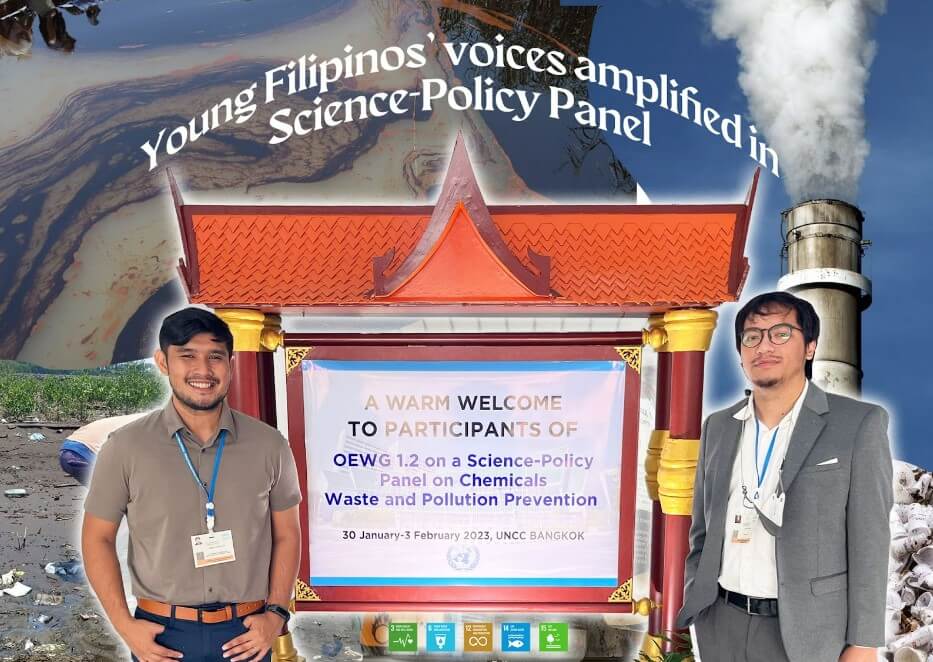 Experts in the health, environmental science, policy, and other disciplines convened at the United Nations Conference Center in Bangkok, Thailand, for the OEWG 1.2 on a Science-Policy Panel on Chemical Waste and Pollution Prevention. This event is considered a step forward in environmental protection. Discussions like these help us achieve the 2030 agenda, especially since young people's voices are also part of the panel.
Chemical production is one of the world's most important industries, as it is vital for the economy and raises living standards. However, high energy and water consumption during production and its potential negative impacts on environmental and human health pose a problem to our planet. With such diverse issues, leaders worldwide agree that there should be competent chemical management to address waste and pollution. After all, these chemicals come at a high price, and it should not be planetary health to pay for them.
There were numerous youths present at the event – and we got a chance to hear what young  Filipinos are doing in their country to address environmental issues. Lemuel Manalo is a Program Coordinator of the Interfacing Development Interventions for Sustainability, an organization dedicated to protecting Davao's watersheds. He grew up in Davao, a province in the southern Philippines, where he was exposed to marine life ecosystems as he lived near the Davao Gulf. His local experiences accelerated into global dialogues to protect the environment from a transdisciplinary perspective.
When asked why youth voices are essential in international negotiations, Manalo says, "The output of this science-policy panel will have an impact for the next 20 years. Youth should be able to use this output and promote knowledge sharing." He added that this information should start from the ground up about his experiences that international frameworks' bridge to the local communities is young people.
In the Philippines, Sangguniang Kabataan is a youth council composed of passionate individuals who lead programs that better the community. Maximizing this small space by turning global policies into local actions may accelerate SDGs. Lemuel added that youth or youth-serving entities mobilize information dissemination campaigns as long-term results. "This is also an avenue for youth to lobby policies in their local hometowns which will have big impacts on the local government as these are international treaties agreed upon by world leaders, " says Manalo on other avenues of youth participation.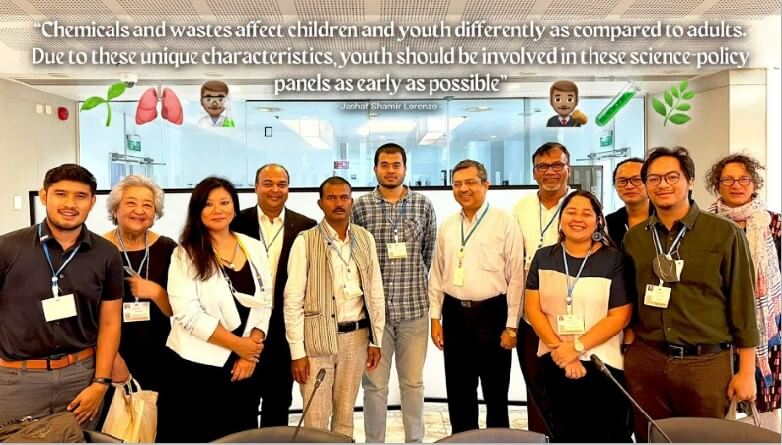 Jashaf Lorenzo is a research officer of Ban Toxics, an organization dedicated to campaigning against toxins in global policy. The panel should highlight Lorenzo's perspectives on the different vulnerable groups in the youth sector in the discussion. "There are cross-cutting sectors among the youth. There's the youth with special needs, farmers, women, and more. Which is why when you are talking about youth, you are talking about everybody," shares Lorenzo referencing their interdisciplinary work done all over Asia.
According to the intergenerational dialogue, young people are potent enablers with the potential to take over the work the adults will be leaving us – if only we are given the right platforms and training. "Youth have to be exposed to panels as early as now because eventually, we will be handling these problems, " said Lorenzo, who believes starting young may lead to positive change.
Young people must develop a sense of urgency in caring for the planet. Our children will inherit the issues we face right now, and as future world leaders, we must encourage people to speak up like Lemuel and Jashaf. Gone were the days when youth were too inexperienced to contribute to change. Professionals now consult youth for their reflections on global problems, but this is a different narrative for all people, especially those in the global south. These young leaders from the Philippines give us hope that people listened to their concerns and are willing to make a difference from the ground up.
READ MORE from Qjiel Mariano here:
Qjiel Mariano is the newest Good News Pilipinas columnist. The former University of Santo Tomas Nursing student was selected to join the Clinton Global Initiative Class, was awarded the George H.W. Bush Inspiration Honors, and was named Education Hero by Youth Service America.
Good News Pilipinas is a Lasallian Scholarum Awardee. TELL US your good news story tips by messaging GoodNewsPilipinas.com on Facebook, Twitter, Instagram, or e-mail editor@goodnewspilipinas.com and WATCH Good News Pilipinas TV YouTube & Good News Pilipinas TikTok for more Filipino Pride stories!
Facebook Comments