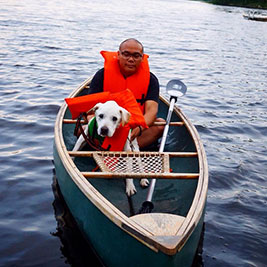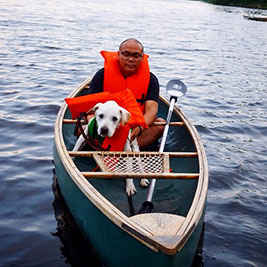 Fil-Am celebrity disc jockey Thomas Neil Rodriguez's 15-year-old (105 in dog years) labrador Poh has been travelling across the United States gaining more than a 100,000 followers on Instagram along the way.
"Poh the Dog's Big Adventure" began after being diagnosed with having a softball-size tumor in his liver and multiple tumors in his kidneys last February. Since then, Rodriguez more popularly known as DJ Neil Armstrong and Poh have been travelling from East to West coast.
DJ Neil who is known for his "Dinner and a Mixtape Series," the former official tour DJ of hiphop artist Jay-Z, and for being the global ambassador for Adidas, adopted Poh from the North Shore Animal League in Long Island, New York when the pup was only 8 weeks old.
Neil, his fiancée Yuko Ogino and Poh has driven 12,000 miles across the country crossing off stops on Poh's bucket list.
Poh's bucket list roadtrip began five months ago, when a one-show gig in Phoenix, Arizona became a 35-city tour around the US.
Since then, Poh has gained 110K followers on Instagram, that have not only been supportive, but incredibly helpful in his travels. During the tour, Poh started having stomach problems.
Rodriguez said in a media interview, "IG user Mrs. Metajive, she suggested like slippery elm, Psyllium husk, that stuff in Metamucil. That made the trip bearable. It's really nice to see all these people following Poh and it's a bittersweet story."
Aside from the cute pictures on his Instagram, Poh's story sends a powerful message about seizing the moment. In the same interview Rodriguez said, "I wish I was able to do this with my dog when I didn't have to put him in his cart and he was older. I wish I was able to just let him run like crazy in the ocean. Unfortunately, that's not how my timing worked out."
Poh the dog's big adventure may soon come to an end but DJ Neil focuses instead on the positive side of the story saying, "Let's go and enjoy the world and give this guy some experience that I'll get to remember for the rest of my life."
Facebook Comments