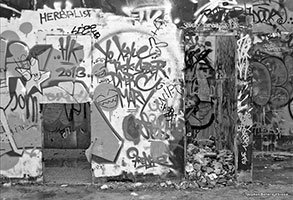 Filipino cruise ship photographer Jophel Botero Ybiosa has been receiving international recognition in different photo competitions and exhibitions while travelling around the world.
His most recent came from the Societies International Image Competition in the United Kingdom which gave him the Highly Commended Award in Street Photography featuring wall graffiti, and the highly Commended Award in Fashion Photography featuring cosplayers.
Ybiosa's work also made him a finalist in the International Photomania Competition 2015 in Kaliningrad, Russia where his work was exhibited during the opening of the Baltic Photo Biennale Photomania, the largest photo festival in the region which conjoins both professional and non-professional photographers from all over the world.
Out of 7,000 works from different countries – Russia, Belarus, Ukraine, Poland, Moldova, Lithuania, Latvia, Estonia, Kyrgyzstan, Belgium, Germany, England, India and the Philippines, 92 participants, including Ybiosa, were selected to exhibit their artistic works during the festival. The Pinoy photographer captioned his masterpiece as "The Joy of Childhood" showcasing two Filipino children who were happily playing on a flooded road.
Ybiosa already received a Highly Commended Awards in the Landscape and Events Category in The Societies Monthly Image Competition in United Kingdom and won in the Earth Charter International Photo Contest in Costa Rica. He was also acknowledged as an honorable mention in The ASC Art Showdown in United States of America (U.S.A.) and a finalist during The Hamdan Bin Mohammed Bin Rashid Al Maktoum International Photography in United Arab Emirates (U.A.E.)
The Filipino photographer has taken part in various photo competitions both inside and outside the Philippines since 2004. He is also known for his photography skill which frames the subject via mirror reflection. His masterpieces were greatly inspired by sociological conditions and experiences in life as his submitted works in worldwide exhibitions conveyed Filipinos' typical way of living and their struggles, facets of Philippine politics and history and sociological identities. Ybiosa is an advocate of Philippine arts and culture, sharing the beauty and meaningful stories of the Philippines with the world through his artistic creations.
Facebook Comments