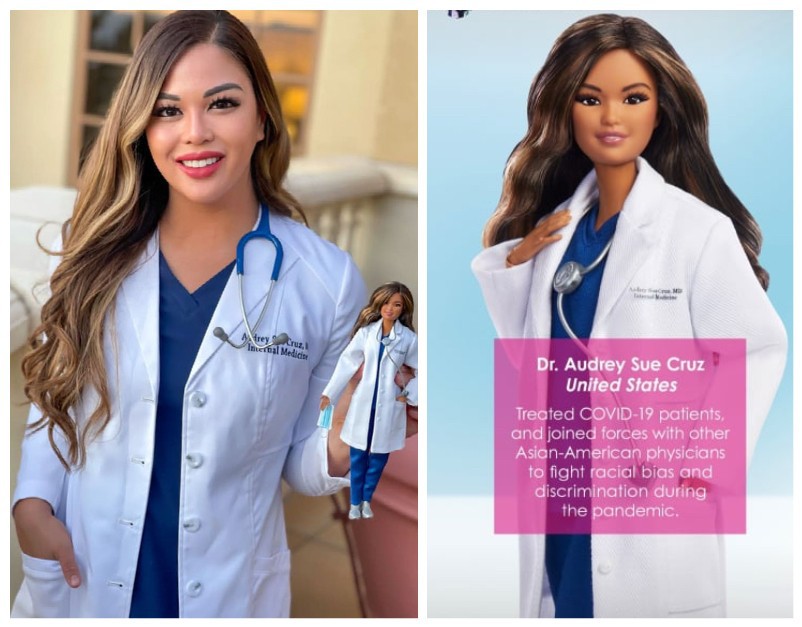 Filipino-American Dr. Audrey Sue Cruz has been honored with her own custom Barbie doll in recognition of her work on the frontlines of the ongoing fight against the novel coronavirus disease and advocating against Asian hate and violence in the United States.
Dr. Cruz is among the six women and frontline heroes spotlighted by iconic toymaker Mattel, which created one-of-a-kind Barbie dolls in their image this August 2021.
The Fil-Am doctor was honored by Mattel not just for being a modern real-life hero, but also for having "joined forces with other Asian-American physicians to fight racial bias and discrimination" during the pandemic.
Cruz earlier teamed up with Asian-American physicians to create a now-viral video accompanied by the hashtag #IAmNotAVirus to stand up against the rise of hate crimes targeting Asians during the COVID-19 outbreak.
Dr. Cruz shared how she was surprised with the honor to be the first Filipino-American doctor to become a Barbie role model doll and hopes more people will appreciate more health workers for their sacrifices.
"So excited to finally share the news! Can't believe I'm actually writing this and I've got happy tears as I type. I've been made into a Barbie doll!
Here's to breaking barriers, speaking truths, and empowering the next generation," Audrey Sue Cruz wrote on her Facebook account.
"With this honor, I hope to shine a light on the commitment and compassion all frontline workers exhibited over the past year and a half and every single day. I hope to represent minorities in America and encourage cultural advocacy," Cruz continued.
Dr. Audrey Sue Cruz, an Internal Medicine physician based in Las Vegas, Nevada, hopes to inspire the next generation of young girls to take up STEM careers.
Aside from being a medical doctor, Dr. Cruz also received her Bachelor's Degree in Electrical Engineering at the University of Nevada, Reno.
"I hope to represent working moms who are balancing their careers while raising a family. And I hope to show all young women that they can be ANYTHING they want to be — even a physician mom and engineering grad like this girl," Cruz said.
"Kids imagine they can be anything but actually seeing that they can, and hearing the real life stories of others, makes all the difference. Thank you @mattel and @barbie for recognizing healthcare workers all over the world and helping to inspire the next generation with our stories. This is a dream come true."
The Barbie role model dolls honoring modern real-life heroes are part of Mattel's #ThankYouHeroes signature program and "Play it Forward" platform, which gives back to communities in times of need.
Filipino Americans like NBA superstar Jordan Clarkson, Nicole Scherzinger of the Pussycat Dolls, Apl.de.ap of Black Eyed Peas, and Four-time Best Actor winner Darren Criss are using their voices to call to stop anti-Asian discrimination and hate crimes in the United States.
SEND CHEERS in the comments below to Dr. Audrey Sue Cruz, the first Filipino-American doctor to become a Barbie role model doll!
Good News Pilipinas is celebrating its 15th Anniversary in 2021 by giving away prizes! Subscribe to our Good News Pilipinas! TV YouTube channel and enter the raffle by sending us an email to editor@goodnewspilipinas.com saying what you like about our site.
Facebook Comments