Filipino-American Burt Wilson has been awarded the 911 Local Heroes Medal of Honor in San Francisco.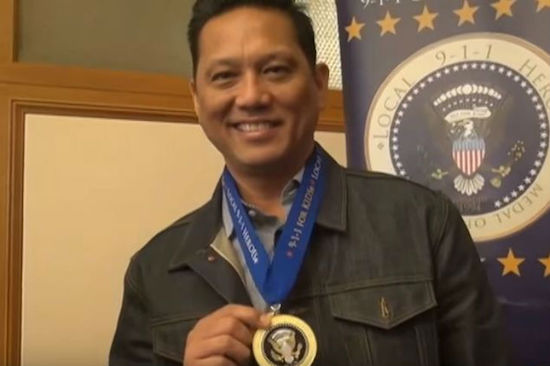 Wilson, a 911 public safety dispatcher, was cited for guiding an eight-year- old on how to save her grandmother who suffered a stroke.
San Francisco Mayor's Office Deputy Chief of Staff Paul Henderson said during the awarding ceremonies, "If you think about it conceptually that this is everyone's worst day. The very worst day is when you have to call 911 and what happens when you make the call elevates your entire life, potentially. And that's what we're here today to celebrate."
In response to the recognition, Wilson advised anyone calling 911 to try and stay calm and follow the dispatcher's directions.
"If anyone can learn anything from SF 911 Kids it's just to listen and answer the questions that 911 is asking because there is a specific set of questions we ask in order to get response and help right away to your loved one," Wilson added referring to the emergency dialing education program for children.
The 911 dispatcher noted the fulfillment given by the stressful job he holds, "There's some stress involved to it. It's a lot of sacrifice. It's long hours, dedication but it's rewarding especially for a day like today. We're kind of like the hidden hero but this dispatcher week we're having and SF 911 Kids offering this appreciation is really gratifying. I feel humbled and honored."
The 911 Local Heroes Medal of Honor awarded Wilson and another dispatcher in ceremonies coinciding with the National Public Safety Telecommunicators Week that highlights important lifesaving measures regularly performed by 911 dispatchers, according to Balitang America.
Facebook Comments