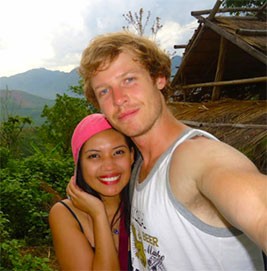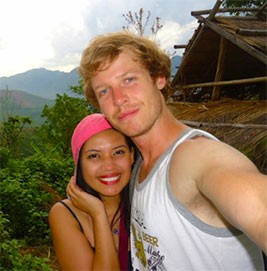 Filipina travel blogger Kach Mu along with her British partner Jonathan Howe have captured the attention of the international bloggers community, earning them a spot in the annual global blog awards and features in prestigious media.
Kach and Jon's blog site Two Monkeys Travel became a finalist in The Blogger Network's 2015 Blogger of the Year awards People's Choice category. Their travel blog was shortlisted among 500 popular international bloggers.
The finalist finish was followed by a feature on the prestigious Forbes Magazine, giving even more attention to their sustainable travel lifestyle in "Backpacking Across 3 Continents On A Shoestring Budget."
The travel blogging couple also earned one of the 12 spots in WOW Travel's "Top Travel Bloggers to follow in 2015."
More recently, Kach Mu has been adjudged as one of the "Top 30 Adventurers under 30" by Open World Magazine.
Former solo backpacker Katrina Umandap Medina or Kach Mu left her corporate job in Kuwait and teamed up with fellow backpacker Jonathan Howe who she first met during their solo travels. In an interview with GoodNewsPilipinas radio on 95.9 Green FM Kach admitted that "My favourite is solo backpacking, but it is different with a partner who has the same backpacking style as you."
Together Kach and Jonathan now bring more than just their sparse backpackers' bags during their travels. The two bring with them an array of skills and expertise that they use to land temporary jobs along the road.
They are certified Tantra Yoga Teachers, Ayurveda Massage Therapists, and TEFL (Teaching English as a Foreign Language) Certified Teachers. They use the skills and experience they've acquired through the years to sustain their travel lifestyle. They gave English lessons in Vietnam, held Yoga classes in Peru and Arequipa, and even volunteered as waiters in Agonda Beach, India for free meals.
Their temp jobs not only keep them travelling, they're also learning something new from the places they visit. As they travel, Kach and Jonathan also invest in sharpening their skills.
While travelling in India, the couple took their Yoga Teacher's certification course and an Ayurveda Massage Therapy course.
In the same La Salle radio interview, Jonathan also noted how their sustainable travel lifestyle has refined their blogging. "We've been talking blogging a little more seriously. We try to do it a little more interesting to the people."
Kach offers help to newbie bloggers saying, "when you start to blog, you need to express yourself. Don't write to impress others or to earn money but to express yourself because eventually you will lose your motivation."
Kach was also quick to dispel notions that "backpackers do not care about the future. We do."
"If you want to travel, you also need to build up your future," advises Kach to those who would consider backpacking around the world.
Kach and Jonathan in fact have plans to settle in the Philippines to open their own Yoga and Wellness Resort. But only after they've finally set foot on Antarctica, the last stop on their backpacking journey.
Kach Mu and Jonathan Howe continue to inspire people with their sustainable travel lifestyle, proving that work and travel can happily co-exist. It's all a matter of doing what you love, sharing your skills, and planning for the future while living in the moment.
Facebook Comments