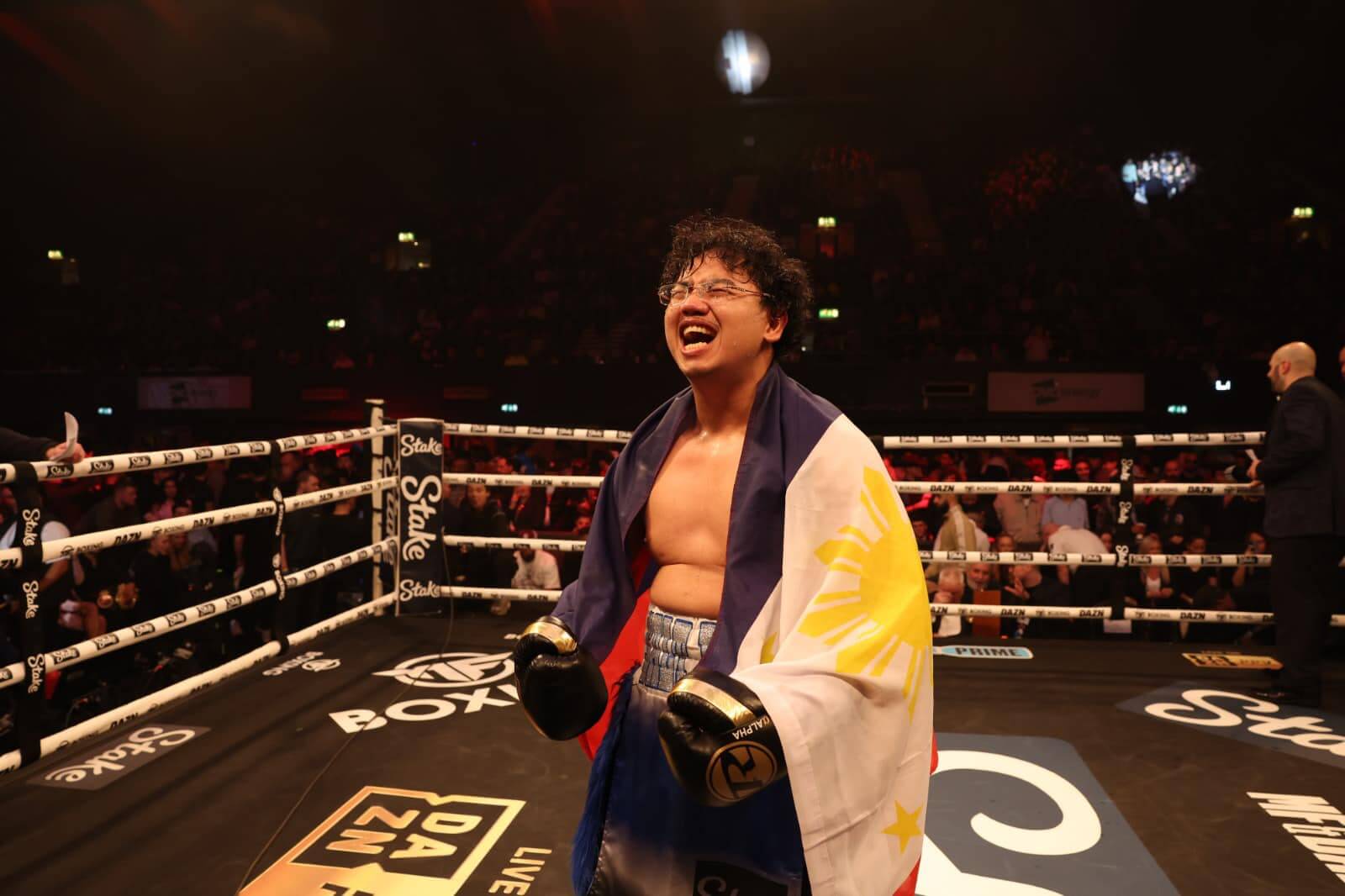 Introducing Super Salt Papi! The Fil-Brit TikTok and YouTube sensation from London, now making a name in boxing.
Salt Papi just secured a spot as one of the stars of the top-five tier in Misfits Boxing Promotion when he fought and convincingly defeated mixed-martial artist Josh Brueckner during the undercard match of KSI VS Temperr Misfits 004 fight held last Saturday, January 14, 2023, in the packed OVO Wembley Arena, London's iconic, concert and events venue.
Salt Papi didn't think twice when he was offered to fight Josh, a Tiktok creator from the USA who was sometimes called "the bogeyman" of YouTube boxing because he was the most avoided fighter in the platform's lineup. No one wanted to fight Brueckner due to his size, chiseled-buff body, and years of experience as a professional MMA fighter and boxer.
But Salt Papi pulled off a smashing knockout victory over his opponent in the second round, a sensational win considering the odds stacked against the Filipino-British social media star and the quality of the fighter he faced.
It all started when Misfits Boxing Promotion created a place for social media content creators and influencers from different platforms like YouTube and Tiktok to come together, train, and seriously show off their boxing skills and entertain the fans.
Salt Papi, the famous and funny Tiktok creator from the United Kingdom who became viral for his Salt Bae impressions, was born and raised in the Philippines and moved with his parents to England at 14 years old.
He was introduced to the Filipino boxing culture in his early years. Salt Papi and his brothers actually put on their boxing gloves at a young age. Inspired by world champion Manny Pacquiao, they were taught the basics, proper form, and boxing moves.
With boxing being a good exercise, confidence-boosting, building character, and helping young and older people how to defend themselves, Salt Papi's love for the sport stayed with him. He regularly went to the gym and beat up the heavy boxing bag during his college days.  He even joined a boxing club but did not consider entering any amateur match until given the opportunity to fight with Halal Ham in the Misfits boxing event which took place on March 5, 2022, which he also convincingly won.
During that first fight event, Salt Papi was conspicuously seen as a bit overweight. His first victory must have triggered the Filipino warrior instinct, as he seriously dove into the life of a boxer putting in the time, hard work, and dedication for his training and exercises.
By the time of his second fight with Andy Warski on the KSI Misfits 003 fighting event on August 27, 2022, at O2 Arena, Salt Papi had noticeably lost a lot of weight and was full of energy. It became clear to everybody that his hard work and training paid off with a spectacular win over Warski in an impressive 15-second knockout victory.
After the recent win over Josh Brueckner, there is no more doubt that Salt Papi is the Real Deal: having speed, legitimate boxing skills, and knockout power.
Salt Papi has now established himself as a formidable YouTube boxer who has won the hearts of YouTube Boxing fans.
Salt Papi's fight even caught the attention of Manny Pacquiao who commented "Puede na".
.@YouTube Boxing sensation Salt Papi @therealsaltpapi caught the attention of Filipino world champion boxer @MannyPacquiao after Fil-Brit's knockout victory in London https://t.co/rM5muETfF5

— GoodNewsPilipinas.com (@GoodNewsPinas_) January 17, 2023
Filipino boxers delivered medals for the Philippines in the most recent Tokyo Olympics, led by silver medalists Carlo Paalam and Nesthy Petecio, and bronze medalist Eumir Marcial.
SEND CONGRATULATIONS in the comments below and WATCH the knockout victory of the newest boxing sensation, Salt Papi!
WATCH Salt Papi @therealsaltpapi vlog about his sensational knockout boxing match with Josh Brueckner https://t.co/4qK41Eg3Pk

— GoodNewsPilipinas.com (@GoodNewsPinas_) January 17, 2023
Good News Pilipinas is a Lasallian Scholarum Awardee. TELL US your good news story tips by messaging GoodNewsPilipinas.com on Facebook, Twitter, Instagram, or e-mail editor@goodnewspilipinas.com and WATCH Good News Pilipinas TV YouTube & Good News Pilipinas TikTok for more Filipino Pride stories!
Facebook Comments