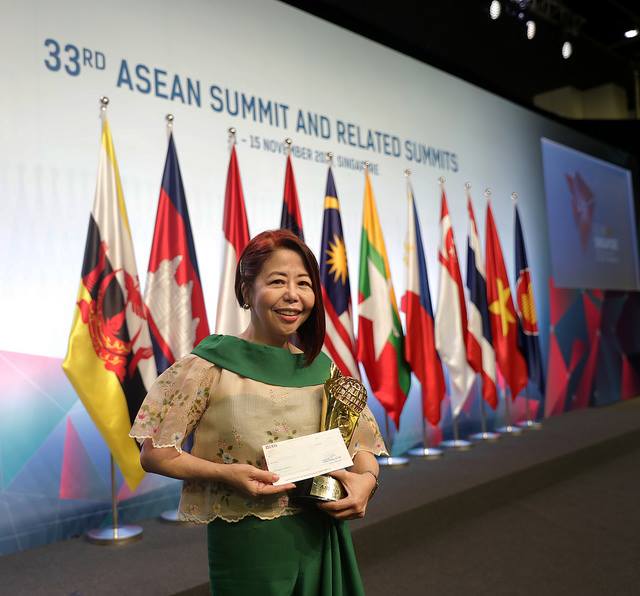 Erlinda Uy Koe, the Philippines' prime advocate for autism awareness, received the first ASEAN Prize for her work on supporting people with autism in the Philippines and across Asia.
Koe, chair emeritus of Autism Society Philippines (ASP) and chairperson of the Asean Autism Network (AAN), personally received the recognition in ceremonies during the 33rd ASEAN Summit and Related Summits held in Singapore on November 13.
The Filipino advocate was selected from among 50 nominees for the award from all ten ASEAN Member States.
ASEAN announced Koe's selection via social media saying, "She spearheaded many initiatives to enhance autism awareness which impacted the lives of thousands of persons with autism in the region."
ASEAN thanked Koe for her "leadership and tireless efforts in contributing to an inclusive and people-oriented, people-centred ASEAN Community."
The inaugural ASEAN Prize was given by Singapore Prime Minister Lee Hsien Loong and the ASEAN Secretary-General Dato Lim Jock Hoi "in recognition of Erlinda's work and dedication to improve the lives of persons with autism in the region.
Her dedication reflects the spirit that is deeply rooted in an ASEAN Community which engages and benefits the people."
The inaugural ASEAN Prize 2018 carries a US$20,000 cash prize.
ASP quoted Koe's acknowledgment of the recognition she received: "This is a welcome blessing. For the inaugural ASEAN Prize to be awarded to a family autism advocacy shows how far the ASEAN Community has embraced inclusion for persons with autism and other special needs.
I pray that this recognition will help organizations like the ASP and other members of ASEAN Autism Network to connect with policy makers and push for institutional mechanisms that will help improve the lives of those living in the autism spectrum.
This inaugural ASEAN Prize honors all family advocates who work hard for the acceptance, accommodation and appreciation of people with autism. And above all, I thank God for giving us our children, for giving us a higher purpose, and for putting us to together to work for one vision, one autism friendly ASEAN community. To God be the glory."
Watch the ASEAN Video Feature on Erlinda Uy Koe, Recipient of the ASEAN Prize 2018.
Facebook Comments