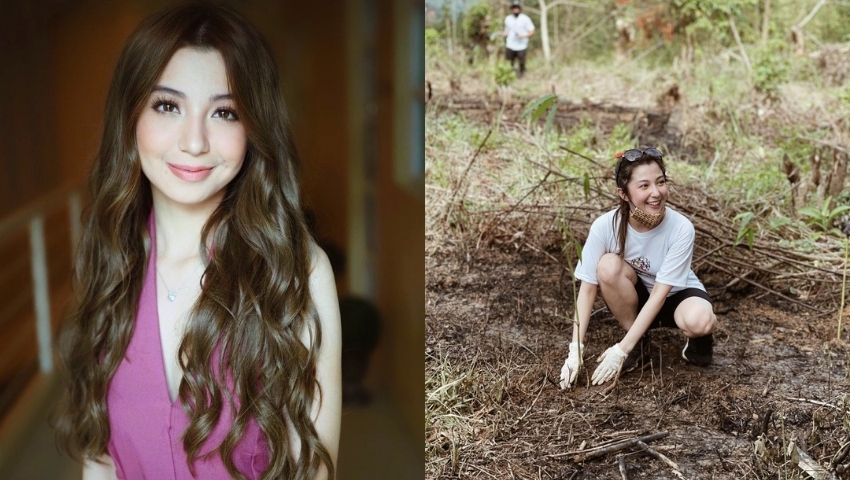 Filipino celebrity Donnalyn Bartolome has raised more than one million pesos for her charity organization's reforestation project.
The 26-year-old singer and vlogger announced on March 19, 2021, that she has collected PHP 1, 083, 418.91 in donations from her YouTube vlogs as of January for her organization, Influence Us, which will use the fund for its tree-planting project.
"Our charity @influence_us.ph deployed boats to affected areas/provinces, packed and delivered food for thousands of families and animals affected by the typhoon, and now, with the money I earned from YouTube, we will be planting trees to prevent future flooding," the Pinay singer said on Instagram.
Donnalyn also encouraged her social media followers and viewers to support her cause by saying, "All that subscribing and not skipping ads will all be worth it!"
The singer-actress also recalled the difficult times when she felt helpless and could not do anything to help the victims of calamities.
"I remember the stress of knowing I can't do anything more than I did but cry for the people affected," she said.
"I knew you guys felt the same so I collected donations through my yt revenue and other ways so if you've subscribed and watched my videos YOU HAVE DONE SOMETHING."
https://www.instagram.com/p/CMkEExOFBx0/
It could be recalled that the humanitarian aid worker was one of the celebrities who lent their helping hands to the Typhoon Ulysses victims.
Donnalyn also celebrated the International Day of Forests on March 21 by joining Influence Us in planting over a thousand native bamboo trees in Rizal province.
"This International Day of Forests, we, @Influence_Us.ph successfully donated and planted 1,000+ native bamboo trees in Rizal. This will help people be in less danger from flooding, preventing erosion, landslides- damages a flood could bring," she said on her IG post.
"I feel like people have forgotten what happened to us just months ago with Typhoon Ulysses. I didn't. I will not."
She also aims to inspire more people to do their share in saving mother nature.
"After months of preparation, research, and help from the authorities with permits and search of the land to plant seedlings, WE DID IT!
"When I posted about this 2 days ago I received more help and that's the goal! Vlog will be up tomorrow on my channel so we can inspire more people to help plant trees!" Donnalyn concluded.
https://www.instagram.com/p/CMrC2JKlXGx/
Various green initiatives are also on-going in some parts of the country to combat climate change.
The residents of the municipality of Cantilan in Surigao del Sur province in Eastern Mindanao are targeting to plant 1.3 million trees.
The Iloilo province on the other hand launched its Tanum Iloilo tree planting in 2020 and now aiming to plant 1.5 million native and fruit-bearing trees.
Department of Environment and Natural Resources and the San Miguel Corporation Foundation joined hands in rehabilitating Manila Bay and planning to plant total a total of 190,000 mangroves.
SEND CHEERS in the comments below to Filipino celebrity Donnalyn Bartolome for raising over a PHP1M fund for reforestation in the Philippines.
Good News Pilipinas is celebrating its 15th Anniversary in 2021 by giving away prizes! Subscribe to our Good News Pilipinas! TV YouTube channel and enter the raffle by sending us an email to editor@goodnewspilipinas.com
Facebook Comments