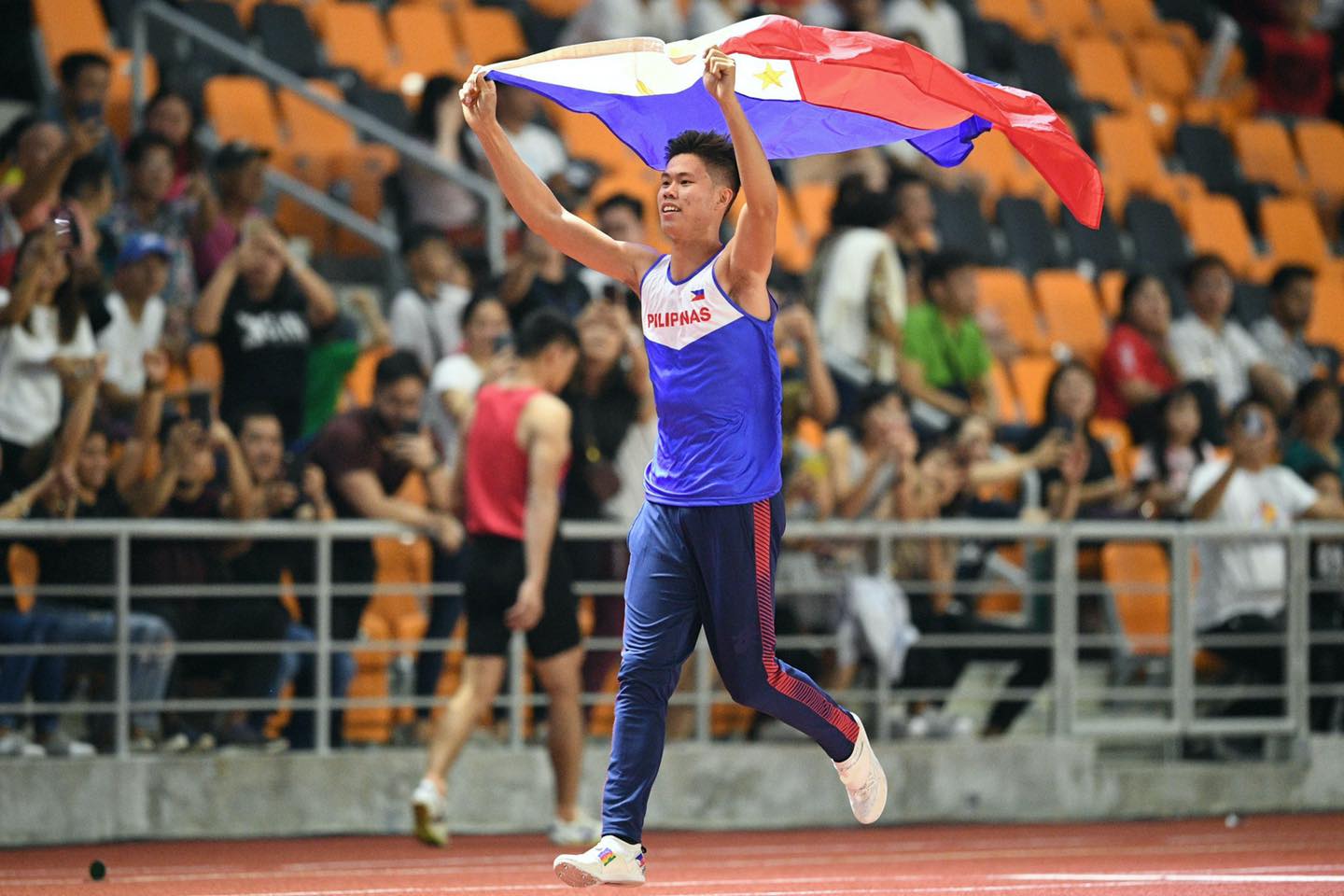 Filipino champion pole vaulter Ernest John "EJ" Obiena is getting a chance to defend his gold record at the 31st Southeast Asian Games (SEA Games) to be held in Vietnam this May 2022.
The SEA Games champion for the Philippines was included by the Philippine Olympic Committee (POC) in the list of 654 athletes representing the country from May 12 to 23 in Vietnam.
EJ Obiena holds the SEA Games gold standard at 5.45 meters after setting it in 2019 at the Philippines' hosting of the regional event.
Obiena bettered his SEA Games record when he cleared 5.81 meters with his two gold-winning and World Athletics Championships-qualifying vaults in Poland last February. He again delivered a better performance in early March after clearing 5.91 meters in France.
Obiena also broke the 23-year-old Asian record in 2021 after clearing 5.93 meters in Austria.
EJ Obiena has also qualified for the 18th World Athletics Championships to be held in Oregon, USA, in July and the 19th Asian Games to be held in Hangzhou, China, in September.
Obiena's inclusion in the SEA Games roster was backed by the POC despite the national athletics federation's non-endorsement of the Filipino champion athlete following a public rift that has been ongoing for three months.
The 26-year-old World No. 5 also did not receive the required endorsement from the Philippine Athletics Track and Field Association (PATAFA) for him to participate in the World Indoor Championships this March despite being the first Filipino athlete to qualify for the event after his gold-winning performances in Poland.
POC president Abraham Tolentino said "EJ's name must be there" when he announced Obiena's inclusion in the SEA Games roster of athletes on March 11.
"It's both frustrating and disappointing if we don't see EJ setting a new SEA Games record in Hanoi… Logic plays a major role here for the need to include him in the SEA Games list, this is sports and he's a national sports pride," Tolentino added.
Obiena went on social media on Sunday to share his disappointment at not being able to join the World Indoor Championships.
"Today the Country I Love Loses
"I love my country. I am proud of my country. I am driven to be a shining example of the excellence and world-class talent of the Philippine nation.
Despite the adversities, and despite the attractive offers from other nations, I have refused to abandon my country. I believe in my country and I believe my fellow countrymen also love our country. And hence would put country first also. Ang bayan ko, Pilipinas!
"With my recent results I have qualified for the World Indoor Championships. I am currently ranked 5th and holding the 4th highest jump of the season. This competition is next week in Belgrade, Serbia.
"I am in prime physical and mental condition. I am ready to be the first Philippine HOME-GROWN athlete to compete in the Worlds, and I am ready to compete and bring home a medal. Now is my time; NO, now is our time!
But sadly, we will never know.
"Country has not been put first by all. Country comes after personal considerations for some. This is more than unfortunate. The nation pays the price.
"I have not been endorsed for the Worlds. Registration is now closed. I won't be attending. I am the only top-ranked vaulter not participating.
"If country was ever put first, I should be headed to Belgrade now. But I am not. I will watch it on TV like millions of others. I will see other nations take the medal that Philippines should be winning.
"I shed a tear now with a heavy heart, but not just for myself. I shed a tear for my country. We had a chance to show the world our greatness. And we lost it.
#paraSANAsabayan🇵🇭"
TELL US your good news story tips by messaging GoodNewsPilipinas.com on Facebook, Twitter, Instagram, or e-mail editor@goodnewspilipinas.com and WATCH Good News Pilipinas TV YouTube & Good News Pilipinas TikTok for more Filipino Pride stories!
Facebook Comments