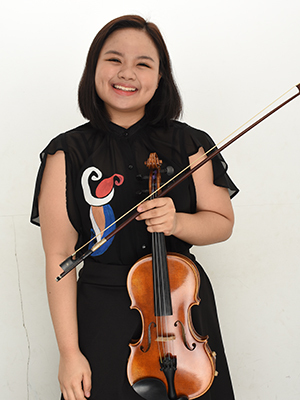 Meet Filipina teen violinist Jeanne Rafaella Marquez, a 2022 Jack Kent Cooke Young Artist and Kohl Scholar at Colburn School's Music Academy in the United States.
Marquez, who hails from the small town of Noveleta in Cavite province, is a teen musician on the rise who wants to help the Philippines become more well-known for classical music on the world stage.
The young artist discovered her love for music at an early age. She began her violin studies at the age of six under Professor Cedric Lachenal, a French missionary and Conservatory of Caen graduate who recognized her potential and encouraged her to participate in music competitions, both locally and abroad.
The Filipina violin prodigy became the youngest founding member of the Manila Symphony Junior Orchestra (MSJO), the Philippines' premier internationally-awarded youth orchestra, under the baton of Professor Jeffrey Solares when she auditioned in 2014.
Marquez went on to win local competitions such as the National Music Competition for Young Artists (NAMCYA) Junior Strings Category and in the 2019 Filkor Youth Orchestra Concerto Competition, before studying abroad and landing a scholarship in Colburn School's Music Academy, one of the top music schools in the United States.
Though she juggles academics and her music classes, the 18-year-old Marquez manages to stay on top of her busy schedule. She is currently studying at Colburn School's prestigious Music Academy as a Kohl Scholar under the tutelage of her music teacher Joan Kwuon, and at Oak Crest Academy in Los Angeles, California.
The teen violinist was most recently featured in a February episode of the American National Public Radio's (NPR) "From the Top" which showcases the stories and talents of the best young classical musicians across the country.
She appeared on the radio program with her fellow Colburn School students and was chosen to perform the Filipino composer Nicanor Santa Ana Abelardo's famous "Cavatina for Violin and Piano, Op. 7."
The Filipina is also among this year's recipients of the show and the Jack Kent Cooke Foundation's award for young artists.
Marquez is one of the featured performers on the show who was selected to receive the Jack Kent Cooke Young Artist Award that helps exceptionally talented young musicians like her with the high costs of studying classical music.
Jeanne Marquez recently talked to Good News Pilipinas to chat about attending her dream school, her inspirations and hopes, and what makes her proud to be a Filipino.
Young Filipino scholar
The young Filipino scholar said that she is currently preparing for her college applications and is enjoying her time on campus despite a busy schedule. She excitedly shares her passion for classical music and her love for the violin in the interview.
"Campus life, I mean, it's quite enjoyable to stay here at the dorms and also to experience the surroundings of a music community. I came from a regular school before I came here," Jeanne Marquez explains in an interview with Good News Pilipinas.
Jeanne may be a promising young artist, but she remains humble and down-to-earth. She says she is honored to attend Colburn School's Music Academy, her dream school.
The young artist auditioned online for the Music Academy and was informed through email that she got selected for the prestigious Kohl Scholarship.
She is one of a select number of Music Academy students to hold a Kohl Scholarship, covering tuition plus room and board. Becoming a Kohl Scholar, Jeanne says, is an honor and a dream come true for her since the scholarship allows her to pursue what she loves more freely.
Journey and challenges
Jeanne also candidly opened up about her struggles as a young Filipino musician. When asked about some of the difficulties she faced in her music, Jeanne confesses that she struggled with self-doubt and had to overcome many challenges to get to where she is right now.
"I mean, challenges, sobrang dami…I was not born a good violinist, I really strived and worked hard para mapunta sa place ko ngayon and I mean, coming from the Philippines, I never had the chance to be surrounded (to experience being) in a music academy," Jeanne shared.
"I mean, I had peers na musicians din sa Philippines, pero iba parin 'yung environment dito sa U.S. na talagang may strict and rigid training kami."
The violinist recalls feeling discouraged after applying to another music school back in 2016 and not being admitted, which she considers a "turning point" in her career.
Jeanne reflected on her journey and remembered the time that she almost gave up on her dreams. Thankfully, she got back on the right path with the encouragement of her friends and family.
Jeanne wants to let aspiring Filipino musicians like her know that the journey to achieving one's dreams won't be easy, but is ultimately worth it.
"Never stop dreaming, and never ever end your journey," Jeanne said. "And second, wag titigil na lumaban…it's okay na mawalan ng pag-asa minsan, it should be normalized."
"There will always be times that it feels like it's going to end. However, it's not. You just need to rest and take a break and then breathe,"
"And after 'nun pag nakapag isip-isip ka na saka mo ulit pulutin 'yung mahal na mahal mong talento and saka ka mag-improve pa and make yourself a better person," Jeanne adds.
The young go-getter admires the resilience of her countrymen, as well as the passion and love for music in the Philippines. "Us Filipinos are natural musicians," Jeanne enthused.
"Kung wala 'yung Filipino trait na lalaban tayo, wala ako dito ngayon," Jeanne shared. "That passion helps me to keep going, helps me to pursue my dream."
When she's not busy performing, the hardworking music student says she enjoys her hobbies like baking and cooking in her spare time. Jeanne also watches Korean drama shows to unwind after her performances.
MEET other inspiring Filipino women like Anne Barretto of Hey Pretty Aesthetics and these 9 Filipina startup leaders in celebration of International Women's Month.
SEND CHEERS in the comments below to Filipina teen violinist Jeanne Rafaella Marquez for inspiring young musicians like her to pursue their dreams!
TELL US your good news story tips by messaging GoodNewsPilipinas.com on Facebook, Twitter, Instagram, or e-mail editor@goodnewspilipinas.com and WATCH Good News Pilipinas TV YouTube & Good News Pilipinas TikTok for more Filipino Pride stories!
Facebook Comments