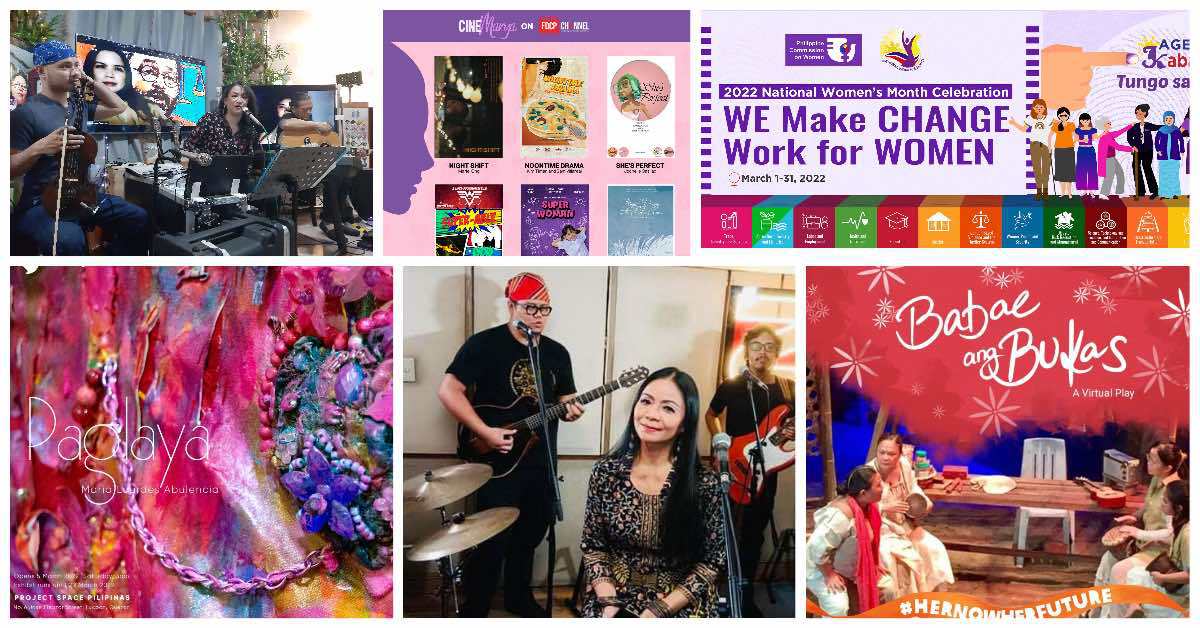 Here's a list of Women's Month activities, events, and ways to show your support for Filipinas as the global celebration happens this March 2022.
To mark the annual celebration of women's month in the Philippines, local organizations, government agencies, and initiatives are organizing efforts to support to empower Filipino women of all ages and recognize their contributions to society.
The following events and activities are some of the many that you can participate in to celebrate Women's Month.
PCW-Organized Activities
The Philippine Commission on Women (PCW) leads the annual National Women's Month Celebration with the recurring theme "WE Make CHANGE Work for Women" and the sub-theme "Agenda ng Kababaihan, Tungo sa Kaunlaran," which highlights women's rights to make choices and have their voices be heard as changes in national and local leadership approach.
The campaign is a continuation of last year's theme "Juana Laban sa Pandemya, Kaya!" which served as a tribute and a call to action that highlighted the extraordinary roles of ordinary Juanas in society.
Here are some of the activities offered by the PCW for Filipinas this March:
Pulso para sa Kababaihan, Tungo sa Kaunlaran Online Poll
The activity aims to set a roadmap for future leaders by getting Juanas and Juans' pulse on priority issues that must be addressed. The survey lays down specific targets aimed at addressing gender issues.
The PCW will launch the NWMC Online Poll on International Women's Day (IWD) on March 8 and guide the stakeholders in answering the survey. Interested Juanas can participate until March 25, 2022.
The results will be released on March 31, in line with the culmination of the National Women's Month Celebration. The poll results can serve as a guide for future elected officials and government agencies, private organizations, and GEWE advocates in crafting programs, activities, and projects.
JuanaSays: Agenda ni Juana edition
Now on its 8th year, the #JuanaSays online advocacy takes a twist. Weaving it with the online poll, #JuanaSays: Agenda ni Juana edition will feature videos of Juanas from different walks of life sharing the key concerns they want to see in the government's agenda.
Musika ng Kababaihan Fridays (#MNKFridays)
Every Friday of March is MNK day. The PCW will stream songs from the MusikJuana Songwriting Contest 2021 to popularize the 12 areas of concern of the 1995 Beijing Declaration and Platform for Action (BPfA) and other PCW advocacy songs on women's empowerment, integrated with information on gains and challenges relative to gender equality.
NWMC Viber Sticker Pack
Sharing the advocacy in messaging platforms, PCW will release a Viber sticker pack featuring positive messages on gender equality and women's empowerment.
Check out the PCW website and Facebook page for more updates about upcoming events and activities.
Perks and Freebies for Filipinas:
Free Health Services
The National Parks Development Committee has partnered with Likhaan Center for Women's Health Inc. to offer reproductive health advice and free contraceptives to Filipinas this March.
Free Ferry Rides for Women and Girls
The Metro Manila Development Authority is offering free Pasig River ferry rides to all women for the month of March.
March 1-31, 2022
6:00 AM to 6:00 PM
Free Virtual Play
Humanitarian organization Oxfam Pilipinas has partnered with the Philippine Educational Theater Association (PETA) for the free virtual play "Babae ang Bukas" on March 8, 2022.
"Babae ang Bukas" will explore the diverse experiences of Filipinas during the pandemic with the hopes of inspiring people to realize a future that is free of discrimination and inequality.
Register for the "Babae ang Bukas" Virtual Play through this link.
Oxfam Pilipinas earlier held the art festival titled "Babae ang Simula, Babae ang Bukas Festival" on March 1, 2022, which can still be accessed on their Facebook page.
Free Filipino Movies
Cine Filipina is offering free women-centered films to inspire and empower women and men alike on the FDCP channel from March 7 to 27, 2022.
Register for free through the FDCP channel on www.fdcpchannel.ph and click on the "BASIC" tab to start streaming.
Support for Filipino Women Artists:
Project Space Pilipinas
Project Space Pilipinas is an independent artist-run initiative and platform based in Lucban, Quezon.
In a March 2 post, Project Space Pilipinas announced that all their programs for 2022 will be dedicated to women artists, arts professionals, and cultural workers.
For Women's Month, Project Space Pilipinas opens two exhibitions on March 5, with Jessica Dorizac's "DECORATIVE DISPOSITION" and Maria Lourdes Abulencia's "PAGLAYA" at the Project Room.
Check out the Project Space Pilipinas Facebook page for more information about the events.
Support Filipina Music Icons
The start of Women's Month, March 1, kicked off with an online human rights benefit concert at the Pancitan Studio led by Filipina music icon Cooky Chua of Color It Red who bravely spoke up about the struggles faced by women in the Philippines and around the world.
The Color It Red vocalist joins her fellow Filipino music icons like indigenous people's and women's rights advocate Bayang Barrios who are championing worthy causes such as human rights youth education work, the beneficiary of the ongoing Pancitan Live one-of-a-kind online onscreen live music concert series.
Bayang Barrios recently released the new single titled "Magbabaya," a mutual term among the Manobo, Higaonon, Talaandig, and other Mindanaoan tribes, which means Manlilikha (Creator).
Stream Bayang Barrios on Spotify.
SEND CHEERS in the comments below to local organizations and initiatives for honoring Filipino women and SHARE this article to your women friends and family for the celebration of International Women's Month this March 2022!
TELL US your good news story tips by messaging GoodNewsPilipinas.com on Facebook, Twitter, Instagram, or e-mail editor@goodnewspilipinas.com and WATCH Good News Pilipinas TV YouTube & Good News Pilipinas TikTok for more Filipino Pride stories!
Facebook Comments