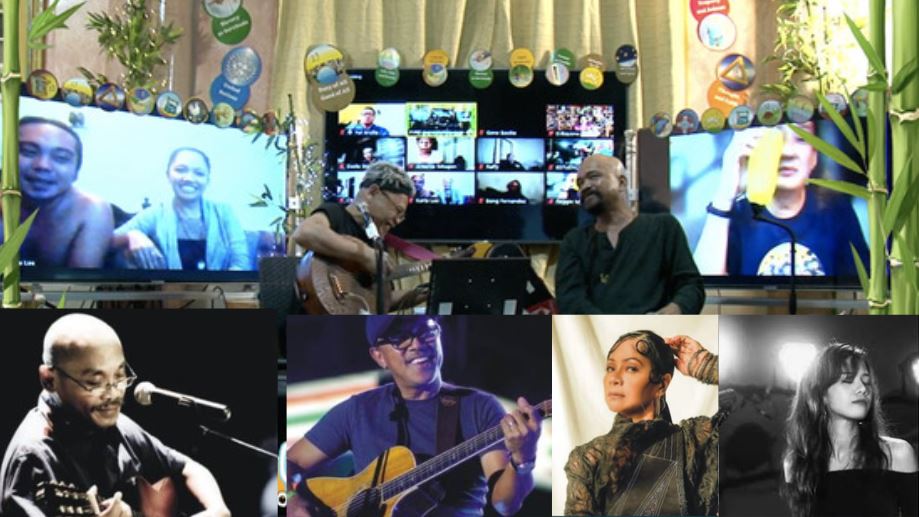 Filipino artists Noel Cabangon, Bayang Barrios with Mike Villegas, and Faye Yupano with Gary Granada are performing in an upcoming series of shows, unlike any online gigs the Philippines has seen while under quarantine. The unique and pioneering Pancitan Studio setup promises to give audiences the feel closest to a live gig, pre-pandemic times.
Touted as the Philippines' first and only live onstage-onscreen-online concert venue, Pancitan Studio pilot-tested last December 2021 featuring Granada and Dong Abay of the iconic Yano band – and it really felt, looked, and sounded like you were right there face to face with the artists while savoring their musicality and humorous banter between songs.
The Pancitan Studio setup allowed the artists to see, chat, and jam with the audience in real-time while the audience also saw each others' reactions to the performance – all in the comfort and safety of their homes, office, or even the car.
The 40-some-minutes long Christmas season gig was enough to whet the appetites of concert-goers who sorely missed being in the concert hall or bar, complete with sending live song requests, participating in live jamming, and yes, even sipping a drink or two while munching on snacks.
And so the enchanting setup has brought forth three concerts this January and February featuring the music of indigenous people's champion Bayang Barrios with her music and life partner Mike Villegas of Rizal Underground, popular concert and people's theater advocate Noel Cabangon, classically trained vocalist Faye Yupano of Project Yazz, and Gary Granada, the prolific singer-songwriter with over 400 songs to his credit whose current passion project is human rights youth education work.
Gary Granada serves as both the presenter and front act of his musician friends in the 3-concert series of Pancitan Live.
The setlist in the event poster boasts of the Filipino artists' best and most beloved songs that have inspired and captured various social advocacies through the history of the Philippines and are still relevant in the current times.
Here is the Pancitan Live schedule:
Tuesday, January 25, 8-9:30 pm – Gary Granada with special guest Faye Yupano
Tuesday, February 1, 8-9:30 pm – Gary Granada Presents Bayang Barrios and Mike Villegas
Monday, February 7, 8-9:30 pm – Gary Granada Presents Noel Cabangon
To reserve a front seat to watch the Pancitan Live series, you need to register and donate to the "Teach Children Human Rights" formative years education project at this link "para hindi ka maabutang tutulog-tulog sa pansitan (an Filipino idiom that means you will be caught unaware of your surroundings)"!
As a bonus show, Gary Granada is set to perform on January 17, Monday, and is set to auction one of his guitars in the TAMPANSITAN special. You can still register for a seat and bid to own the guitar.
SHARE THIS STORY to encourage others to experience the Philippines' First and Only Onstage-Onscreen-Online Live Music Bar featuring Bayang Barrios, Mike Villegas, Noel Cabangon, Gary Granada, Faye Yupano, and even yourselves as you donate to the "Teach Children Human Rights" Project!
TELL US your good news story tips by messaging GoodNewsPilipinas.com on Facebook, Twitter, Instagram, or e-mail editor@goodnewspilipinas.com and WATCH Good News Pilipinas TV YouTube for more Filipino Pride stories!
Facebook Comments