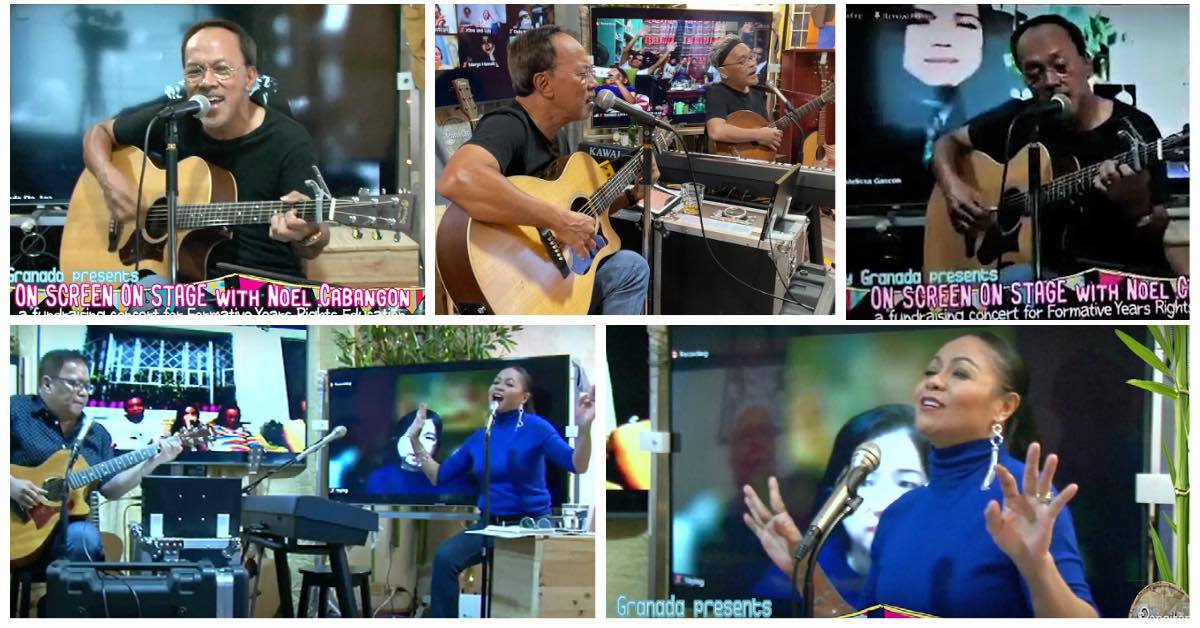 Filipino music icons Bayang Barrios with Mike Villegas, and Noel Cabangon put on great live shows for online concert-goers at the Pancitan Studio to raise funds for human rights youth education work while celebrating milestones of their live audience.
Gary Granada, one of the Philippines' premier singer-songwriters, was the presenter and front act for his musician friends in the one-of-a-kind live music bar series for a worthy cause.
The performances were held live in the Pancitan Studio, the country's first and only live onstage-onscreen-online concert venue. The unique concert setup allows singers to see, chat, and jam with their audience in real-time, capturing the magic of live music gigs before the pandemic.
The audience in the Zoom room were able to get their live music fix from their favorite artists – Gary Granada, indigenous people's and women's rights champion Bayang Barrios with her music and life partner Mike Villegas of Rizal Underground, as well as popular concert and people's theater advocate Noel Cabangon – in two recent concerts at the Pancitan Studio.
The cozy ambiance and lively atmosphere at the studio also made it a perfect venue for friends and family to gather virtually and celebrate their special occasions and milestones while listening to the Original Pilipino Music (OPM) icons from the comfort of their own homes, or wherever they may be, just like they would in face-to-face gigs.
Among the attendees of the online music gigs were several friends who had a blast celebrating their birthdays together with Bayang Barrios and Mike Villegas on the day of their online concert on February 1, 2022.
Bayang Barrios with Mike Villegas
The virtual audience was in for a night of great music, energy, and fun at the Pancitan Studio, as the musician power couple took the concert stage to perform beloved hits like "Bagong Umaga", "Harinawa", "Gising na Kaibigan", and more.
The crowd then turned emotional when Bayang Barrios performed "Walang Hanggang Paalam," a heart-rending song of sacrifice between lovers in the people's movement who could not be together.
Bayang Barrios, the Filipina musician who proudly carries and passionately fights for indigenous peoples' heritage and star of the longest-running jukebox musical "Rak of Aegis," also sang the equally heart-rending "Paano Mahalin Ang Katulad Mo" written by Gary Granada for Lean, the musical honoring slain youth activist Leandro Alejandro.
Barrios and Granada also sang some duets that were requested by the live audience which included birthday celebrants Ana Uy and Angie Quadra, the music album producer of Lean The Musical.
Noel Cabangon
The Pancitan Live concert of Gary Granada presents Noel Cabangon delighted guests on the evening of February 7.
Gary Granada, the prolific singer-songwriter and activist with a career that spans over three decades, opened the show with several songs such as the Metropop Grand Prize-winning fan-favorite ultimate hugot song, "Mabuti Pa Sila".
Granada also sang "Noel", a ditty that he says is the only song he ever wrote for someone specific, which put a smile on everyone's faces as it heralded the main performance of Bayang Barrios' fellow star in RAK, Noel Cabangon.
Audiences swooned when Noel Cabangon himself finally went on stage to kick off the concert with the song "Ang Himig Natin" as well as a couple of Ilocano songs.
Cabangon also dedicated his rendition of the classic "Kahit Maputi Na Ang Buhok Ko" to a birthday celebrant in the audience, Melissa Gascon, who spent her special day virtually gathered at the Pancitan Live with fellow human rights advocates and colleagues of her late husband Chito Gascon, the Chairman of the Commission on Human Rights who passed away in 2021 due to COVID.
Melissa's successful birthday bash at the Pancitan concert was organized by her friends from the University of the Philippines who entered the Zoom room early to organize greetings for her birthday.
The two good friends, Cabangon and Granada, also sang some duets, including their original advocacy song "Asin", leaving audiences clamoring for more.
The two concerts featuring Bayang Barrios with Mike Villegas, and Noel Cabangon were part of a three-part online concert series for a good cause staged this 2022.
Granada earlier teamed up with Faye Yupano of Project Yazz in the January opening gig of the series.
This March, Pancitan returns with live gigs from more Filipino artists who will come on stage to perform whilst contributing to the important task of educating the public about human rights.
The donations from these concerts will go toward the "Teach Children Human Rights" formative years education project.
The success of the January and February Pancitan Live online music bar gigs is followed by a new set of performances this March, notably the separate sets of the leads of Lean The Musical – Cooky Chua and Chickoy Pura.
Check out these Pancitan Studio live gigs scheduled this March:
Gary Granada with Cooky Chua of Color It Red with Kwachi Vergara and Jerome Nunez (March 1)
Gary Granada with Chickoy Pura of The Jerks (March 14)
Gary Granada with Paul Galang (March 22)
Instrumentalist Wellness shows (March 10 & 31)
SHARE THIS STORY to encourage others to join Pancitan's new gigs AND SEND CHEERS in the comments below to Gary Granada and his fellow Filipino musicians who are inspiring change and pushing for human rights education. SEE YOU at the next Pancitan concert!
TELL US your good news story tips by messaging GoodNewsPilipinas.com on Facebook, Twitter, Instagram, or e-mail editor@goodnewspilipinas.com and WATCH Good News Pilipinas TV YouTube & Good News Pilipinas TikTok for more Filipino Pride stories!
Facebook Comments