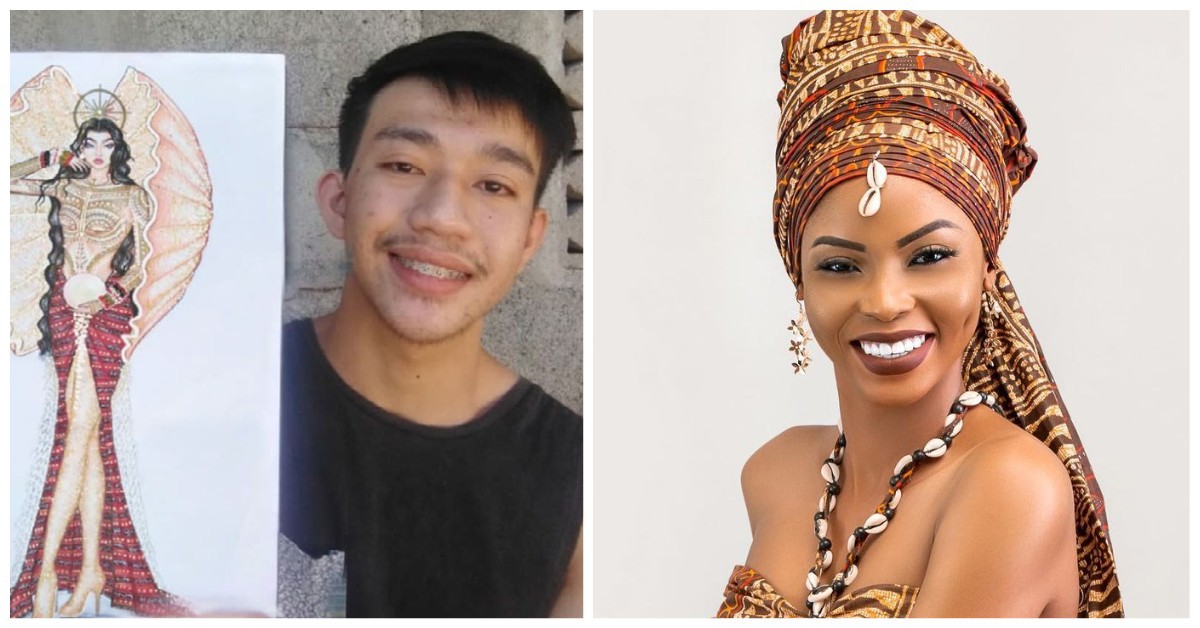 Filipino student Kennedy Jhon Gasper from Central Luzon State University (CLSU) in Muñoz, Nueva Ecija has designed the national costume for Cameroon's first-ever representative to the Miss Universe competition.
Miss Cameroon Angèle Kossinda will wear an elaborate creation of the 20-year-old CLSU third-year student majoring in Fashion and Textile Technology.
The CLSU College of Home Science and Industry congratulated Gasper on his new achievement on May 3, 2021.
"We are happy to announce that our 3rd year student of BSFTT-FD has given a big role as national costume designer to one of the candidates of MISS UNIVERSE 2021," CLSU announced on its Facebook.
"At the age of 20, he has proven himself as an outstanding student and fashion designer. He has given extra effort in his studies whilst grabbing sidelines in making costumes, gowns, and participating contests," the university said.
The CLSU report said that Miss Cameroon personally reached out to Gasper after his fashion sketches went viral on social media.
According to the fashion design student, the gown he designed and created for Kossinda is inspired by the lion, the country's national animal while the details were inspired by the continent of Africa.
The gown made in the Philippines uses indigenous materials such as wooden beads, abaca fibers, rhinestones, jacquard fabric, fur cloth, and semi-precious stones.
Kossinda revealed via Instagram that her national costume for the upcoming pageant was made by a Filipino designer.
"Indeed a national costume represents your country legacy, culture and image. And to me the most important thing is to find someone who could best represent it in an outfit or costume no matter your origins…So yes a Filipino designer has made my national costume @kennedy_gasper," Angèle Kossinda wrote.
"We have to remember that he is a very young talented man who also deserves this opportunity," the 28-year-old Kossinda adds.
In the same Instagram post, Angèle Kossinda shares that she has a soft spot for Filipinos, whom she said gave her a warm reception during the Miss Earth beauty pageant in 2017.
"There's a big love story between the Philippines, Filipino fans and me and that is since 2017…Be aware my gowns as well are made by Filipino – I have been trained and mentored by Filipino too," Miss Universe Cameroon said.
Angèle Kossinda joins the Philippines' Rabiya Mateo in the 69th edition of the Miss Universe pageant happening on May 16 in Florida, U.S.A.
Filipino designers making waves in international pageantry include Jojo Bragais, the Miss Universe organization's new footwear partner, and over 100 Filipino fashion designers who are collaborating to create Mateo's wardrobe.
SEND CHEERS in the comments below to Filipino fashion designer Kennedy Jhon Gasper who has created the national costume for Miss Cameroon Angèle Kossinda in the upcoming Miss Universe competition.
Good News Pilipinas is celebrating its 15th Anniversary in 2021 by giving away prizes! Subscribe to our Good News Pilipinas! TV YouTube channel and enter the raffle by sending us an email to editor@goodnewspilipinas.com
Facebook Comments