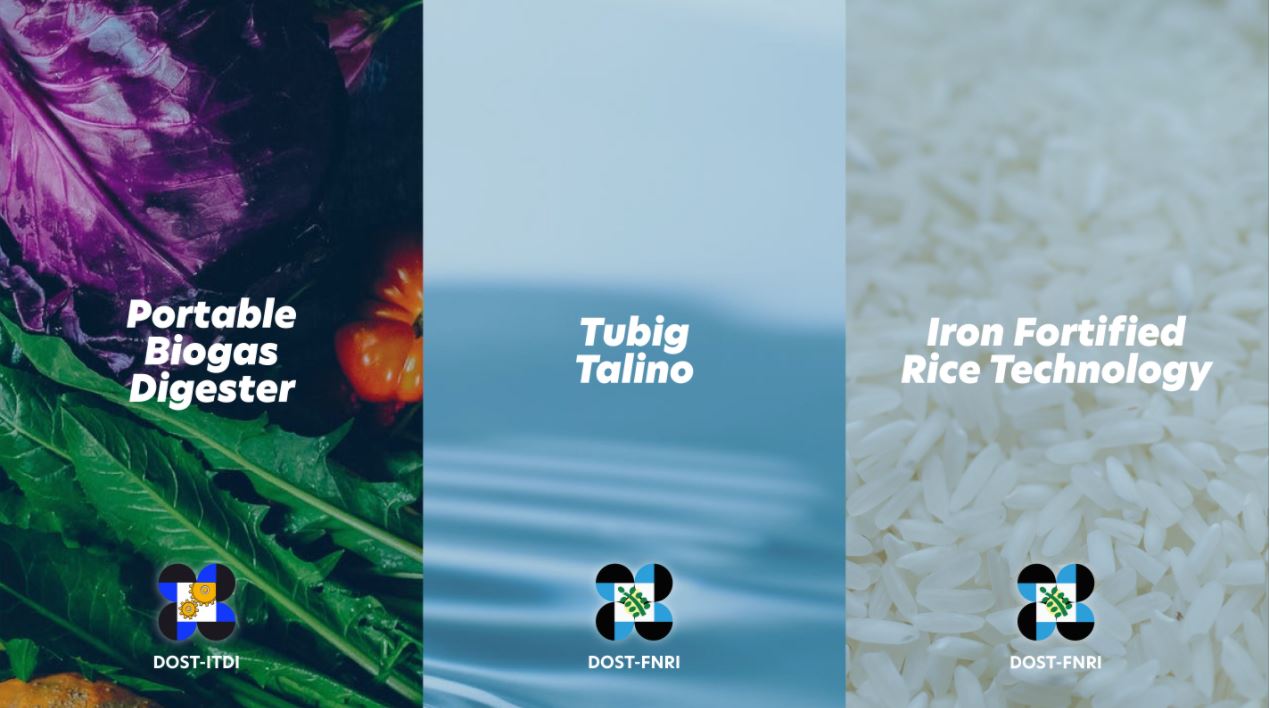 Filipino technologies developed by the Department of Science and Technology (DOST) are turning Cavite homes into safe and healthy havens for families.
DOST-CALABARZON through its Provincial Science and Technology Center (PSTC) in Cavite partnered with the local government unit of Noveleta in Cavite and with two Cavite-based cooperatives for the use of DOST-developed technologies.
The LGU of Noveleta adopted the DOST-Industrial Technology Development Institute (ITDI) Portable Biogas Digester, while the Maitim II East Water Service Cooperative (M2EWC) and the Palangue Agrarian Reform Cooperative (PARC) adopted the DOST-Food and Nutrition Research Institute (FNRI) Tubig Talino and Iron Fortified Rice Technology, respectively.
Biogas
Through the DOST Community-Based Program (CBP), the LGU of Noveleta received 17 units of Portable Biogas Digester from the DOST PSTC-Cavite. The DOST-ITDI designed and developed the adopted Portable Biogas Digester, which converts household waste materials into gas for cooking.
The LGU of Noveleta, in adopting the named technology, seeks to establish improved biodegradable waste processing facilities for the 16 barangays of the municipality of Noveleta. Aside from providing better waste management of household and agricultural wastes, this DOST-ITDI technology also supplements the energy needs of small households and produces sludge, reusable as soil conditioner.
Iodine Rich Drinking Water
The M2EWC sought the use of the DOST-FNRI Iodine Rich Drinking Water, Tubig Talino. The DOST PSTC-Cavite pledges the provision of water refilling equipment and other tools needed for iodine fortification.
The DOST-FNRI developed Tubig Talino controls and prevents Iodine Deficiency Disorders (IDD) among Filipinos. According to DOST-FNRI studies, drinking five glasses of Tubig Talino, a mix of purified water and Water Plus I2, meets 33% of the daily recommended energy and nutrient intake (RENI) of iodine in adults.
Iron Fortified Rice
The PARC also adopted the DOST-FNRI Iron Fortified Rice Technology. True to its commitment to secure safe and nutritious food for Barangay Palangue and the entire municipality of Naic, Cavite, the adoption of the technology supplies rice, a staple food in the country, responds to the continued prevalence of Iron Deficiency Anemia (IDA).
The above-mentioned DOST-developed technologies, the DOST-ITDI Portable Biogas Digester, the DOST-FNRI Tubig Talino, and Iron Fortified Rice Technology, among other technologies, are available for adoption in Cavite (email pstccavitedost@gmail.com) and in other provinces in CALABARZON (email dost4a.ord@gmail.com).
Amid the coronavirus pandemic in 2020, DOST released its Pandemic Manual of technologies needed in health emergencies. The department also presented Filipino innovations for new normal on showcase in its R&D conference.
SEND CHEERS in the comments below to DOST and the Cavite communities now using Filipino technologies that turn Cavite homes into safe and healthy havens for its residents.
Are you a Proud Filipino? Get more good news stories on Filipino Pride! Subscribe to GoodNewsPilipinas.com and our YouTube channel: Good News Pilipinas! TV
Facebook Comments