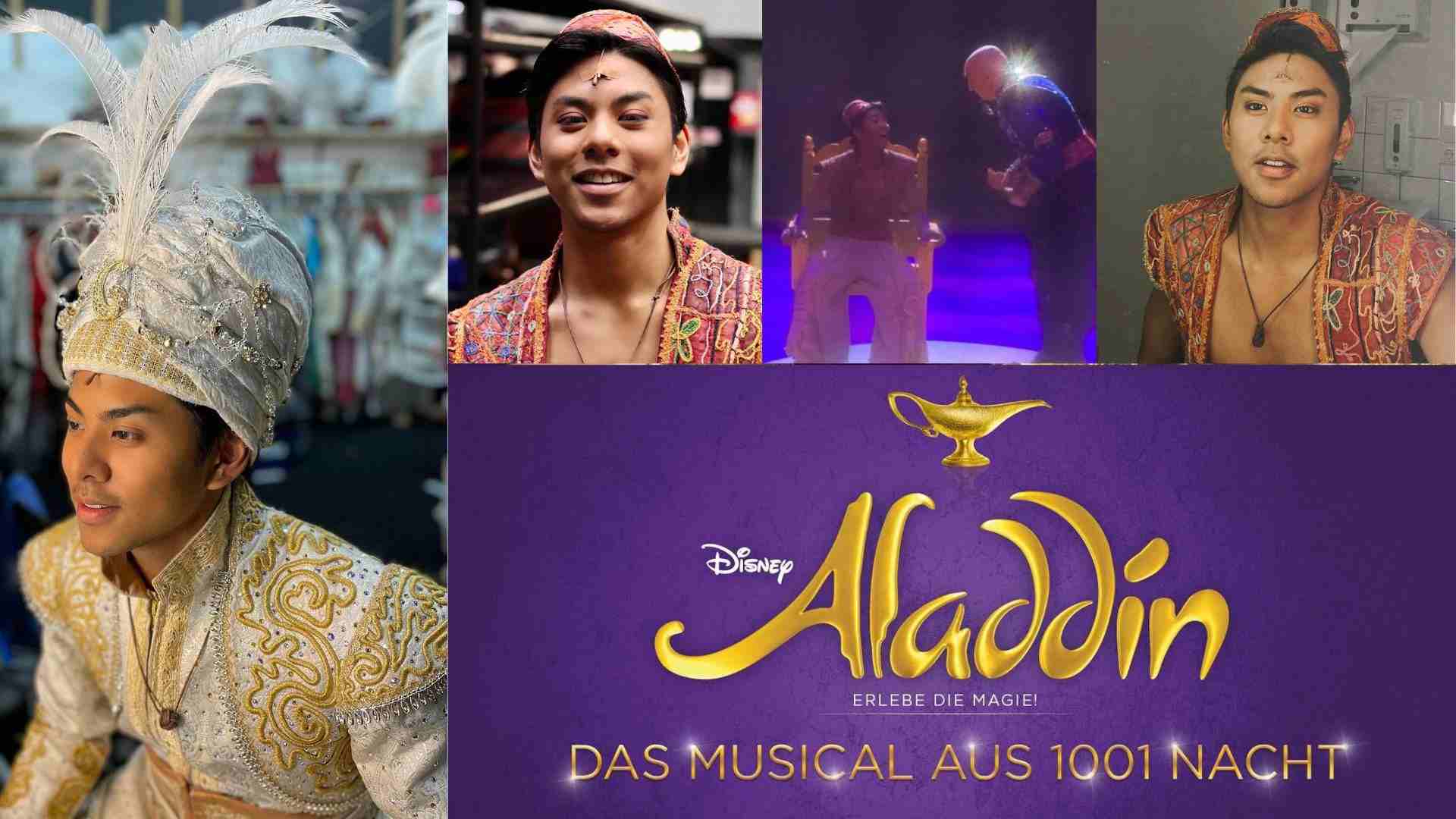 Filipino-German theater actor Edwin Parzefall is starring in the musical stage production of Disney's Aladdin: The Musical from 1001 Nights (Das Musical aus 1001 Nacht) in Germany.
The Filipino theatrical performer stars in the production as the character of Aladdin's friend, Omar, and also covers Aladdin on alternate shows in the Stage Entertainment production that runs until January 23, 2023, at the Apollo Theater in Stuttgart.
The role of Omar in Disney's Aladdin is Parzefall's first starring role after completing training with distinction as a scholar of the renowned Stage School.
His training included performing as the soloist and dancer in the Bardar Show Case at the Chat Noir Theater in Oslo, appearing on the German Musical Theater Prize as a dancer, and being part of the musical "9 To 5" dance ensemble.
Disney's Aladdin is the tale of an Arabian desert kingdom's burglar who falls hopelessly in love with Princess Jasmine and discovers a magic lamp with a genie who can help him win the princess' heart.
Parzefall excitedly announced his being cast in Aladdin in an Instagram post last October, just before the staging began in November 2021.
"Guys! I'm beyond excited to finally announce that I'm part of the family in Disney's 'Aladdin' in the Apollo Theater in Stuttgart. I'll be playing OMAR and Cover ALADDIN…Can't wait to show you Agrabah at its finest—who's gonna be there?"
Parzefall also posted about how being In Aladdin is one of his dreams suddenly coming true.
"A few years ago, I watched @aladdinmusical in Hamburg. I remember saying, "How funny would it be to stand on such a big stage by yourself?" — and boom! Here I am now with a wonderful team and stunning costume…"
In an interview conducted by Good News Pilipinas, Edwin Parzefall said that he did not plan to be in theater.
"I accidentally got introduced to the world of theater. A former classmate asked if I wanna do a musical workshop. That was the first time I got to feel the musical spirit," the actor shared.
He also said that, like many people, he is also a Disney fan.
"I honestly didn't expect to be casted for Disney Aladdin. Because I recently graduated and that was one of my first musical auditions. Of course, I am a fan of Disney's Aladdin! We all grew up with Disney somehow."
Filipino actor Edwin Parzefall is among the stars in Disney's Aladdin: Das Musical in Stuttgart, Germany. @GoodNewsPinas_ https://t.co/HdB1Kaxui8

Photo Credits: Edwin Parzefall Instragram pic.twitter.com/crraT1pPha

— EJ Transfiguracion (@Earl_Julius16) September 13, 2022
Parzefall said his involvement in the show allows him to meet people in the industry from whom he learns to improve his acting and singing.
"You learn a lot when you're playing 8 shows in a week. Your acting evolves and so does your singing technique. I have so many wonderful colleagues. I learn so much from them, and I'm beyond grateful for them!"
Parzefall says the show has helped him realize that he needs to improve and develop as an actor.
"I think the best thing that this experience has done for me is to show me that there's plenty of room to grow. I have so much to learn, and I can become an even greater actor."
He also offers advice to his fellow Filipinos who want to follow in his footsteps and perform in famous musicals like Disney's Aladdin.
"Enjoy showing your talent. Enjoy playing on stage. Enjoy singing and dancing and acting. Enjoy yourself. And just have fun!" Parzefall advises all aspirant actors.
Tickets to Disney's Aladdin: The Musical from 1001 Nights (Das Musical aus 1001 Nacht) are available through the Stage Entertainment website.
It's nothing new for Filipinos to be part of international musicals like Disney's Aladdin as Filipino artists are gradually being noticed around the world, including Karla Garcia, the first Filipino-American performer in Broadway's Hamilton, and Joaquin Valdes who starred in the first London Fringe musical.
SEND CONGRATULATIONS AND WELL WISHES in the comments below to Edwin Parzefall for landing his first starring role in the theater production of Disney's Aladdin!
Good News Pilipinas is a Lasallian Scholarum Awardee. TELL US your good news story tips by messaging GoodNewsPilipinas.com on Facebook, Twitter, Instagram, or e-mail editor@goodnewspilipinas.com and WATCH Good News Pilipinas TV YouTube & Good News Pilipinas TikTok for more Filipino Pride stories!
Facebook Comments