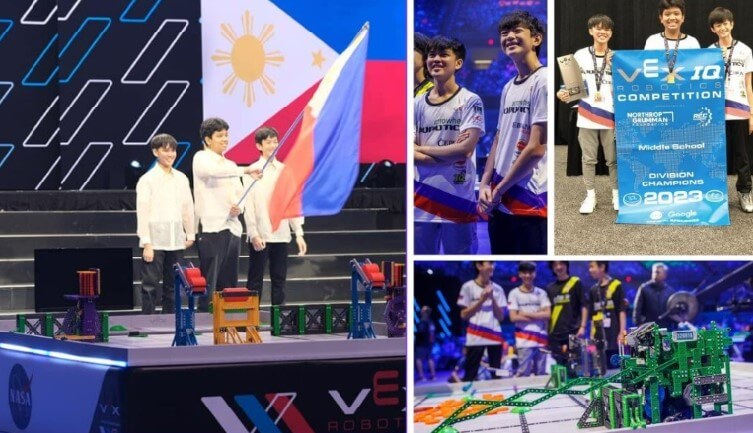 In a riveting display of intellect and technological prowess, a trio of middle school students from Muntinlupa City, Philippines, placed third overall and bagged the Research Division Champions title at the 2023 VEX Robotics World Championship in Dallas, Texas.
The team, Arrowhead Robotics, composed of Gian Casimiro (13), Alonso Pioquinto (14), and Jio Hernandez (15), showcased their remarkable talent, beating out nearly 800 teams from 70 countries to claim their place on the podium.
The VEX Robotics World Championship, recognized by the Guinness Records as the largest robotics competition globally, brought together the crème de la crème of young robotic enthusiasts from all over the world from April 25 to May 4 in Dallas. These top teams, chosen from an initial pool of over 4,600 teams participating in the 2022-23 VEX IQ MS Robotics season, battled through 4,000 matches over a thrilling three-day Middle School event.
Arrowhead Robotics, a community-based team, rose to the occasion, demonstrating their unparalleled skill in designing, building, and programming a robot using Vex Robotics IQ parts. The challenge? This season's Vex IQ Competition Slapshot game challenge. The result? A resounding victory in their division and an impressive third-place finish in the World Championship.
Filipino students at the 2023 @VEXRobotics brought home the World No. 3 and Division champions honors! Congratulations Team Arrowhead Robotics of Muntinlupa! Their full story is coming up on Good News Pilipinas! pic.twitter.com/T0AlEQWEHA

— GoodNewsPilipinas.com (@GoodNewsPinas_) May 12, 2023
Each of the 800 teams that qualified for the world championship was grouped into one of 10 divisions, each comprising 80 teams. Arrowhead Robotics emerged as the Research Division champions, propelling them into the finals, where they competed against the champions from the other nine divisions. Their final score of 255 points, earned alongside their alliance partner, Caution Tape of Ontario, Canada, secured them third place in the world finals.
The Arrowhead trio – Gian Casimiro from the International School Manila, and Jio Hernandez and Alonso Pioquinto, both from De La Salle Santiago Zobel School – earned their spot in the championship after being declared the VEX Robotics National Champions in March. Their success is not a one-off event.
Since their debut in the 2019-2020 season, Arrowhead Robotics has consistently made their presence felt. They were the first Philippine team to win the Virtual Robot Skills World Champions title in their maiden year, and they've continued to rake in awards ever since. The team won the Sportsmanship Award in the Middle School division, finished 5th in Overall Robot Skills Scores in the Elementary School division, and stood third place worldwide in the 2020-2021 season.
With a history of triumphs behind them and an evident passion for robotics, Arrowhead Robotics is not just winning competitions, but they're also inspiring future generations of Filipino students to dream big and push the boundaries of technological innovation.
Last year, Filipino students won gold and 6 bronze medals in Germany's World Robot Olympiad and 146 medals from the World Robot Games in Thailand.
WATCH Arrowhead Robotics display their Vex Robotics-winning robot in this video and SEND CONGRATULATIONS in the comments below!
Good News Pilipinas is a Lasallian Scholarum Awardee. TELL US your good news story tips by messaging GoodNewsPilipinas.com on Facebook, Twitter, Instagram, or e-mail editor@goodnewspilipinas.com and WATCH Good News Pilipinas TV YouTube & Good News Pilipinas TikTok for more Filipino Pride stories!
Facebook Comments