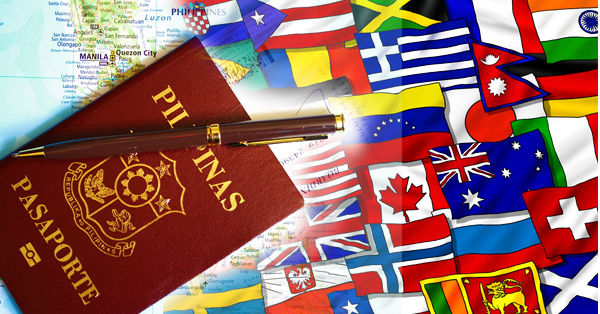 Filipino globetrotter's can now visit more countries around the world visa-free with their Philippine passport, now the seventh strongest in Southeast Asia.
This was after three more countries and territories — China, Taiwan and South Korea — gave the Philippines visa-free access, raising the number of countries that offer visa-free access to the Philippines to 66.
The new access has made the Philippines rise five spots in the latest Henley Passport Index released by residence and citizenship planning firm Henley & Partners.
Here's the complete list of 66 other countries and territories that offer visa-free access to Philippines.
Asia
Brunei
Cambodia
Hong Kong
Indonesia
Kyrgyzstan*
Laos
Macao
Malaysia
Maldives*
Mongolia
Myanmar
Nepal*
Singapore
Sri Lanka**
Thailand
Timor-Leste*
Vietnam
China
South Korea
Taiwan
Africa
Cape Verde*
Comores Island*
Cote d'Ivoir
Djibouti*
Gambia
Guinea-Bissau*
Kenya*
Madagascar*
Malawi*
Mauritania*
Mauritius*
Morocco
Mozambique*
Rwanda
Seychelles*
Somalia*
St Helena*
Tanzania*
Togo*
Uganda*
Oceania
Cook Islands*
Fiji
Marshall Islands*
Micronesia
Niue
Palau Islands*
Papua New Guinea*
Samoa*
Tuvalu*
Vanuatu
Carribean
Dominica
Haiti
St Lucia*
St Vincent and the Grenadines
Trinidad and Tobago*
Americas
Bolivia
Brazil
Colombia
Costa Rica
Ecuador
Nicaragua*
Peru
Suriname
Middle East
Armenia*
Iran*
Israel
China offered visa-free travel to Hainan to 59 countries, including the Philippines, in April, while visa-free access to Taiwan was offered beginning November 2017.
South Korea temporarily opened its borders for visa-free travel to the Philippines until April 2018 due to the 2018 Winter Olympics.
In the list of most powerful passports, Japan unseated Singapore.
Japan claimed the top ranking in the passport index by gaining visa-free access to 189 countries. Singapore still has the strongest passport in Southeast Asia with visa-free access to 188 countries.
South Korea, Finland, France, Italy, Spain, and Sweden were ranked third with visa-free access to 187 countries; Austria, Luxembourg, the Netherlands, Norway, Portugal, the United Kingdom, and United States followed in fourth place at 186 countries.
The updated 2018 Henley Passport Index "looked into the travel freedom of countries based on an authoritative database of travel information."
The latest update surveyed a total of 199 passports against 277 countries, territories, and micro-states.
Facebook Comments