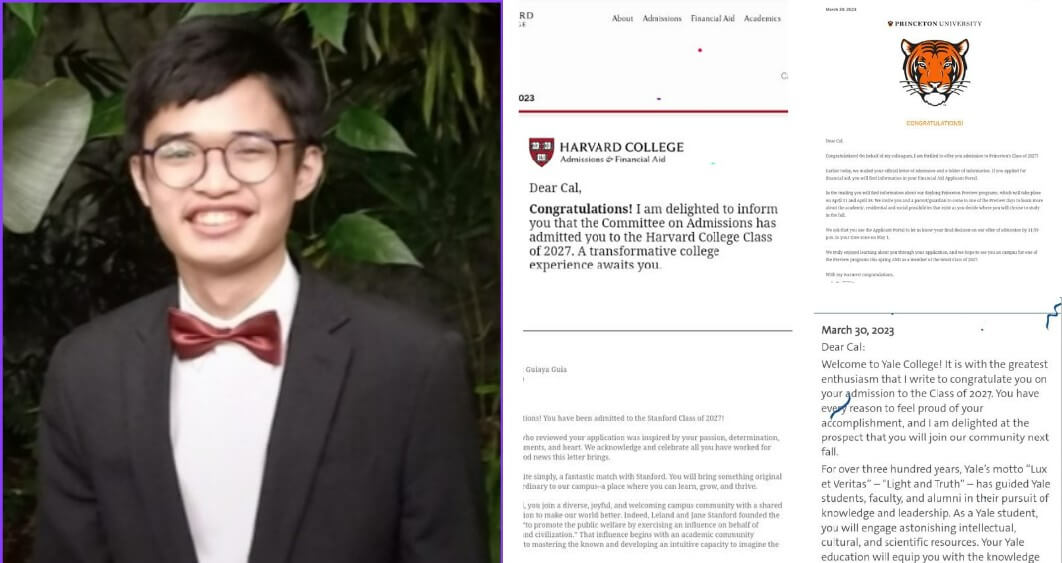 In an extraordinary display of determination and intellect, Carl Audric Guia, a student from the University of the Philippines Rural High School in Los Baños, Laguna, has achieved the seemingly impossible. Guia has been offered full scholarships to not one, but five prestigious Ivy League colleges in the United States.
Originally, Guia's goal was to secure a scholarship from at least one US university to study astronomy, a field with limited options in the Philippines. However, the results of his applications far exceeded his expectations.
During "Ivy Day" on March 31, 2023, Guia received acceptance letters from Harvard, Princeton, and Yale. The following day, Stanford confirmed his acceptance as well. In early March, he also qualified for the Glynn Family Honors Program and Stamps Scholars Program at the University of Notre Dame.
"So today, I got accepted to three of the most selective schools in the world—Harvard, Yale, and Princeton!!! Someone please wake me up right now!!! Edit: I also got into Stanford!" posted Guia on March 31.
Speaking to ABS-CBN News, Guia expressed disbelief and elation at the life-changing news. His journey began with a childhood fascination with space, the solar system, and eclipses, fostered by his grandmother's encyclopedia. This curiosity grew over the years, leading him to pursue his passion for astronomy. When the COVID-19 pandemic hit, Guia started teaching himself astrophysics using online resources.
Preparing for the competitive application process was a "very stressful time," with Guia regularly taking 4-hour tests every weekend for 8 to 10 weeks. Additionally, he submitted multiple essays and attended interviews for each university. His hard work paid off, with all four Ivy League institutions offering him full financial support, allowance, food, transportation, lodging, and health insurance during his 4-year stay.
Despite the difficult decision of choosing which university to attend before the May 1 deadline, Guia remained humble and grateful for the opportunity. He emphasized the importance of showcasing one's personality, passion, and vision to US universities and encouraged aspiring students to explore their other interests.
Guia credited the guidance he received from organizations such as CAUSE Philippines and EducationUSA during his application process and highlighted the importance of seeking help from online resources and support organizations.
Guia's remarkable achievements have already inspired fellow students and mentors. On April 13, his fellow CAUSE Philippines mentee from Negros who recently got into Princeton, Enzo Miguel Kho, congratulated Guia and a Compostela farmer's daughter, Aryenne Ysabelle Rodrigo, on social media, celebrating their US college opportunities. Guia himself also congratulated Hillary Diane Andales, another Filipino student who received full scholarships to MIT and is pursuing her dream of becoming an astrophysicist.
In an opinion piece in the Manila Times, Harvard alumnus and admissions office interviewer for Filipino students Lance Katigbak noted that Guia's accomplishments are groundbreaking for Filipino students from public high schools. As an interviewee, Guia impressed Katigbak with his warm smile, calm demeanor, and expertise in orbital mechanics and astrophysics. His humility and ambition exemplify the potential for more students from local high schools to attend international universities, given the right support from educators, and nonprofits, and increasing internet access.
Guia's journey serves as a testament that Filipinos can excel not only as nurses, but also as world-class astrophysicists, environmental engineers, or in any other fields they dream of pursuing.
SEND CONGRATULATIONS in the comments below to Carl Audric Guia for his success at getting accepted to Ivy League universities! SHARE THIS STORY to inspire other students to strive for their own academic achievements!
Good News Pilipinas is a Lasallian Scholarum Awardee. TELL US your good news story tips by messaging GoodNewsPilipinas.com on Facebook, Twitter, Instagram, or e-mail editor@goodnewspilipinas.com and WATCH Good News Pilipinas TV YouTube & Good News Pilipinas TikTok for more Filipino Pride stories!
Facebook Comments