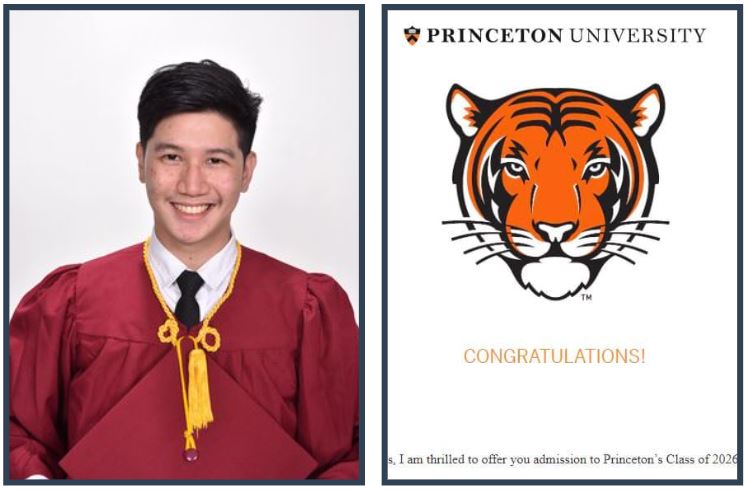 Youth development advocate Enzo Miguel Kho from Negros Island is off to study at the world's top 10-ranked Princeton University as a full-ride scholar, a rare achievement for a Filipino student that gives his family hope for a better future for their child and an inspiration to others.
The Cebu-born high school graduate from Holy Cross High School and Silliman University Senior High School (SUSHS) in Dumaguete City, Negros Oriental, is finally able to leave for the United States this August 2022 after overcoming financial difficulties which threatened to stop him from taking up studies in the Ivy League university.
A fire broke out and burned down his family home and businesses a month after he received admission confirmation from the university in New Jersey and four other quality schools that accepted him for admission with full-ride scholarships including Amherst College (Massachusetts), Brandeis University (Massachusetts), Wesleyan University (Connecticut), and Duke Kunshan University (China).
All his family belongings were burnt in the fire and although Enzo was a full scholar he would need to finance his travel, buy a new laptop, a plane ticket, clothes, a suitcase, a little pocket money, and pay for his visa, and other necessities.
"Our business has been our main source of income in my son's education ever since. However, prior to the fire, our business was already falling apart due to financial problems. Luckily, Enzo got a full-ride scholarship to various universities abroad for college, thus, allowing us to be free from the hefty cost," Enzo's mother Cristin Marie Kho shared with Good News Pilipinas.
"However, because of the fire, all our things got burned down (with nothing saved). This has been hard since after the fire we only relied for money from our relatives and donations. Seeing other costs that we need to make before Enzo travels, it will be a burden (since we're now back to zero). At the same time, all our attention has been focused on rebuilding our house, so it's been really hard to balance everything," Kho's mother added.
Thankfully, Kho's relatives stepped in to pool resources to help the young student finance his travel and initial expenses in his move to study in America. This has allowed him to schedule his trip for mid-August and be ready for classes that begin in September.
When asked how he plans to sustain his needs given his family situation right now, Kho said he intends to be a working student.
"Some of my plans include on-campus jobs once I reach the US to cover my personal expenses. Aside from that, I'm reaching out to potential sponsors as well," the Princeton scholar shared.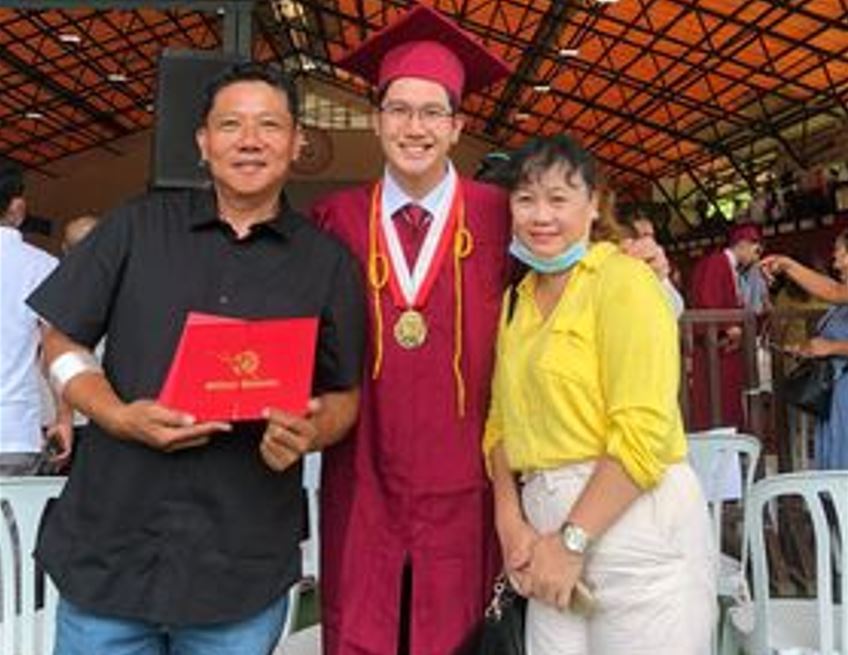 Development-focused studies
Kho said he plans to take up Public and International Affairs as his major in his second year at Princeton University, an educational institution known to accept the least number of Filipinos. The last time a non-international school Filipino student like Kho was accepted into the Ivy League school was four years ago. The Philippine Science High School Main Campus graduate who entered Princeton University back then still attends there, his mother shared.
The 19-year-old student recalls he was in 10th grade when he started being interested in studying abroad. His involvement in youth development initiatives made him realize he needed to learn more to help address the problems he was seeing in society.
"I knew that most schools in the US allow me to design my own major and even take classes whichever I want (and this kind of setting I see suits me best as a person who loves a lot of things)! From then on, I worked my hardest (maximized every opportunity I could get hold of)…My classmates and teachers are testaments to literally how I participated in almost anything…," Kho wrote in his social media post recounting his educational journey.
Shot in the dark chances
However, he realized he had slim chances of being accepted with a full scholarship into his preferred school despite the historic highest average grade he received for grade 11 since K-12 was established in SUSHS.
Kho listed the limitations he faced:
"Yet, despite knowing these amazing achievements (from extracurriculars, etc.), I still knew that my chances of being accepted into these schools that offer full-ride scholarships were so little because:
Each school has its quota for international students (and they mostly accept those students who can pay more)
I NEED A FULL RIDE SCHOLARSHIPPP (which is very rare even for domestic students, let alone for international students)
Schools that offer full-ride scholarships are the prestigious schools (which expect many applicants, making acceptance rates even lower!)
Lastly, most students accepted to these prestigious universities are from Luzon, International Schools (taking IB or A-levels), or Philippine Science High Schools (and I'm neither one)!"
Complicated application process
The young Kho realized he was the first from his two high schools to apply to the prestigious universities in the U.S. This meant the guidance counselor and different offices were not familiar with the application processes and required documents. He had to help create the school documents for submission. The requirements were not confined to grades alone but also to a lot of other factors such as SATs, ACTs, essays, interviews, glowing letters of recommendation from at least 3 teachers, counselor recommendation, a list of awards, and extracurricular activities, among many others.
"That was a lot of paper works and countless nights of research to strategize the best possible output! And I'm just very glad that they were at all out support," the thankful Kho said.
5 universities offering scholarships
Kho accumulated over 1.5 million dollars in scholarships from the five universities, valued as follows:
Duke Kunshan University with a full-tuition scholarship worth $58,000 a year (roughly 3 million pesos)
Brandeis University with a full-ride scholarship (worth $87,000 a year —roughly 4.5 million pesos)
Amherst College with a full-ride scholarship (worth $85,000 a year —roughly 4.2 million pesos)
Wesleyan University with a full-ride scholarship worth $88,000 dollars a year —roughly 4.5 million pesos) through the Freeman Asian Scholarship which only awards 11 exceptional students across Asia including one from the Philippines every year in the last four years: Philippe Bungabong, Aldrean Alogon, Axelle Miel, and Euclid Soringa. Enzo Kho was the awardee this year.
Princeton University with a full-ride scholarship (worth $82,000 dollars —roughly 4.2 million pesos)
Kho was impressed by the fact that the Ivy League university is home to some of the world's most influential people: Jeff Bezos, Michelle Obama, John F. Kennedy, and the first Filipino Nobel Peace Prize laureate, journalist Maria Ressa.
He took note that Princeton offers his desired program, the Woody Woo Major (Princeton's School of Public and International Affairs), and that one of the leading poverty researchers in the US, Kathryn Edin, teaches there.
Kho thanked his mentors, family, and organizations in a social media post prior to deciding on going to Princeton University.
"This success of mine is a testament that hard work always pays off. Coming from a small school in a rural area in Negros Oriental (Mabinay), I wasn't academically nor socially inclined when I first stepped foot in Dumaguete City back in 2013. So for everyone out there, keep dreaming high and work hard to achieve it! Maximize every opportunity offered! I'll always be here for you all! Also, don't hesitate to contact me for those Filipinos wishing to study abroad because I'll surely be glad to help you!"
SEND CONGRATULATIONS AND WELL WISHES to Dumaguete's Enzo Miguel Kho who is off to Princeton University as full scholar, giving his family hope for a better future for their child and the Philippines!
Good News Pilipinas is a Lasallian Scholarum Awardee. TELL US your good news story tips by messaging GoodNewsPilipinas.com on Facebook, Twitter, Instagram, or e-mail editor@goodnewspilipinas.com and WATCH Good News Pilipinas TV YouTube & Good News Pilipinas TikTok for more Filipino Pride stories!
Facebook Comments