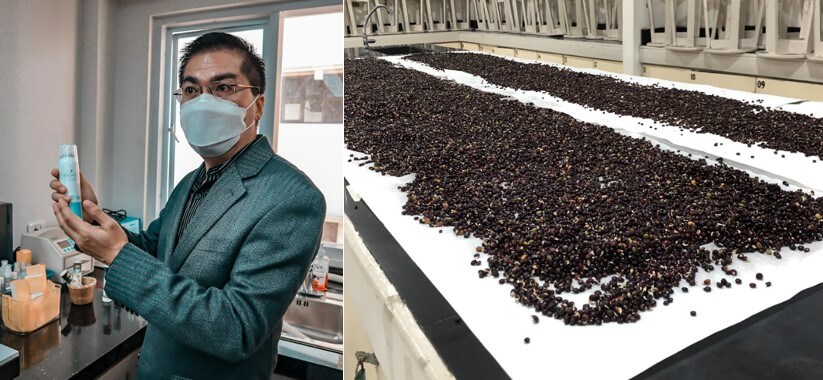 Iloilo skin and beauty product innovations are being developed by the Department of Science and Technology (DOST) Balik Scientists Program working with a local university and pharmaceutical company to create high-quality, safe, effective, and affordable dermatological innovations.
DOST today announced that the University of San Agustin (USA) in Iloilo City has partnered with Maridan Industries to produce locally sourced and developed beauty and health innovations ranging from pharmaceutical drugs to herbal, beauty, and skin products that can help with acne.
Citing the value of maximizing the revenue of the facial skin care market in the Philippines which increased from 0.86 billion US dollars in 2020 to 1.02 billion US dollars in 2023, DOST shared that pharmaceutical company Maridan is making headway in the development of Skivios or Skin Invigorating from Kadios (Iloilo agricultural product).
Maridan has developed two Skivios products, a facial toner and facial serum. The toner can be used by consumers for their everyday skin-care and make-up routine. The serum is highly suggested to be applied before going to sleep. The products are set to be launched commercially this July 2023.
The research and development (R&D) in the university led by DOST-Balik Scientist Dr. Doralyn Dalisay is helping Maridan to develop the skin invigorating solution through Skivios to address skin problems and infections including acne. Studies show that it is efficiently absorbed by the skin and breaks resistance from skin pathogens such as Staphylococcus aureus, thus making it very effective.
"Ito ay isang natural antibiotic from kadios; produkto ng mga mananaliksik sa Iloilo; galing sa yaman ng Pilipinas para sa Pilipino (This is a natural antibiotic from kadios–a product of researchers from Iloilo, from Philippine natural resources for Filipinos)," Dr. Dalisay shared.
Kadios agricultural product of Iloilo is being used by DOST Balik Scientists to develop anti-acne skin products at the @VivaSanAgustin in partnership with @maridan_corp @DOSTphl FULL STORY on @GoodNewsPinas_ pic.twitter.com/QoLpd4M4wS

— Angie Quadra-Balibay (@AngieQBalibay) March 16, 2023
DOST-Balik Scientist Dr. Jonel Saludes, the Associate Vice President for Research and Global Relations in the USA, shared about the progress made by the partnership, citing studies to mimic certain conditions of human skin.
Dr. Saludes shared, "DOST believes Filipino researchers and scientists can strengthen the country's capacity and ability for drug discovery and development and ultimately improve the health and well-being of Filipinos."
"By improving scientific infrastructure, like the three laboratories at the University of San Agustin, we introduce new avenues for innovation and product development for the benefit of local industries," added DOST Undersecretary for R&D Leah J. Buendia. "DOST fully encourages tripartite partnerships with government, the industry, and the academe. This is a way to nurture an environment of innovation and unlock profitable opportunities for our local businesses."
Dr. Saludes and Dr. Dalisay also partnered with GalenX with other funding institutions like United States Agency for International Development (USAID) Philippines initiative – Science, Technology, Research, and Innovation for Development (STRIDE) Program. Recently, the company launched Honelle Wound Gel– made from medical grade Marajon Honey that can fight any form of infection on wounds.
"Our ability to innovate increases when industry and academia work together more often. The academic community serves as a source of knowledge, and the business world is a good place to look for emerging market prospects. The combination of these two would result in well-directed, market-relevant research and products that would enhance Filipinos' quality of life," said Jan Vincent Sollesta, Vice President of Maridan.
University of San Agustin (USA) in Iloilo is also the only biobank in the country with more than 3,000 samples of good bacteria collected by both Balik Scientists and researchers. These have all been harvested from different parts of the Philippines with the goal of developing locally sourced and developed antibiotics.
Another Balik Scientist working with the USA discovered compounds for new antibiotics while an MMSU-based scientist invented an alternative to cooking stoves fueled by LPG.
SEND CONGRATULATIONS in the comments below to the team developing beauty and skin products from Iloilo!
Good News Pilipinas is a Lasallian Scholarum Awardee. TELL US your good news story tips by messaging GoodNewsPilipinas.com on Facebook, Twitter, Instagram, or e-mail editor@goodnewspilipinas.com and WATCH Good News Pilipinas TV YouTube & Good News Pilipinas TikTok for more Filipino Pride stories!
Facebook Comments