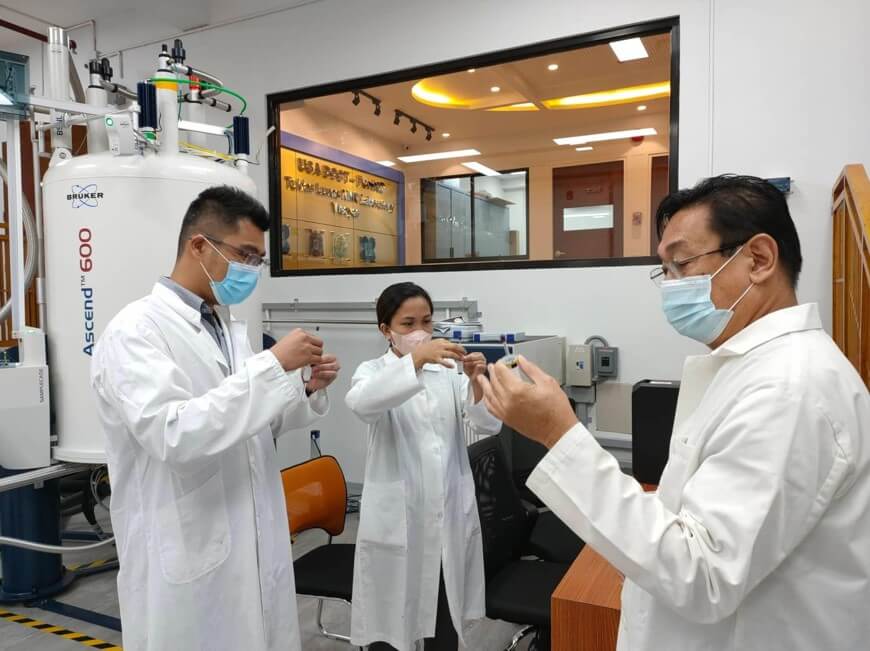 An overseas-based scientist who returned to serve in the Philippines has made headway in drug discovery and development in the country after isolating antimicrobial compounds to be used in formulating new antibiotics, the Department of Science and Technology (DOST) reported today.
Dr. Julius Adam Lopez of the DOST Balik Scientist Program used his expertise in Nuclear Magnetic Resonance (NMR) Spectroscopy on the Philippines' marine samples and was able to isolate and elucidate the structure of novel and/or bioactive compounds from cultured marine actinomycetes in the biobank of University of San Agustin (USA).
Working with Filipino researchers in the USA in Iloilo City, Dr. Lopez used the NMR to purify the marine samples and identify β-lactamase inhibitors that prevent antimicrobial resistance and improve the efficacy of antimicrobial treatment. This study has also been done under the Philippine marine (PHILMARINE) – beta-lactamase inhibitor (BLI) project in the USA.
The DOST Balik Scientist program recipient took his doctor's degree from Hokkaido University, Japan. His use of advanced NMR techniques led to the discovery of new cytotoxic cyanobacteria termed wewakazole B and new fatty acids amides, columbamides which are the fundamental blueprint or structures for several medicinal drugs.
Dr. Lopez developed an NMR training module with both theoretical and practical aspects of NMR spectroscopy while working with the USA. He also served as a trainer on theory and practical skills for researchers from the academe and industries such as the University of San Agustin, Mindanao State University – Iligan Institute of Technology, Central Mindanao University, University of Southern Mindanao, and DOST Regional Office VI.
DOST Secretary Renato U. Solidum, Jr. has expressed his excitement about the potential impact of Filipinos gaining knowledge on using the NMR, stating that "Advancing our efforts in drug discovery and development and building the NMR competency within the Visayas and Mindanao regions shall help us address perplexing health issues and opens avenues for locally available, accessible and practical solutions. The NMR is a powerful tool to study molecular structures and dynamics of complex systems and widen our understanding of the world we live in which includes discoveries of anti-cancer drugs and antibiotics."
DOST Undersecretary for R&D Leah J. Buendia added "We need to strengthen and optimize our country's R&D portfolio in drug discovery and development. Through expertise engagement like the DOST Balik Scientist Program, we can be part of R&D milestones such as creating the first team of Filipino NMR spectroscopy experts who all have the capacity to discover and formulate new drugs. This engagement will also create a big difference in the earning potential of local pharmaceutical and biotechnology companies."
Widening the skillset among Filipino researchers, especially for researchers outside the greater Manila in using the NMR creates significant implications for developing new antibiotics and other drugs. The presence of an NMR in the Visayas will fast-track the isolation and identification of novel compounds as these address logistics requirements of spending costs to ship samples to Manila.
The Balik Scientist program is an initiative of the Department of Science and Technology and is part of the Philippine government's efforts to build a strong science and technology ecosystem in the country.
The enactment of the Balik Scientist Act in June 2018 paved the way for DOST to grant returning Filipino scientists with competitive benefits such as daily subsistence allowance, health insurance, and roundtrip airfare. For those interested to become a Balik Scientist, you may contact the DOST Balik Scientist Program Management Office thru email at bsp@dost.gov.ph.
Overseas Filipino scientists have been called back to the Philippines to help find solutions to the coronavirus pandemic.
Good News Pilipinas is a Lasallian Scholarum Awardee. TELL US your good news story tips by messaging GoodNewsPilipinas.com on Facebook, Twitter, Instagram, or e-mail editor@goodnewspilipinas.com and WATCH Good News Pilipinas TV YouTube & Good News Pilipinas TikTok for more Filipino Pride stories!
Facebook Comments